Hafiz Ahmad, PhD, PE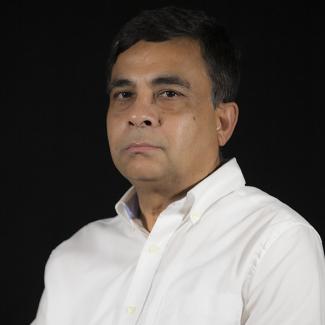 Hafiz
Ahmad, PhD, PE
Civil & Environmental Engineering
Teaching Professor
Holley A211-CC
Office Hours
Monday: 11am-1pm
Tuesday: 1:30am-12:30pm
Wednesday: 11am-1pm
Dr. Hafiz Ahmad is a Teaching Professor in the Civil and Environmental Engineering program at Florida State University, Panama City (FSU PC). He has a Ph.D. in Civil and Environmental Engineering from Florida State University (FSU), with specialization in Soil and Groundwater Remediation. Dr. Ahmad earned two Master's Degrees in Civil and Environmental Engineering from State University of New York (SUNY) at Buffalo and Bangladesh University of Engineering & Technology (BUET) respectively. He teaches 8 to 10 courses per year and has more than 12 years of teaching experience at Florida State University (FSU). 
For more than two decades, Dr. Ahmad's focused research is in the area of water and wastewater treatment, soil remediation, storm water management, production and evaluation of value-added carbon products for environmental mitigation. He has had funding from private companies (Pyrolysis Tech, LLC., American Refining Group). Currently, he coordinates/manages the Master's program of Civil and Environmental Engineering at FSU PC. (Past and present master's students).
Besides his academic experience, Dr. Ahmad worked as a consulting engineer in a private company at Tallahassee, Florida. He is a professional engineer (P.E.) registered in Florida. In his previous working place, Dr. Ahmad was involved in design, analysis, and construction of different civil and environmental engineering projects. He developed numerous hydraulic and hydrologic models while working as a consultant.