In the summer of 2017, two long-time supporters of FSU Panama City recognized a need for facilitating several student services in one place. Because of their half-million-dollar gift, this center will from this point forward be named the John and Gail Robbins Center for Academic Excellence and Innovation.
Students can develop projects in the Digital Design Studio, work on building robots, can participate in the design of a rocket for the upcoming NASA competition, get tutoring in person and through the ACE Center in Tallahassee or just chill for a movie. This has clearly become a place for learning at FSU PC – close to the library and right next door to Cahall's Deli.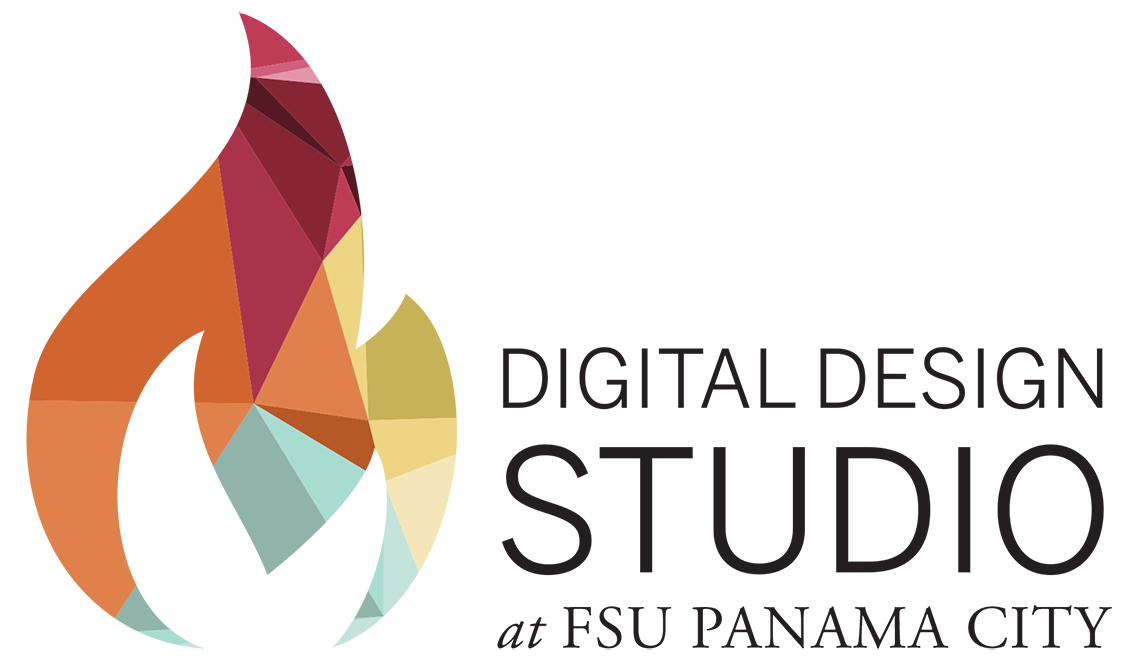 The Digital Design Studio is a creative space, fostering innovative practices for teaching and learning with digital technology. Students and faculty are welcome to use the many resources available.
Need to design a pamphlet?
We have programs for that. We have the full Adobe Suite for desktop publishing.
Making a website?
We have web development software including Weebly, Wix, Dreamweaver and Muse.
Working on data analysis?
Try out our SPSS collection.
Making a video or photography portfolio?
We have Premiere Pro, Photoshop and Gimp in addition to other software.
Adding music to your project?
The Studio has large format and 3D printers & Macs and PCs.
The talented staff will help you determine the best product to create your project. Let us help you to be successful in your presentation!
Location: Holley Academic Center, room 101, across from Cahall's Deli
Questions: mjay@fsu.edu
Drop in. Learn something new.
Software We Support
Access | Acrobat XI Pro | After Effects | Aspen Plus V8.8 | Audition | Bridge | Camtasia Recorder 8 | Camtasia Studio 8 | Character Animator | Dreamweaver | Edge Animate | Edge Code | Edge Reflow | Excel | ExtendScript Toolkit | Extension Manager | Extension Manager | FileMaker Pro | Fireworks | Flash Builder 4. 7 | Flash | Gaming SOK 1.4 | GarageBand | GIMP | GIMP 2 | IBM SPSS Modeler 180 | IBM SPSS Statistics 22 | Illustrator | InCopy | JMP Pro 12 | Lightroom Media Encoder | lnDesign | Maple | MAXQDA 12 | Mission Planner | Movie-Maker | Muse | Notepad | OneNote | Outlook | Photoshop | PowerPoint | Prelude | Premiere Pro | Publisher | R Statistical Computing | R Studio | SAS 9.4 | Scilab-552 64-bit | SDC Platinum | StataSE14 | StatTransfer | Scout | SpeedGrade | TinyTake by MangoApps| Visio | Visual Studio | Word | 30-Builder
title-inside title-centered
2