FSU PC PROMISE: Scholarship creates student lifeline
---
FSU PC PROMISE: Scholarship creates student lifeline
---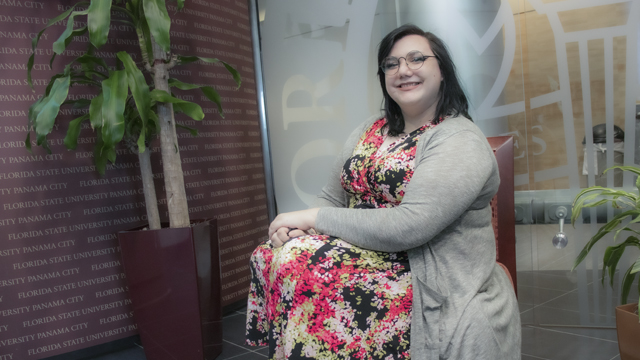 "A degree earned here at FSU Panama City opens more doors."—Isabella Barbour
Passion for helping others drives FSU PC student's work on campus and in the community
Major: Psychology
Graduation: spring 2022
---
Isabella Barbour, '22, has juggled jobs, caring for sick family members, and college courses through the aftermath of Hurricane Michael and the COVID-19 pandemic. A first-generation college student who grew up in a one-income family of five in Bay County, Barbour has known she wanted to go into the field of psychology since she was 14 in order to help others, but didn't know she would be able to afford Florida State University. Today, Barbour is a Garnet & Gold Scholar, a member of the Mortar Board and Phi Sigma Theta national honor societies, and she is on track to graduate from FSU Panama City with a bachelor's in psychology and a minor in social welfare.
The FSU PC Promise Scholarship removed the financial barriers.
"I cannot express the amount of relief I felt when I received an email stating that I had been awarded the FSU PC Promise Scholarship," Barbour said. "I had just transferred to FSU PC and had begun the process of wondering how I was going to be able to afford the cost of attendance, books, tuition and fees, as my federal financial aid would not cover the full amount."
Barbour, who was homeschooled from kindergarten through 12th grade, transferred to FSU Panama City in Fall 2020 to pursue her bachelor's degree after receiving her A.A. from Gulf Coast State College. But reality soon hit when she wasn't sure how she would balance school with working the jobs necessary to afford it.
"With the assistance of the scholarship, I have not only been able to continue my education, but also excel in my classes," Barbour said. "Most importantly, I have proved to myself that I am worthy of a college education."
The FSU PC Promise Scholarship, which took effect in Spring 2021, was established as part of the FSU PC Promise to remove financial barriers so students can achieve educational goals. 
Through funds provided by generous area donors, free tuition and fees are provided to full-time undergraduate students from Northwest Florida counties of Bay, Gulf, Liberty, Gadsden, Jackson, Calhoun, Franklin, Washington, Holmes, Walton, Okaloosa, Santa Rosa and Escambia who have a combined family income of $60,000 or less — recently increased from $50,000 or less — and are pursuing a degree at FSU Panama City. 
The Chapman Family Foundation provided the lead gift to establish the FSU PC Promise Scholarship, and in April 2021, The Chapman Family Foundation Center for Academic Advising and Student Success was named in the family's honor. Contributors also have included The St. Joe Community Foundation, Pam and Larry Perry, and an anonymous donor.
"Earning scholarships is more than just an accolade for hard work," Barbour said. "It is sometimes the only thing that stands between someone and completing their dream of a college education."
The FSU PC Scholarship is renewable every term if the recipient continues to meet the requirements, which also include taking 12 credit hours per semester, maintaining a 2.0 GPA, and completing 30 hours of community service per semester. 
Barbour has exceeded requirements, taking as many as 15-18 credit hours, and she currently has a 3.7 GPA. She has volunteered in the community with a children's ministry for the past eight years. In September, Barbour was elected treasurer for the Psychology Club for the 2021-2022 academic year.
"I definitely think having the small campus size has helped me get the resources I need. Professors know me by name. I'm building all these relationships, networking for the future," she said.
Barbour is currently serving as one of four student mentors in The Florida State Experience class led by psychology professor Tyler Towne, PhD. 
"One of the remarkable things about her is she is a really good student but what stood out to me is her willingness to help," Towne said. "She worked with the Psychology Club to form study groups for psychology courses. She's just one of those people students want to be around, talk to and trust."
Her academic track record, knowledge of the area and desire to help others, made the senior student a perfect fit for mentoring freshmen in the Florida State Experience course. And Towne also saw this as a chance to grow Barbour in her leadership role with transferrable skills in the field of psychology.
"She is someone others can look to as a role model and can develop our freshmen in those skills. She has an eye on the well-being of others and the needs in her community," Towne said.
Barbour also has continued serving as an English tutor at neighboring Gulf Coast State College, helping students who are stressed with assignments by giving them small things to accomplish.
"Right now, there is such a need for what I'm going into with the effects the pandemic has had and so many options with psychology and a social work degree," Barbour said. "A degree earned here at FSU Panama City opens more doors."
And Barbour already has her sights set on her master's degree.
"I would like to be a clinical psychologist and work in therapy sessions. The Tallahassee campus has a master's in art therapy," said Barbour, who planned to enter the 2021 Public Eye Soar for her photography. "Art is a useful tool to express feelings."
Visit the FSU PC Promise Scholarship to learn more.