Questions about FSU Panama City admissions, programs, campus, COVID-19 response or current hours of operation?
Call the FSU PC Promise Information Number (24/7): (850) 832-5649.
student profiles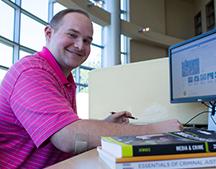 For law enforcement operations major Mitchell "Gunnar" Gartner, a near-death experience put perspective and purpose to his life. As a high school student, Gartner was run over by a Ford Bronco March 30, 2013, on the shores of Panama City Beach. The driver was cited for careless driving.