Elementary education student brings new energy to Black Student Union at FSU Panama City
---
Elementary education student brings new energy to Black Student Union at FSU Panama City
---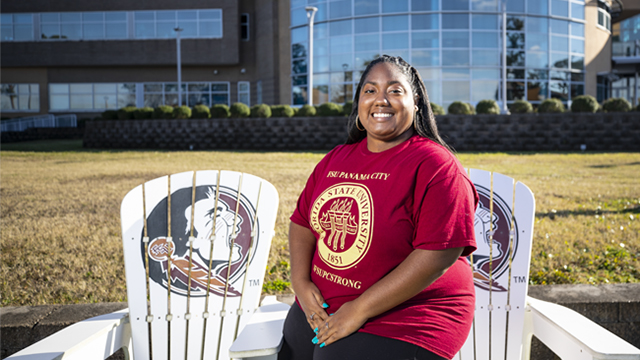 "We want to help the community while promoting diversity around campus." — Zenovia Goss
Major: Elementary Education
Graduation: Spring 2023
---
Elementary education student Zenovia Goss, '23, is in the process of reenergizing the Black Student Union (BSU), a Recognized Student Organization (RSO), at Florida State University Panama City. 
"We want to help the community while promoting diversity around campus," Goss said. "We want to be active on campus and surrounding communities."
Goss has six students who are ready to participate, but she is looking to grow the membership and said "anyone" can join. 
The BSU was created to promote "leadership, academic excellence, cultural awareness, and community engagement amongst students of African descent." 
Goss also is a part of the Dean's Diversity Task Force in Diverse Partnerships.
"The main goal of the Diversity Task Force is to enhance diversity on campus," Goss said. "It is important to show representation in the community."
FSU PC is committed to promoting diversity, equity and inclusion through a comprehensive calendar of events throughout the year. Black History Month is celebrated annually, but this year's events also kicked off Illumination, Shedding Light on Diversity. The Illumination series provides opportunities to hear different viewpoints from guest speakers and learn from the unique experiences that belong to the minority.
Goss attended FSU PC's Black History Month event Feb. 1 at the Holley Academic Center, where keynote speaker Bernard Kinsey joined via Zoom to talk about the "Myth of Absence." He and his wife, Shirley Kinsey, cultivated The Kinsey African American Art & History Collection during their travels over 40 years. The collection now shares African Americans' achievements spanning 400 years, as told through African American paintings, sculptures, manuscripts, rare books and documents. The Kinseys' son, Khalil, serves as Chief Operations Officer and curator of the collection, which he recently set up at SoFi Stadium in Los Angeles for Super Bowl LVI.
"The presentation was amazing," Goss said. "The background hidden information that we didn't get to learn about in school is why hosting these events is important." 
During the program, Kinsey explained contributions by African Americans were omitted from the history books and The Kinsey African American Art & History Collection aims to provide the narrative. He presented slides of African Americans throughout U.S. history, such as poet Phillis Wheatley and jockey Jimmy Winkfield, noting their accomplishments despite overwhelming obstacles. The Florida Department of Education has adopted the Kinsey Collection as the basis of instruction of 3.6 million students on African American History.
"There were many high school students in attendance, and we need to pass this information to them as early as possible, as they are the next generation," Goss said.
This year's FSU PC's Black History Month presentation was open to the community and more than 250 high school students from Bay District Schools were in attendance. Students included 50 Junior Reserve Officer Training Corp cadets from Bay, along with high school students from Arnold, Mosley, New Horizons, Rosenwald and Rutherford. Deane Bozeman students watched from their school via Zoom.
"We are here today, not only to celebrate Black History Month, but to celebrate diversity and inclusion in schools and throughout the community," said Irvin Clark, EdD, associate dean of Student & Strategic Initiatives.
The program also included participation from Gulf Coast State College students Noelani Stewart and Zoe Thomas, who read from Douglas Blackmon's "Slavery by Another Name" and James Baldwin's "The Fire Next Time," respectively. NuGulf Coast Choir performed three different songs, led by directors Michael Grady ('99 Notable 'Nole) and wife Mechelle Grady.
Treasures from the Kinsey African American Art & History Collection, organized by The Bernard & Shirley Kinsey Foundation for the Arts & Education and KBK Enterprises Inc., will be exhibited at FSU PC from April 22 through July 17, 2022.
"The Kinsey African American Art & History Collection will be a great way to provide information to not only students but the community around Panama City," said Goss, who added she and her dad are both excited to see the collection.
The exhibit includes primary source historical objects and artifacts that date from 1595 to present day, and artwork that dates to 1865, painting a clearer picture of African Americans' triumphs.