Questions about FSU Panama City admissions, programs, campus, COVID-19 response or current hours of operation?
Call the FSU PC Promise Information Number (24/7): (850) 832-5649.
FSU Panama City Public Health program aims to change future
---
FSU Panama City Public Health program aims to change future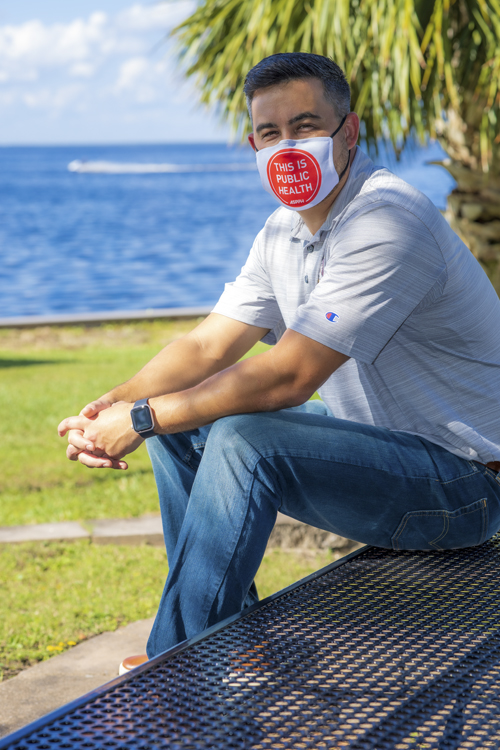 Tory Peek, DrPH, teaches public health at FSU Panama City.
The COVID-19 pandemic brought public health into the forefront of daily conversations, and Tory Peek, DrPH aims to make those conversations more informed through Florida State University Panama City's Public Health program.
"COVID-19 has provided an opportunity to help students understand that information must be collected using reliable evidence and news sources," Peek said. "The gold standard is peer-reviewed research. My goal, throughout the program, is to make sure students understand how to find reliable and evidence-based information." 
FSU Panama City, in partnership with the College of Social Sciences and Public Health Policy, debuted its Bachelor of Science in Public Health program this fall. The program educates and prepares students in public health policy, practice, and methods focusing on epidemiology, environmental health, health policy and management, social and behavioral sciences, and biostatistics.
While Peek is a new faculty member at FSU PC, he began teaching Public Health in 2015 at the University of South Florida, where he also earned his doctoral degree in Public Health. Over the past two years, the pandemic has provided relevant research studies when it comes to diseases, asymptomatic carriers and vaccines.
"We don't have to use stored examples of previous cases," Peek explained. "Typically, I use 'Typhoid Mary' as an example of someone who can be sick and spread disease but not have any symptoms. I no longer go through the explanation that a person who appears healthy can be asymptomatic. I don't have to explain the resistance of not feeling sick but having to quarantine. Many students have seen examples in real life."
Irish-born cook Mary Mallon, known as "Typhoid Mary," is believed to have unknowingly infected more than 50 people with typhoid fever in New York City between 1900 and 1915. She was the first person in the U.S. identified as an asymptomatic carrier of disease and was tried and sentenced to quarantine on North Brother Island.
According to Peek, the political climate plays a large role in health-related decisions.  
"Some people think differently in public health practices based on their political beliefs," Peek said. Public health viewpoints tied to politics are illustrated by Mary Mallon's case. Peek explained that new political leadership thought Mary was treated unfairly and had her released. "She promised not to go back to being a cook, but she did and had to be sent to quarantine again."
Critical issues in Public Health
The pandemic is the most critical public-health issue facing the U.S. — and the world, but the field of public health encompasses the physical, mental, and social health of individuals within communities.
"In the U.S., a major issue is opioid abuse and race-based discrimination or violence," Peek said. "The leading causes of deaths are still lifestyle behaviors. In the past five or so years, the issue of heart disease has led to outright smoking bans on college campuses. There's also the emergence of social issues. Mental health is not emerging but there is more of a leadership approach to remove stigma while assuring access to services and understanding that services are needed in a timely manner."
The public health program looks at factors such as economics, education and environment to evaluate the health of a community. These factors are used to guide policy decisions that address disease prevention, access to quality and preventive health care, global health, climate change and disaster preparedness.
"I want to make disaster management or emergency preparedness a major component of the program," said Peek, who has talked with people in the community impacted by Hurricane Michael. "Typically, schools find their niche within the public health program. I hope the FSU PC campus may be known for disaster management programs in the future, given the community's personal experience with such events."
Understanding communities and other cultures — in the U.S. and globally — is a necessity for public health professionals and agencies, including how a community approaches birth control and family planning.  
Peek, whose study abroad in Panama included visiting an indigenous village, has found the best way to understand other cultures is to "just listen."
"I was in the military before I finished my bachelor's and spent time in Afghanistan. I had a lot of moral/ethical dilemmas and questions and wanted to find answers," said Peek, a veteran who served as an intelligence analyst in the U.S. Army. "To me, it was exhilarating to find the answers, but it would lead to more questions. I was constantly motivated, one of the things I love about public health."
While obtaining his master's degree, Peek concentrated on global health, disaster management, and humanitarian assistance. 
"I am a Doctor of Public Health, a practical-based doctorate rather than research-based. I had fellow students working on infectious disease programs. Mine was working on incoming public responses to human trafficking at the county level," said Peek. 
Prior to teaching, Peek worked as a program manager intern at Bridging Freedom Inc. in Tampa, which combatted sex-trafficking of minors by providing a safe home to rescued victims and working on prevention.
"It is important to be aware of apps on social media platforms and of your surroundings, but a lot of times it is family or people the victims are familiar with," Peek said. "Being aware of how that happens can help change the dynamic. Not very often is someone randomly snatched off the street; it's often runaways and vulnerable children."
Planning a career in Public Health
In addition to the core curriculum of 21 hours for the B.S. in Public Health, students will select 12 additional credit hours of public health electives from at least two academic departments that focus on specific aspects of population health and the healthcare system.
Graduates from the Public Health program at FSU PC will be ready to serve as public health professionals for nonprofit organizations, state and federal government agencies, private health care corporations and healthcare facilities. But Peek believes students should get involved with public health while pursuing their degree.
"Networking in public health is saying yes to going to a meeting or presentation, listening, and being there," Peek said. "Once you're able to contribute, follow through to do it. If you have an opportunity, speak on policy and regulations."
His previous students have worked with COVID tracking, nonprofit organizations, and food relief programs at the county level. 
"There are a lot of ways to flex public health through research and policy development with the Centers for Disease Control and Prevention, National Institutes of Health, and researchers in academia," Peek said. "My focus for teaching overall is to make sure students are successful. I count success by students who leave the program and go do something great. So many students already are far beyond what I've done. This is an opportunity to help motivate them to change the world. I think anybody can and should have the opportunity to get a degree and be successful with the program."
For more information about the public health program, visit https://pc.fsu.edu/public-health.