Upswing: Commercial entrepreneurship student applies FSU PC program to family business
---
Upswing: Commercial entrepreneurship student applies FSU PC program to family business
---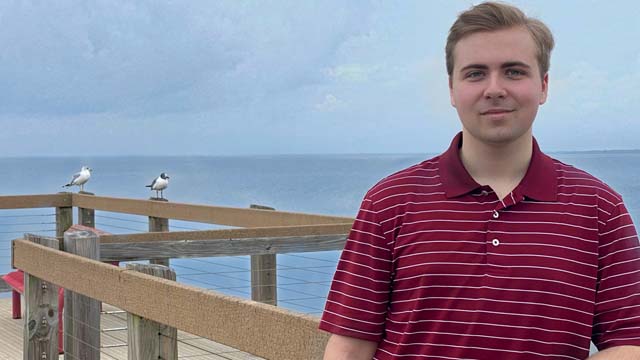 "The diversity of thought here is a big deal for me, and it's super easy to get to know one another." — Tyler Tice
Commercial entrepreneurship student applies FSU PC program to family business
Major: Commercial Entrepreneurship
Graduation: 2023
---
Student Government Council (SGC) Pro Tempore Tyler Tice, '23, transferred to FSU Panama City in fall 2020 after earning credits through dual enrollment in virtual high school and The Baptist College of Florida. FSU PC always was his destination. 
"The diversity of thought here is a big deal for me, and it's super easy to get to know one another," said Tice, who spends any down time on campus relaxing in the newly remodeled Seminole Hall, Sandy Spear Bayside Dining, or along St. Andrew Bay. "With the number of majors and programs offered here, it's easy to have 10 people around who aren't going for the same degree."
The commercial entrepreneurship student makes the 1.5 hour-drive from his home in Marianna every day, but he hopes to move into on-campus housing in spring 2022. Despite the drive, his commercial entrepreneurship education is already proving to be a good investment. He already has implemented business strategies and seen positive changes in his family-run business, Atlanta Bed Swings. 
"Entrepreneurship professors are big on getting out of the classroom and talking with business incubators. I like how easy it is to do different and engaging activities, and the faculty-to-student ratio is low. My biggest class is 25 students. It's even better than I would have ever expected," Tice said. "I realized I have a lot to learn. We have changed how we handle the website and how we hire workers."
Tice serves as vice president, while his dad, Mike Tice, serves as president of Atlanta Bed Swings, which opened in 2016 after partnering with Sunbrella Cushions. His family's company really took off during the COVID-19 pandemic. In August 2020, all business operations moved from Jackson County to the Atlanta area because of demand.
"I have realized the importance of value for customers with high-quality products," Tice said.
Tice also has learned the importance of hard work and overcoming adversity. 
His dad, a home contractor, began recreating some of his custom builds and selling them during a shaky economy in 2012 when clients were putting remodel projects on hold. Tice, 11 years old at the time, even started a Christmas ornament business that year to help buy holiday gifts. After going to bed Christmas Eve in 2012, the Tice family awoke to a house fire. The family of six then relocated from Dothan, Alabama, to Jackson County to rebuild. Then Hurricane Michael hit in 2018, taking down 95 trees on their property.
It was the resilience of FSU Panama City campus community and the commitment to student success that really inspired Tice and solidified his college decision.
"I like how customized and tailored the experience can be here," Tice said. "I had heard how great FSU PC came back after the hurricane, and when it was time to apply, I only sent an application to the Panama City campus; I was purely focused on going here."
Just a few weeks after starting at FSU PC, Tice joined the SGC.
"I wasn't used to people my age being leadership focused. This community of students was more mature, and I felt comfortable around them," he said.
Tice became the SGC service chair his first semester, serving on the 39th council with then SGC president Lucy Rodriguez.
"She was very uplifting and helped me to be grateful in difficult times and know what to do next," Tice recalled. "She asked me to be the finance chair, because I had the business experience."
When he assumed his new role in spring 2021, he was "in awe of the process."
Tice naturally began to pick up different skill sets and make new connections in his new role.
Now, he and this year's SGC president, Lilli Garner, have a great relationship, which he sees as instrumental in getting events and initiatives accomplished. 
The council has formed community partnerships with Bay Town Trolley and the Florida Department of Health Bay County, remodeled the Barron Commons, initiated intramural sports with Gulf Coast State College and coordinated a successful Homecoming celebration.
"One of the major changes is we reviewed the bylaws and added 10 pages worth to have a better system of checks and balances. We have 11 members and put due process in place," Tice said. 
Next on the agenda for this year's SGC is campus revitalization. 
"I reached out to the class and RSOs and they want to see us come back from COVID in a bigger way. Our agenda includes getting trees planted for better shade, having more artwork, and to create a culture of belonging," said Tice, inspired by recent campus growth. "We're just excited to see the culture shift happen and I'm hoping to prepare the campus for that."