FSU Panama City paves student's way for major in chemistry, Chinese
---
FSU Panama City paves student's way for major in chemistry, Chinese
---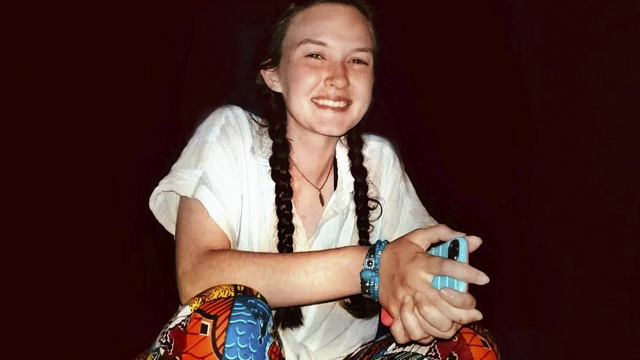 "I knew I wanted to do science because it seemed I would never run out of stuff to learn." — Patricia Mehaffy
FSU Panama City paves the way for Chemistry-Chinese major
Major: Chemistry and Chinese
Graduation: Summer 2022, FSU Tallahassee
---
As early as middle school, Patricia Mehaffy, '22, knew she wanted to study chemistry and the Chinese language. After moving from St. Louis, Missouri, to Chipley with her parents at age 18, Mehaffy began her path to pursuing a double-major at Florida State.
"FSU was the kind of school I was looking for," Mehaffy explained. "It happened to have the right program for chemistry and foreign language; a unique mix of classes that made it the right fit."
With money saved up from working jobs during high school, Mehaffy was able to cover the cost of tuition that loans wouldn't take care of and start her college journey. She began taking classes at Gulf Coast State College in 2017, paying attention to what would transfer to FSU Panama City.
The individualized attention she received at FSU Panama City helped keep her motivated.
"I appreciate the small class size in Panama City. The professor knows you," Mehaffy said. "With fewer students, you get to meet people like Dean Randy Hanna. I would be at the Digital Design Studio and Dean Hanna would stroll in and talk to us. You get valuable connections."
She also received a lot of encouragement from her general chemistry professor at FSU PC, Joshua Kogot, especially regarding her lab reports.
"The class was small, and he was doing all of the long lectures and labs. We basically had the place to ourselves, and we were comfortable," Mehaffy said. "If something didn't make sense, it was not a socially-pressured environment."
In Fall 2018, Mehaffy moved to the Tallahassee campus, where she had access to labs to continue scientific research and was able to take the placement test for Chinese. 
"I knew I wanted to do science because it seemed I would never run out of stuff to learn," Mehaffy explained. "Due to the fact that my parents owned a Chinese restaurant for 20 years, I spent a lot of time around eastern culture but felt hopeless to understand the foreign language. But once I was faced with foreign language requirements in high school, I discovered that learning new languages wasn't so impossible."
Her love for languages also inspired her to study French, and for the past three years, Mehaffy has been able to share her knowledge on the subjects of Chinese, French and chemistry as a tutor at the Academic Center for Excellence (ACE). 
"Through tutoring, I've helped hundreds of FSU students understand general chemistry, as well as French and Chinese, in a thorough and useful way," said Mehaffy, who opted to become a "note-taker" when she felt overwhelmed by an intense chemistry class at FSU with 600 people.
In the library at 3 a.m. during finals week her sophomore year, Mehaffy was frantically filling out applications for an international research experience the following summer. Six months later, she found herself in Saint-Louis, Senegal, a West African country, as a participant in the Global Scholar's program — where her knowledge of the French language became a necessary skill.
"Two miles to the right was the Atlantic Ocean and two miles to my left was the bare, yellow, baobab spotted desert," Mehaffy said. "I was doing cultural research and I couldn't believe it."
Mehaffy volunteered for two months at Maison de la Gare, teaching French and English languages to elementary children. She also worked in childcare, healthcare and wrote her research capstone on the social issue of child rights in the community. 
"In the STEM field you have to keep in mind that you're working for the betterment of the whole world and not every culture has the same needs," Mehaffy said. "This experience broadened my perspective about the types of needs around the world and how that varies from culture to culture."
SCIENTIFIC RESEARCH
After she returned home, Mehaffy decided to pursue scientific research as a volunteer in the Alabugin organic chemistry lab at FSU, led by Professor Igor Alabugin.
Specifically, Mehaffy studies the design and synthesis of functionalized carbon-rich materials. "Essentially, we make tiny molecular magnets," Mehaffy said.
Mehaffy coauthored two peer-reviewed papers that were both published in Summer 2021. Mehaffy has also been pursuing her own independent research after receiving an IDEA grant this past spring.
Through the Jack Saltiel Undergraduate Research Award, Mehaffy is now a hired researcher in the Alabugin lab and will study the synthesis of a unique pattern of graphene created by the radical cyclization of alkyne substituents around a conjugated ring.
Mehaffy also co-authored two papers that were recently published in the scientific journal Chemical Society Reviews: "Stereoelectronic power of oxygen in control of chemical reactivity: the anomeric effect is not alone" and "Anomeric Effect, Hyperconjugation and Electrostatics: Lessons from Complexity in a Classic Stereoelectronic Phenomenon."
After her graduation in Summer 2022, Mehaffy plans to pursue a graduate degree in chemistry.
"For me, chemistry was very difficult, but I had this dream. I wanted to be good and put forth effort," Mehaffy said. "I wouldn't be here if I'd given into self-doubt."