Professional communication student builds relationships at FSU Panama City
---
Professional communication student builds relationships at FSU Panama City
---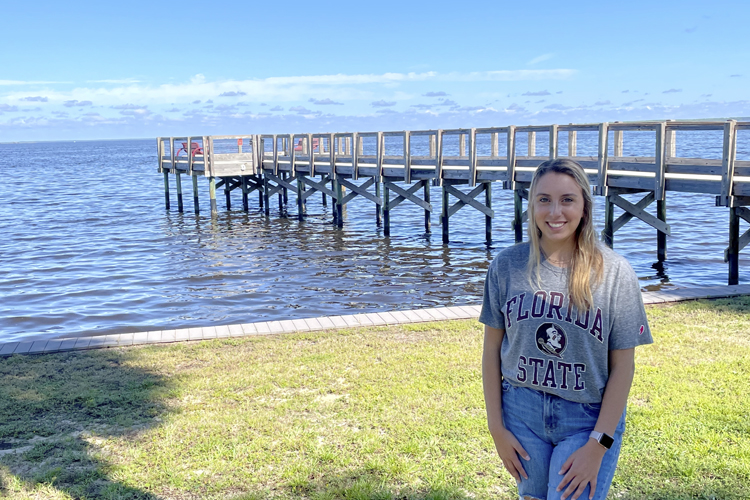 "I like the relationship aspect of communications. I love building relationships and talking to people and hearing what they have to say." 
— Lauren Beauchamp
Love for building relationships motivates FSU PC student to form faith-based RSO
Major: Professional Communication
Graduation: Spring 2023
---
Professional communication student Lauren Beauchamp, '23, has jumped into campus life at Florida State University Panama City since starting classes for fall 2021. The junior transfer student attended Wallace Community College in her hometown of Dothan, Alabama, on a vocal scholarship, before moving into Seminole Landing with her ukulele in one hand and her guitar in the other.
You might even catch her playing the piano downstairs at Holley — in between her busy schedule.
"I wanted to go somewhere and meet new people. I have wonderful friends at Troy University, but I am very glad I made the decision to be somewhere new," said Beauchamp, who admitted it was a hard transition — but worth it.
In addition to her music, Beauchamp has continued working remotely as the marketing director for Dothan Regional Airport while attending FSU PC, a job she has had since November 2020. But she is looking to expand her knowledge beyond marketing into public relations and communication.
"I believe in work ethic. If you don't have drive, you won't be successful," Beauchamp said. "When I started looking at different universities, I saw FSU PC offers a professional communication degree, and I loved the idea of living by the beach. When I got accepted, I felt really blessed. And now I get to live right on the bay."
Beauchamp has known she wanted to go into the communication field since she first interviewed Christian artist Brandon Lake a year ago, as part of an English assignment, and coordinated with his public relations team.
"I like the relationship aspect of communications. I love building relationships and talking to people and hearing what they have to say. And I like the event side and the strategy involved. With professional communication, you need all those pieces to be successful. It's not just marketing. I feel I can relate to it," Beauchamp explained. "I've found I also love being behind the scenes."
As a student in Dr. Brian Parker's Public Relations class, she has been involved in a research project on student engagement. 
"We are seeing how we can target students better to give them information on the program," Beauchamp said. "Through that process, I've found I like the research aspect of it. I have loved taking notes and hearing their ideas on why the different flyers work or caught their attention. It's been intriguing to see the different perspectives and how important marketing is when you use tools to connect."
She loves the opportunities that come with being part of FSU but on a smaller campus.
"FSU is such as high-ranked institution, and those high academic expectations are also here in Panama City. This is not an easier path; it's just a different path," Beauchamp said. "Because it's smaller, it allows for the opportunity to build relationships with faculty; and because of that, they know how to push you better."
FSU PC's professional communication degree also allows students to be part of an accelerated program by combining the bachelor's degree with a master's degree in corporate and public communication.
"I would love to get my master's degree and take classes as an undergrad to get a jumpstart," Beauchamp said. "I'm only 20, so I don't feel rushed, but at the same time, I want to get out of school as quick as possible and get my career going."
Devotio'noles'
In September, Beauchamp formed Devotio"noles," a Christian faith-based recognized student organization (RSO), on campus. 
"I felt a calling to start this when I first visited after I got accepted in the spring. I really liked the college atmosphere and wanted to get active on campus. I looked at the RSO page and did not see a faith-based organization for Christians," Beauchamp said. "People told me it wasn't feasible to create one, but I persevered. The second I stopped trying to control it, God moved in a powerful way and connected me with a team of people. Now eight of us are working hand in hand."
With support and resources provided by Collide College Ministry, Devotio"noles" has been able to build momentum and connect with the Garnet and Gold Guys of the Baptist Collegiate Ministry (BCM). 
"We're working as a life group of Collide," Beauchamp said. "We got involved with the Garnet and Gold Guys through (Collide leader) Alex Gentili's friendship with Barry Sproles, who is the BCM director at FSU Tallahassee." 
The Garnet and Gold Guys, known for showing their fervent FSU spirit painted in garnet and gold with glitter, are scheduled to make an appearance in FSU PC's Holley Lecture Hall at 7 p.m. Oct. 14 during the Devotio"noles" Engage event — an opportunity to build new relationships.
"The purpose of Devotio'noles' is to love God first and love God most and to dive deeper into Biblical studies and apply Biblical values to everyday life and foster relationships between students and their Heavenly Father," Beauchamp said. "Everything is working out. This is where I'm meant to be."
Devotio"noles" meets at 6 p.m. Tuesdays in Seminole Hall in the Barron building.