Scheduling conflict broadens FSU PC student's horizon in sport history
---
Scheduling conflict broadens FSU PC student's horizon in sport history
---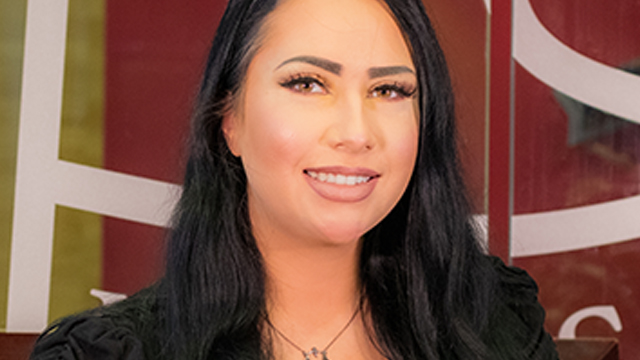 "I have a newfound understanding of how important sports really is and how much it does affect society outside of the sports arena." — Camille Darley
Major: Social Science, Interdisciplinary
Graduation: summer 2021
---
When Camille Darley, a student working toward a degree in Social Science, Interdisciplinary at FSU Panama City (FSU PC), was told she needed to take a history course—sport history was not on her radar. In fact, she was "not too thrilled" about having to take a course on the topic, but a scheduling conflict prevented her from taking her preferred course focusing on Florida history.
Darley, who transferred to FSU PC after graduating cum laude in spring of 2020 from Gulf Coast State College (GCSC) with an associate's degree, knows a little bit about adapting. As a 27-year-old mother of two young sons, she started college just months before Hurricane Michael devastated the Panhandle. She now continues on her academic career during a global pandemic, forging ahead no matter the circumstances.
Having very little interest in sports, she initially believed that the Sport in Modern America course taught by Professor Robert Cvornyek was going to be all about the inception of sports in the U.S. and analyzing scores. According to FSU PC Professor of History, Robert Cvornyek, this is a common misconception.
Much to Darley's delight, the course focuses on analyzing how gender and race has played an integral role in sports. "I learned about how sports have historically been used as a political pawn in the U.S. I learned about Muhammad Ali, but not just about his boxing career. The U.S. had employed a series of "goodwill tours" to show other countries that democracy was the way of the future. Ali used his platform to create change in policy and bring light to international issues," said Darley.
Turns out, sport history was exactly the type of topic that would intrigue Darley. During her time at Gulf Coast State College, she participated in the Model United Nations Club, and carried her love for caucusing and diplomacy over to FSU PC when she helped initiate a joint Model UN program between FSU PC and GCSC. She is now an assistant director for one of the committees at the Southern Regional Model United Nations (SRMUN), an intercollegiate Model UN conference with more than 100 universities and colleges participating.
With new sparked interest, Darley learned how U.S. Presidents utilized sporting events to make bold stances to other international leaders and how, during the Cold War, the Olympic Games were perceived as a war between communism and democracy. She described how the students learned, among many other things, how Arthur Ashe paved the way for modern-day athletes to use their platforms for philanthropy and to shed light on civil-rights issues. They went on to learn about Jackie Robinson's criticism from the African-American community for being compliant during baseball games, and how he was critical of how players in the Negro Leagues had inequitable practice facilities and traveling accommodations.
"I have a newfound understanding of how important sports really is and how much it does affect society outside of the sports arena," says Darley. "Any student who is interested in the way sports affects us as a society and is intrigued by how our history has been shaped by athletics, I highly recommend this course. I have already utilized much of the information in my other studies. It should be taught at more campuses, and really should become more of a topic of discussion in everyday life. Sports affects all of us, whether we recognize it or not."