Princesses of Paradise Pageant for Special Needs celebrates beauty in individuality
---
Princesses of Paradise Pageant for Special Needs celebrates beauty in individuality
---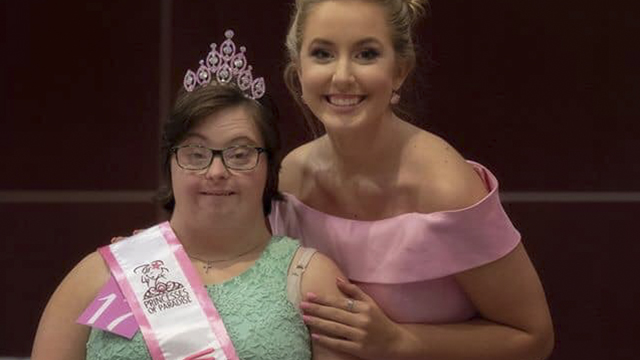 "Ultimately, I want to change how society views women as a whole and show beauty in individuality. My whole goal is you shouldn't have to conform, because you are beautiful because of who you are as an individual." — Mia Bennett
Undergraduate Degree: '20, B.S. in Recreation, Tourism and Events
Graduate Degree: '23, M.S. in Corporate and Public Communication
---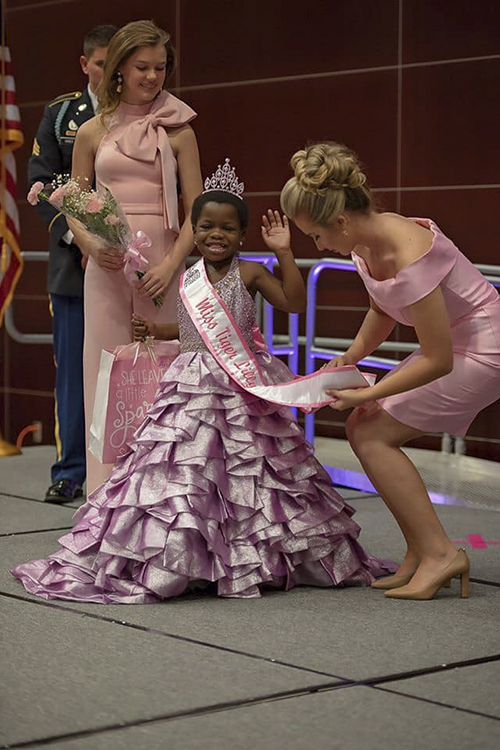 Mia Bennett, a graduate student in the Corporate & Public Communication program at FSU Panama City, has made it her mission to give all girls the opportunity to celebrate their unique beauty since she first donned the crown as Junior Teen Miss Freeport.
"When I was 12, I competed in the Junior Teen Miss Freeport pageant and won. When I was representing in the Fourth of July parade in Seaside, I ran into a girl with Down syndrome who said she couldn't be a princess. I didn't understand why," said Bennett, now 22.
While Bennett continued pageantry, seeking scholarships for her university education, her determination to empower girls with disabilities grew. In 2016, the Princesses of Paradise Pageant for Special Needs, "where everyone deserves to be a princess," officially was born. 
"When I was 16, I had competed for Miss Northwest Florida and a component of the pageant was community service," Bennett recalled. "I chose to go my own route. My parents gave me $250, and I got props from the drama department at South Walton High School to hold my first pageant for special needs. To get participants, I stood at the Special Olympics with a sign-up sheet. I had seven participants that first year, and it blew up from there."
2022 PRINCESSES OF PARADISE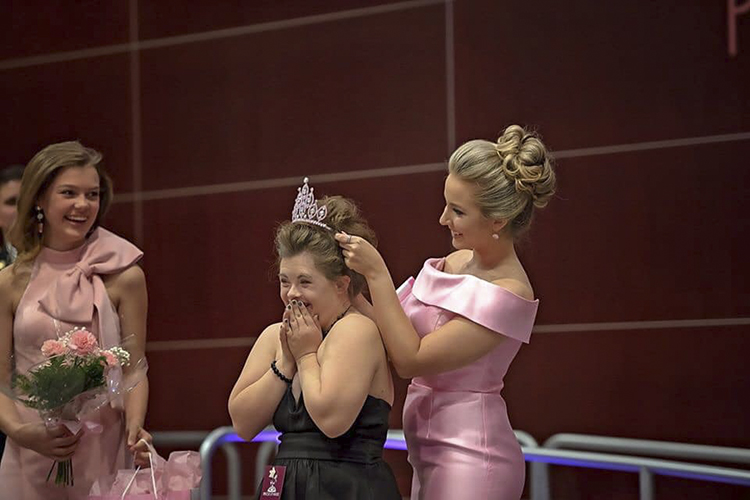 The fifth annual Princesses of Paradise is set for 2 p.m. April 16 at the Holley Academic Center at FSU Panama City, where girls of all ages with all types of special needs will be treated like royalty.
"I have 18 girls signed up already. Usually, I have at least 50% return participation. I have multiple girls who were involved the first year and look forward to every year," said Bennett, who is accepting submissions online at PrincessesofParadise.com through March 16.
Because of COVID-19 challenges, the 2020 pageant was canceled. That same year, Bennett was nominated for the FSU President's Undergraduate Humanitarian of the Year because of her commitment to service.
"The pageant is for all ages with any medical condition that can significantly impact their self-esteem. Not all disabilities are apparent," Bennett said. "Just because you can't see it, doesn't mean it's not there."
Pageant participants have ranged in age from a 75-year-old woman who suffered from schizophrenia and autism to a 2-year-old girl with cerebral palsy.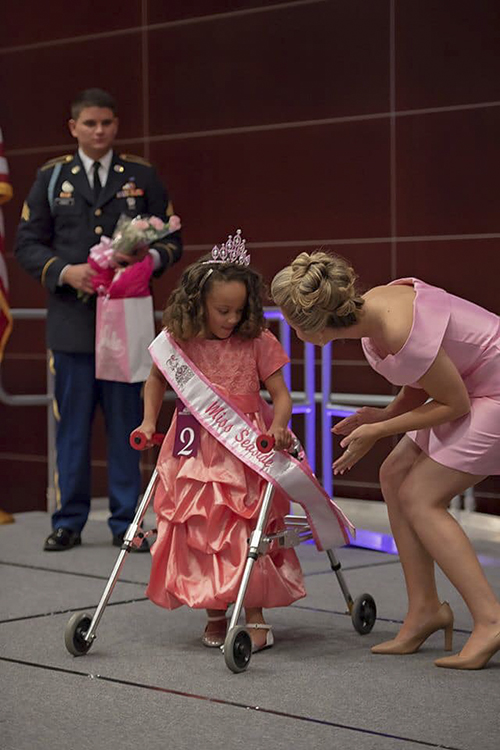 "They are encouraged to share what it is they are fighting, so I can help be an advocate," she said. "I've had more of a mission created since I started grad school. Now, it's the driving force. Ultimately, I want to change how society views women as a whole and show beauty in individuality. My whole goal is you shouldn't have to conform, because you are beautiful because of who you are as an individual."
Every participant receives a crown and sash with their own title in a crowning ceremony. 
The pageant includes an appearance on stage in a formal gown, Sunday dress or cocktail dress. Optional segments include the "Best Part of Me," a chance for participants to dress up and showcase something they love, such as a Disney princess or cooking.
"This year, I'm expanding beyond the pageant and am planning to raise money for a scholarship to benefit a student who has special needs. If we exceed the goal, I can do in-home visits at homes or hospitals for those who can't come to the pageant,"
Bennett said. "So far, I've raised $7,000 working toward my goal of $25,000, which would give me the opportunity to have 30 in the pageant, have the in-home visits and offer the scholarship."
Bennett, whose titles also have included Northwest Florida 2017, Miss Florida Woodlands 2018 and Miss Freedom USA 2019, seeks "to share the benefits and experience with women and girls with special needs."
"I'm lucky enough to have a mom who told me all the time I was a princess, but I found out not everyone had that," she said. "Pageants gave me confidence and speaking skills I would not have had, but I want to use pageants to celebrate these girls, to say, 'You're beautiful and you're a princess.'"
FSU PC CONNECTION
A first-generation college student, Bennett graduated from FSU PC in Spring 2020 with her bachelor's in Recreation, Tourism and Events, a degree she was able to apply to organizing pageant events. Her graduate program is helping her create a brand and deliver a message to her target audience.
"The graduate degree is more about my identity as an organization. It really made me think about the message, the branding," said Bennett, who will receive her master's in Spring 2023. "I'm trying to tailor my grad school and work to use what I'm learning in the classroom. Communication is what I do the whole time, from my website to sponsors and individuals participating. It's about balancing all the messages to the audience."
Bennett, who also serves as an Admissions Recruitment Officer in FSU PC's Office of Admissions, hopes to grow Princesses of Paradise into a national pageant system to "continue to fight the conventional beauty standards" and spread the "message that beauty lies within your individuality.
"I've been asked by people in North Carolina, Georgia, Alabama and as far away as Hawaii to franchise the pageant," Bennett said. "If it wasn't for FSU Panama City supporting me, I wouldn't be able to continue doing this and the pageant wouldn't be where it is today."
FSU PC Commercial Entrepreneurship student Tyler Tice, '23, helps with web design, and FSU PC Professional Communication student Lauren Beauchamp, '23, serves as a PR assistant for the pageant. Princesses of Paradise also is supported by FSU PC's Illumination Committee, as one of the many events held on campus promoting diversity and inclusion.
"I have a support system here, something I wouldn't have had at a larger university, especially when my mom beat cancer. While we were going through it, Dean Hanna reached out to my professors to let them know," Bennett said. "And I've continued to be encouraged."
Through Princesses of Paradise, Bennett hopes to continue encouraging others.
GET INVOLVED
Register participants: The 5th Annual Princesses of Paradise is open to women and girls of any age who have special needs or a significant medical condition that impacts their self-esteem; no entry fee; fill out an application at PrincessesofParadise.com by 11:59 p.m. March 16
Provide support: Help through volunteering or sponsorships; go to PincessesofParadise.com and click "Get Involved" to fill out a form and see sponsorship opportunities
Attend pageant: The 5th Annual Princesses of Paradise Pageant for Special Needs is at 2 p.m. April 16 in the St. Joe Community Foundation Lecture Hall at the Holley Academic Center at Florida State University Panama City, 4750 Collegiate Drive. Admission is free for FSU and Gulf Coast State College students; $5 at the door for the general public.