Forensic Fun Day 2016 STEM Camp
---
Forensic Fun Day 2016 STEM Camp
Florida State University Panama City hosted a Forensic Fun Day 2016 STEM Camp for rising 7th Graders this June. The course offered hands on experience with both the land based Crime Scene Investigation and Underwater Crime Scene Investigation programs in the College of Applied Studies at the FSU Panama City campus.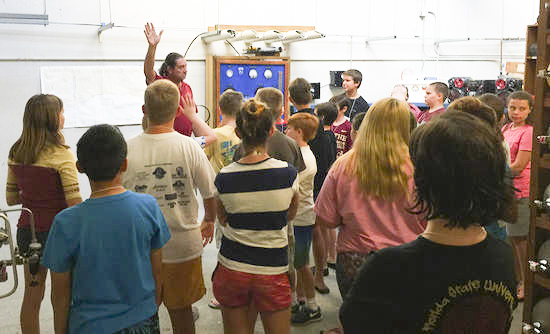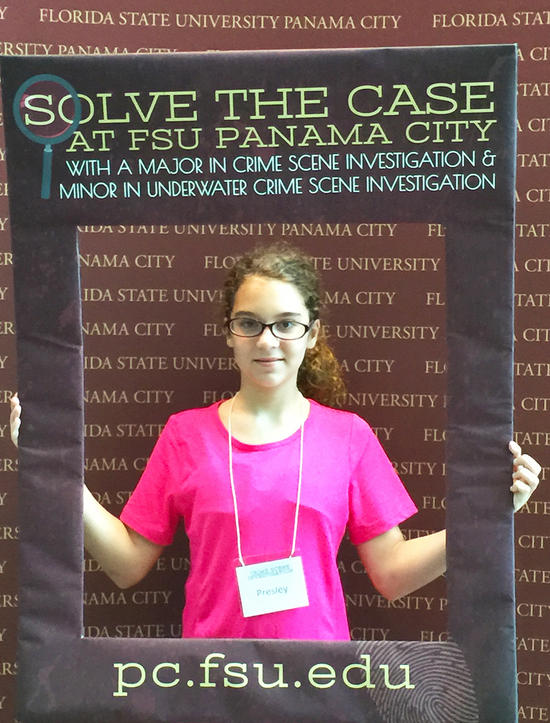 Students participated in various mock crime scene scenarios. In the morning students learned information on bone biology and the forensic anthropology techniques used on skeletal remains that help identify a person and determine if a crime was committed. Life sized human replicas of skull, pelvis and long bones (leg and arm) were used by students to make physical observations and then they were taught how to properly measure each bone type. Applying mathematical formulas to their data students were able to determine the height of the victim. Using forensic techniques the students were then able to determine specific characteristics of the remains like gender and stature and compare their findings with a simulated list of missing persons in the area. Students also handled real animal bones and gained familiarity with the differences in human and animal bone anatomy. 
In the afternoon, water-based activities were hindered by inclement weather but students were still able to learn line-search and polar coordinates techniques. These skills were then used to search for bullet casings hidden in grassy areas using metal detectors. This same technique is used underwater to find metal objects using a metal detector.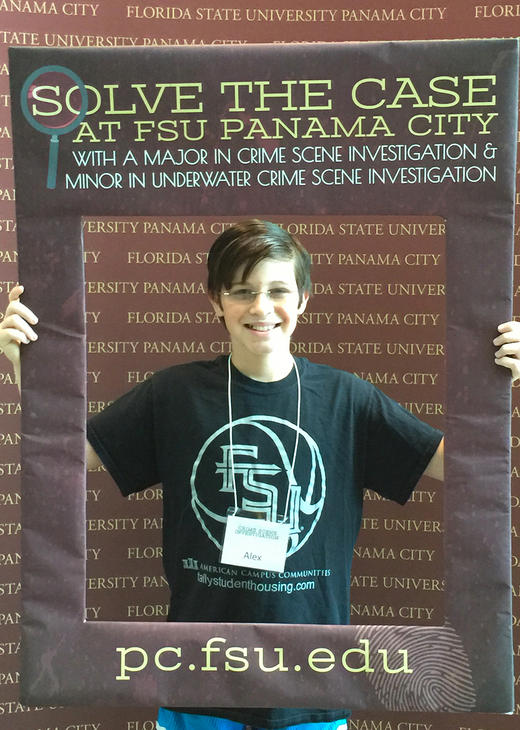 Students also toured the FSU Panama City Dive Locker facilities. The Dive Locker is stocked with sophisticated equipment such as the Marine Sonic Side Scan Sonar, Video Ray Remote Operating Vehicles, Delta Vision HD Drop Camera and other technology used in an underwater investigation. Using real casework examples that were conducted by the FSU UCSI dive team, students received instruction on the use of this equipment and technology and how underwater investigators might use it.
The Forensic Fun Day Camp helps students utilize the scientific method by collecting, evaluating, and testing evidence to determine if their hypothesis about the crime is correct. While the students are having fun, they are also learning about science, technology, engineering and math.
"We love when parents allow us the opportunity to share our excitement for crime fighting using good science, critical thinking and deductive reasoning with their student.  These are skills that are beneficial in most any career field these young people choose to pursue," said course instructor and criminologist Charla Perdue.
FSU Panama City STEM Camps aspire to increase students' curiosity by actively engaging them in simulated crime puzzles. These types of activities enhance their ability to understand how to define problems and develop possible solutions. We hope to see you at our next summer Forensic Fun Day Camp.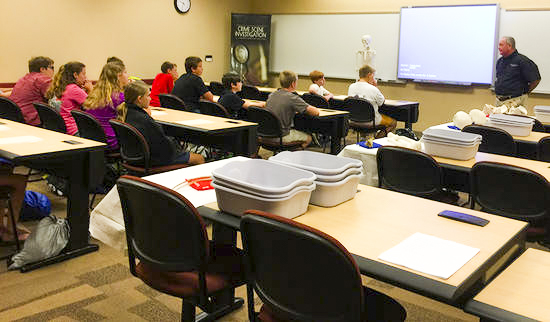 For more information about the Crime Scene Investigation and Underwater Crime Scene Investigation programs at FSU Panama City please visit our website.