The St. Joe Co. approves $50,000 grant for OLLI at FSU PC30A
---
The St. Joe Co. approves $50,000 grant for OLLI at FSU PC30A
The St. Joe Co. has approved a $50,000 grant for Florida State University Osher Lifelong Learning Institute (OLLI) community program, OLLI at FSU PC30A.
On June 16, St. Joe Community Foundation Executive Director April Wilkes presented a check to the FSU Foundation at FSU Panama City for OLLI at FSU PC30A. The grant will be funded over a one-year period.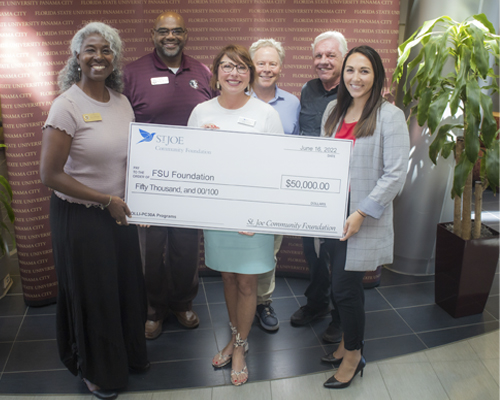 OLLI at FSU PC30A features educational non-credit courses, social activities and field trips aimed at adults age 50 and older who love to learn in a stress-free environment. There are no grades and no tests. Courses cover a range of topics and activities such as physical exercise, music, art, film, history, literature, sports and science, plus boat tours and exploration at area state parks. International study abroad programs and other travel also are available.
Classes are taught by expert faculty from around the world. Some classes are on Zoom; others are in person or hybrid. Locations for in-person classes include Seaside Town Hall, the St. Joe Corp Campus, Ohana School and Seaside REP. Membership is open to area residents and visitors, who are welcome to take courses offered at OLLI at FSU in Tallahassee.
For more information about OLLI at FSU PC30A and how to sign up for membership and classes, visit OLLI at FSU PC30A
The OLLI at FSU PC30A Advisory Council includes President Steve Howard; First Vice President Billy Buzzett; Sam McInnis, Vice President, Curriculum; Lettye Burgtorf, Curriculum; Julie Martin, Curriculum; Elaine Parrett, Curriculum; Bill Potter, Secretary; and Fred Buehler, Communications.
Need help? Contact OLLI at FSU PC30A Learning Coordinator Lisa Jefferson at ljefferson@fsu.edu at (850) 304-7143.