Congratulations on nearing the completion of your degree. Once you graduate, you will join an elite group of more than 310,000 Florida State alumni. Even though you will have completed your coursework, you will be a Seminole for life, and we promise FSU will always be your home.
Students must meet minimum University requirements as well as the specific requirements for their major/minor to graduate. The specific University requirements are listed in the Undergraduate University General Bulletin under the section Undergraduate Degree Requirements. To inquire about remaining major/minor requirements needed to graduate students will need to make an appointment to meet with their academic advisor.
After you apply for graduation, a stop will be placed on any future registrations unless you have been readmitted to the university or your name has been removed from the graduation list.
When you receive a degree from the University, you are "discharged" as a student. If you wish to continue as a doctoral student, special (non-degree seeking) student, or to work on a second bachelor's degree, you must apply for readmission to the University through the appropriate section of the Admission's Office.
Master's degree-seeking students must be readmitted through the Graduate Admissions Office.
Graduation checklist
Apply online for graduation: To earn your degree, you must apply for graduation through myFSU before the third week of the semester you wish to graduate. If you miss the deadline, please contact your academic college dean's staff or call 850-770-2311 for assistance. You must be included on the graduation list for your academic college in order to participate in the commencement ceremony. Applying to graduate does not obligate you to participate in the commencement ceremony.

Login at myFSU.
Under myFSU Links on the left-hand side of the screen, click the SC icon.
Under the Academics area, click the drop down box arrow and select Apply for Graduation.
For further instructions, visit Apply to Graduate.

RSVP for the ceremony: If you are planning to participate in the FSU Panama City Commencement Ceremony, you must RSVP and request guest tickets online. Check your FSU student email in early March for login information. All regalia can be ordered through Herff Jones.
Complete the Graduating Senior Survey requirement: Students must complete the Graduating Senior Survey to be cleared for graduation, which will be emailed to you two weeks prior to the last day of classes. 
Receive your diploma: After you're cleared by both your academic dean and the University Registrar's Office, your diploma will be mailed to you. Please allow six to eight weeks after the semester ends for your diploma to arrive.
The Commencement Ceremony
FSU Panama City's annual Commencement ceremony will begin 1:30 p.m. Sunday, May 3, 2020, at the Edgewater Beach Resort Conference Center on Panama City Beach. All summer 2019 through spring 2020 graduates are invited to participate.
Seating is limited, and all guests must have a ticket to enter the venue. Four guest tickets are allotted per graduate. Additional guest tickets are not guaranteed but may be requested by email through your student email to registrar@pc.fsu.edu no later than (Date TBD).
Summer graduates
Students who anticipate completing all degree requirements in the summer semester immediately following spring Commencement may submit written requests and departmental approvals to the FSU Panama City Office of Admissions & Records for consideration to participate in the spring Commencement ceremony. Students must wait until the 4th week of classes to submit their request. Summer Walkers should not apply to graduate online for the spring term. Contact Brandi Barnes at 850-770-2311 or email bbarnes@pc.fsu.edu.
Tallahassee ceremony
FSU Panama City students may also participate in the Tallahassee campus commencement ceremony, which is held each semester in Tallahassee. Email graduation@admin.fsu.edu for more information about each semester's ceremonies on the Tallahassee campus.
Cap & gown information
You must wear full academic regalia to participate in the commencement ceremony! All students are required to wear our new, customized regalia available exclusively through the FSU Bookstore and online through Herff Jones. These new caps and gowns were created specifically for FSU; thus, you may not wear borrowed regalia or regalia purchased from alternative vendors. Our regalia is available for rental or purchase.
Ordering Regalia & Announcements
Online Rentals: Order regalia with Herff Jones through DATE TBD. Please note that all orders placed after DATE TBD will be assessed a $10.00 late fee and must be submitted in person at the FSU Bookstore. 
Purchasing Regalia: If you want to purchase regalia, contact the FSU Bookstore at (850) 644-0832. Submit your order as soon as possible because it can take up to eight weeks to process custom orders.
Announcements: Graduation announcements are available as a package with your cap and gown or can be purchased separately through Herff Jones.
Picking Up Your Cap & Gown
Cap and gown pick up will be held (DATES TBD). You must present your photo ID when picking up your cap and gown.
Participating in the Ceremony
Please reference this tassel color-swatch sheet that provides examples of the tassel colors traditionally associated with the various academic disciplines.
Bachelor's Candidate Tassel: Wear the tassel on right side of the cap until degrees are conferred. Move the tassel to left when the President directs you to do so.
Master's and Specialist's Candidate Tassel: Gowns fasten at the neck, and hoods drape down the back. Wear your tassel on the left.
IMPORTANT: You may wear only approved cords or medallions denoting academic achievement with your regalia. No unapproved medallions, stoles, cords, leis, etc., will be permitted. 
Requesting a Refund or Returning Regalia
Requesting a Refund: If you cannot participate in the ceremony, contact the FSU Bookstore to request a refund prior to your ceremony.
Returning Rented Regalia: You may return your regalia after the ceremony by bringing it to tables provided by the FSU Bookstore for that purpose. If you do not return your regalia at the conclusion of the ceremony, you must return it to the FSU Bookstore the week after graduation. Your diploma will be withheld until you return your rented regalia. 
Guest tickets
Seating is limited, and all guests must have a ticket to enter the venue. Six guest tickets are allotted per graduate. Additional guest tickets are not guaranteed but may be requested on a first-come, first-served basis on the graduate RSVP site in late April. Check your student email for specific dates and availability.
Parking
Parking available at the Shoppes of Edgewater, 493 Richard Jackson Blvd., Panama City Beach, with shuttle pickup to Edgewater Beach Resort Conference Center. Handicapped parking (with state-issued handicap parking permit) will be available at the conference center 520 Richard Jackson Blvd., Panama City Beach.
Shuttles will begin running at noon.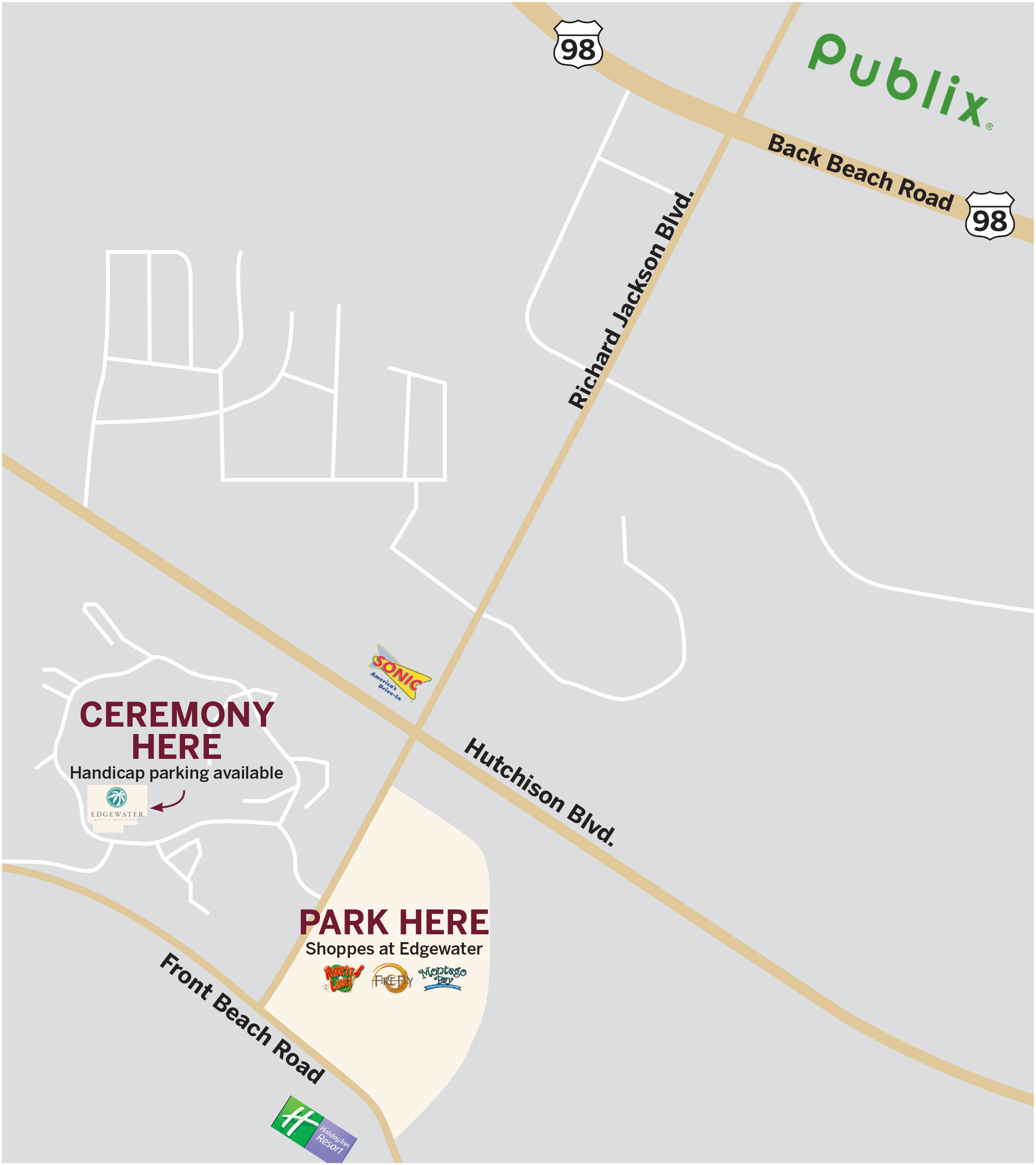 Degrees of distinction
Only undergraduate students are eligible for degrees of distinction. Every level of degree distinction (Cum Laude, Magna Cum Laude, Summa Cum Laude) requires you to meet the qualifications for both Cum GPA AND Combined Cum. Both GPA calculations have the same qualifying value range into which your average must fall to earn the specified degree of distinction.
| | | | |
| --- | --- | --- | --- |
| Range for Cum GPA |   | Range for Combined Cum | Degree of Distinction Earned |
| 3.500 - 3.699 | & | 3.500 - 3.699 | = CUM LAUDE |
| 3.700 - 3.899 | & | 3.700 - 3.899 | = MAGNA CUM LAUDE |
| 3.900 or higher | & | 3.900 or higher | = SUMMA CUM LAUDE |
Please note: Your anticipated level of degree distinction may vary after the final graduation check is completed. Due to spring grades/GPAs not officially posting until after the graduation commencement ceremony, all spring graduate's calculations for degrees of distinction will be based on the student's Fall 2019 GPAs. Those participants that graduated in summer and fall 2019 whose distinction is already posted on their FSU undergraduate transcript will also be eligible.
The FSU Panama City Admissions & Records staff will determine each participating student's eligibility and provide the appropriate honor cord when students pick up their commencement regalia. Please contact Brandi Barnes at 850-770-2311 if you have any further questions.
Diploma information
After you're cleared by both your academic dean and the University Registrar's Office, your diploma will be mailed to you. Please allow six to eight weeks after the semester ends for your diploma to arrive. If you have additional questions, please call 850-644-1050.
Ordering a Replacement Diploma
We order diplomas weekly, and they are typically received within two to three weeks of the date on which we place the order.
To order a replacement diploma (size 11"x14"), you must send a written request with your signature and the information noted below. The Diploma Request Form is available as a PDF.
Your name exactly as it should appear on the diploma (If your name changes, include a copy of your driver's license or marriage license to have your new name printed on the diploma.)
The semester and year of graduation
Your major and degree
Your mailing address
A $10.00 check or money order (per diploma) payable to Florida State University
Replacement diplomas will be issued using the current diploma format; therefore, they may not be an exact replica of your original diploma. Replacement diplomas will include a "Replacement Diploma issued on [date]" statement in the lower left corner. This statement is generally hidden depending on the type of frame and matting used.
Transcripts
Visit the Transcripts page for instructions.
Diplomas and transcripts will not be released until the student has cleared all financial obligations to the university (i.e., parking fees, library fines, etc.)
Federal regulations require that all recipients of long-term loans participate in an Exit Interview Counseling Session upon graduating. To conduct your online interview, please go to studentloans.gov and click the Complete Exit Counseling link.
title-inside title-centered
2