Officer pairs degree with badge
Cpl. Jeremy Izquierdo now has a Florida State degree to pair with his badge.
While working nights patrolling the Tallahassee campus with the FSU Police Department, Izquierdo earned his bachelor's degree in public safety & security. He graduated from FSU Panama City's distance learning program in December 2015, specializing in law enforcement operation.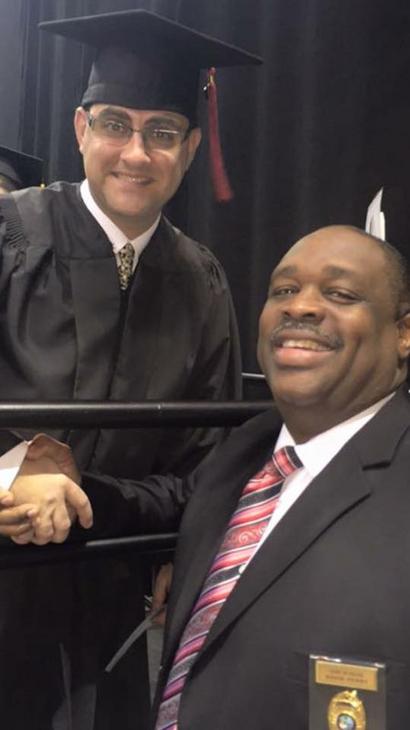 Cpl. Jeremy Izquierdo and FSU Police Chief David Perry shake hands during the fall commencement ceremony Dec. 12, 2015, in Tallahassee
Izquierdo began his career in law enforcement in 2003, leaving a job selling jewelry to become a role model for others.
"Serving the FSU community to me is being able to help no matter what," he said. "We as police officers take an oath when we first become officers to help the community and to place ourselves in harm's way in order to keep the community safe."
Izquierdo earned his Associate of Arts degree from Tallahassee Community College. He then transferred to Florida State University until joining the Police Academy in 2003. Juggling 12-hour shifts at night and family obligations during the day, he returned to his studies at Florida State through the online program in spring 2013.
"I wanted to finish what I had started many years ago," he said. "The distance learning program allowed me to fulfill my obligations at my own pace. Sitting in a classroom was not for me."
Distance learning courses are designed with full-time law enforcement and criminal justice employees in mind, instructor Banyon Pelham said. The online program allows students to access class work on their own schedules with both live and pre-recorded lectures available through any Internet connection.
"The program is designed to help them become better police officers and become prepared for law enforcement managerial positions," he said.
Police officers assigned to the Uniform Patrol Section are the backbone of the department, according to the FSU Police Department website. As a patrol corporal, Izquierdo cruises through designated areas of campus, responds to calls for service, and investigates accidents and criminal offenses. He is committed to preventing and reducing crime, protecting and educating the community, and providing assistance to those in need.
The FSU Police Department serves more than 40,000 people daily, including students, faculty, staff and visitors. That population can triple during home football games.
In addition to traditional policing skills, patrolling a university campus requires extra flexibility and tact, FSU Police Chief David Perry said. Because of the university's diverse population, officers could come across people in dire circumstances and world-renowned scholars on any shift.
Civilian ridealongs and small talk with students improve the student-officer relationship on campus, Izquierdo noted.
"I knew [becoming a police officer] would give me the chance to become a role model for others," he said. "It seemed to be the career that would allow me to learn and to grow as a community servant and as an individual."
"His work has demonstrated the very best in dedication to community, family and academic accomplishment, and what it means to be a Florida State University alumnus," Perry said.
Izquierdo was named 2010 Officer of the Year, has been nominated for State Law Enforcement Officer of the Year and Big Bend Officer of the Year, and has earned recognition from MADD for dedication to DUI enforcement.
He also volunteers at his daughter's elementary school, hoping to set an example for younger students. He and his wife, Samantha, have two daughters: Taylor, 17, and Jaydyn, 9.
He said he plans to continue working for the FSU Police Department, using his education to advance as promotions become available. Most law enforcement agencies require a minimum of a bachelor's degree to promote to certain ranks and command staff positions.