Questions about FSU Panama City admissions, programs, campus, COVID-19 response or current hours of operation?
Call the FSU PC Promise Information Number (24/7): (850) 770-2411.
Under Pressure: Electrical Engineering Students Develop Light Emitting Air Warning System
---
Under Pressure: Electrical Engineering Students Develop Light Emitting Air Warning System
First responders and public safety divers routinely conduct operations in dark, turbid waters, where visibility is often almost non-existent, making it difficult to determine if they are low on air. This can lead to bodily harm and, in extreme cases, accidental death of the diver.
In response to this risk, FSU Panama City engineering students — in conjunction with the Panama City Naval Surface Warfare System (NSWC) — developed a LED Air Warning System (LAWS) as their summer senior design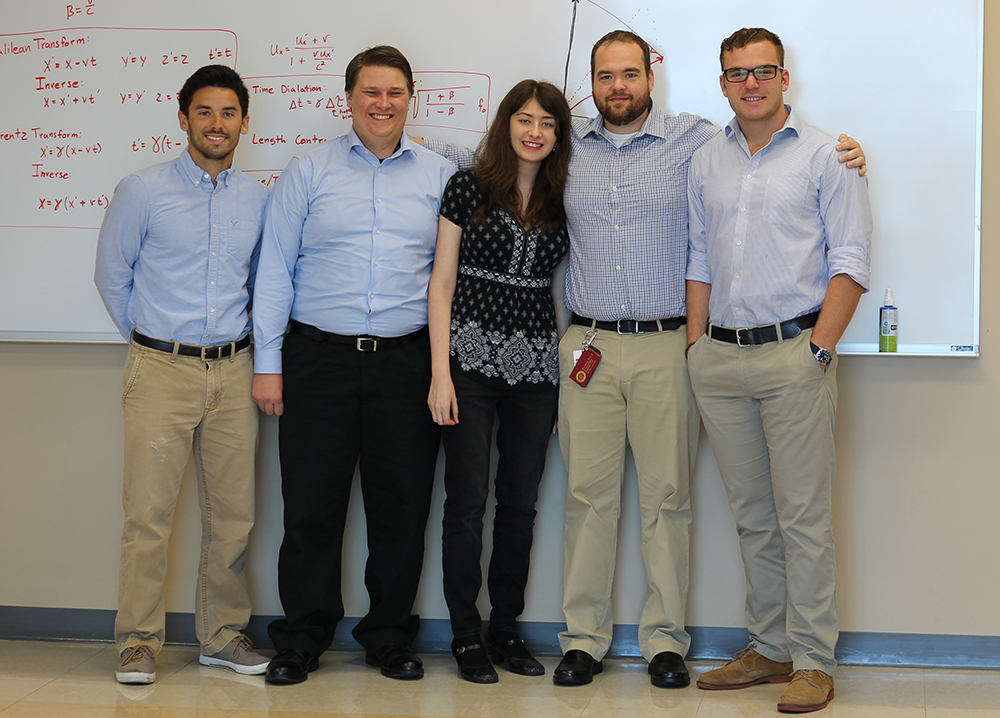 project. The system, developed by Colton Bond, Aaron Cox, Hayden DeForge, Martin Dvorak and Jackie Jermyn, uses a light emitting diode (LED) — along with an air pressure transducer with a wire connection to a heads up display (HUD) — to provide divers with detailed information about the remaining pressure in their tank.
To achieve this, the system was upgraded from the currently marketed version with one LED light to four lights at a pressure range from 0 to 5,000 pounds per square inch (psi).
"We selected red LEDs in order to preserve the diver's eyesight under low-light conditions," Jermyn said. Based on feedback from divers, the warning lights will be placed on the bottom, left portion of the dive mask where they can be seen but are least likely to obstruct the diver's field of vision.
While the previous system retails for around $300, the new system will cost approximately a third less and have greater functionality than the original. The new system is compatible with standard dive tank regulators.
"We don't want divers to have to dish out $300-plus for something that may save their lives," DeForge said. "It's important that the design works and is affordable."
The team reduced cost of production by changing the wire that transmits the signal from the LED display to the air pressure transducer with a more affordable option that has the wire built into the transducer and uses three AAA batteries. The housing design will clip on to an Interspior Divator Mask, and a durable wire connects the transducer from the scuba regulator to the battery and LED housing.
To ensure the system will work in real-life, the team partnered with faculty and staff from FSU Panama City's advanced science diving program to test the system at the on-campus dive locker.
"We were granted access to compressors, test benches and were able to test under real-world conditions," Bond said. "The guys at the diver locker were a tremendous help, assisting us every step of the way."
Dive locker supervisor Darren DeDario and advanced science diving program faculty member Mike Zinszer provided basic instruction on how to use the dive test equipment, including a portable high-pressure gauge that was modified with a light sensor, an 80 cubic foot aluminum SCUBA cylinder and a high-pressure flow bench. The students performed all the tests.
While this is the first time FSU Panama City engineering students have worked with the advanced science diving program, the dive program has previously worked with NSWC Panama City.
"It was great working with these students and seeing their passion for electrical engineering," DeDario said. "It is imperative that we have collaboration like this moving forward, not only to improve working relationships on our campus, but in the community as well."
The project took four months to complete from start to finish and was presented at June 30 to the Navy Base, FSU Panama City faculty and staff, STEM camp students and the community. 
After the students completed the design, the system was given to the Navy Base to create packing, including a waterproof case.
NSWC Panama City is currently in discussions with Interspiro – a manufacturer of respiratory protection for firefighting, diving and working hazardous environments – to have the new air warning system mass-produced.