U.S. Coast Guard veteran embraces path as electrical engineering student
---
U.S. Coast Guard veteran embraces path as electrical engineering student
---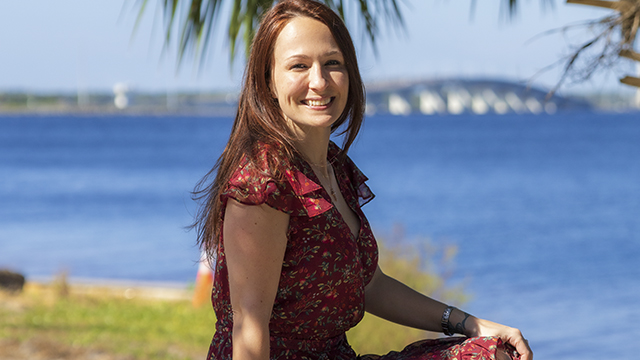 "Ever since I was a young girl, I loved science. Sometimes it just takes one person who believes in you to prove you're capable."
— Morgan Olsen
U.S. Coast Guard veteran embraces path as electrical engineering student
Major: Electrical Engineering
Graduation: Spring 2024
---
When classes resumed this fall, U.S. Coast Guard veteran Morgan Olsen, '24, took time to take it all in — from Sandy Spear Bayside Dining's location along St. Andrew Bay to the long journey that brought her to Florida State University Panama City.
"I was just looking at the view; it's beautiful," said Olsen, an electrical engineering student. "I'm excited for my new identity. I'm excited to be a student at FSU Panama City."
Olsen served on active duty from 2008 to 2020 and was an Electrician's Mate First Class at the time of her departure. She was attached to the U.S. Coast Guard Aids to Navigation Team at the Naval Support Activity Panama City and transferred to the area about a year ago. 
"I received my Journeyman Marine Electrician Certification from the U.S. Department of Labor before leaving the service," Olsen said. "I was stationed on a U.S. Coast Guard cutter, and I performed electrical preventative and corrective maintenance on ships and small boats within the U.S. Coast Guard fleet to ensure mission readiness. I traveled to the Eastern Pacific and did drug interdiction and worked with fisheries. I've been to many South American countries — Panama, Guatemala, Mexico, Costa Rica and El Salvador."
But an injury while stationed on a ship in 2013 changed her course. 
"I fell through a scuttle, and I injured both of my shoulders," said Olsen, who underwent surgeries for the injuries. "Being an electrician now is physically painful; that's why I'm going to school to be an electrical engineer. I can use my brain and still enjoy the theory of electricity in a design capacity."
PATH TO FSU PC
While Olsen always wanted to go to college, the military helped make it possible. Born and raised in Waukegan, Illinois, she was recruited out of the South Side of Chicago.
"I didn't have the means to go to college initially, and now I get to come to this beautiful school on the GI bill that I earned from my military service," Olsen said. "This is the American dream, the opportunity. I used to dream about going to a university and never thought I could make it. I persevered and never gave up."
Olsen had set her sights on FSU PC ever since there was an opportunity to relocate.
"Of all the places to be stationed, I wanted to be stationed here," Olsen said. "FSU has such a great reputation."
She admitted it wasn't easy to get into FSU Panama City, but her persistence paid off. Olsen began at neighboring Gulf Coast State College and weighed her options.
"I had been accepted to the University of Southern Maine and the University of North Dakota, but I kept pushing for Florida State; I waited for it. I started this past spring and am almost finished with my first whole year," Olsen said. 
When she was at Gulf Coast, she had taken the basic classes she needed, such as Spanish and Calculus 1 and 2, as well as other courses needed to get into FSU PC's electrical engineering program.
"I was determined to keep going. I love electricity. I love the theory behind it. If you really want something, you have got to go after it," said Olsen, 36. "My gift to myself before I turn 40 is to get my degree. Age is only a barrier if you let it be. I'm so excited about the possibilities the FSU degree will afford me after I finish this program. I'm very excited to be at FSU PC and start my life as an electrical engineer in the civilian world. I have big dreams."
Olsen hopes to mentor other young students to pursue their dreams in the fields of science, technology, engineering and math (STEM). Most recently, she volunteered to be a role model to inspire middle-school girls during a one-day camp, STEM Story, presented by FSU PC and the Society of American Engineers (SAME) in November. Olsen also is a member of SAME and the FSU PC SPEAR Robotics Team.
"Ever since I was a young girl, I loved science," Olsen said. "Sometimes it just takes one person who believes in you to prove you're capable."