Stephanie Smith: Student, mother manages Interactive Bubble Exhibit (IBEX)
---
Stephanie Smith: Student, mother manages Interactive Bubble Exhibit (IBEX)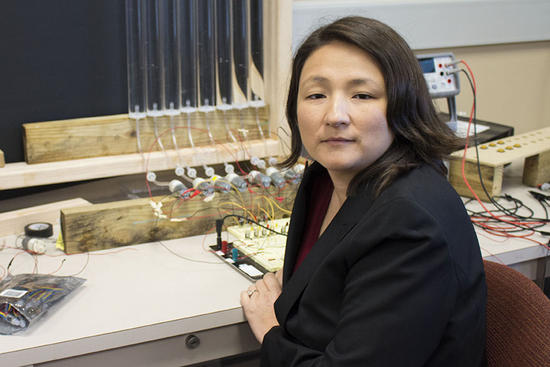 As a mother, Stephanie Smith knows children are fascinated with bubbles and buttons. As an engineering student, she is learning how to turn those bubbles and buttons into an interactive museum exhibit.
Smith, a senior electrical engineering major, is project manager for the Interactive Bubble Exhibit (IBEX), which will be installed in the Science & Discovery Center of Northwest Florida.
Inspired by an online video, Smith and team members software engineer Ethan Thomas, hardware engineer Itay Dreymann and test engineer Javon Cook have spent months developing hardware and software necessary to display bubble designs in a series of glass tubes. The project, which is a graduation requirement for engineering students, has been mentored by Bill Porter and Daniel Cassidy from Naval Surface Warfare Center Panama City Division.
Porter suggested an exhibit at the Science & Discovery Center after seeing a similar project online.
"I saw the project and realized it would present a good balance of complexity for engineering students to solve during their senior design class and make for a good exhibit once completed," Porter said.
After weighing the options, Smith said IBEX was the clear winner.
"I didn't want to be stuck with something I wasn't inspired by," she said.
Smith said she was eager to help the Science & Discovery Center after seeing the facility through her children's eyes.
"I knew there was a need for more exhibits," she said.
Electrical engineering instructor Dr. Geoffrey Brooks agreed.
"Along with other exhibits at the Science & Discovery Center, we all hope to inspire future scientists and engineers in a fun and interesting way," he said.
IBEX hasn't been all fun and games; the project has included many obstacles along the way.
In order to ensure the display was child-proof, the group put the glycerin-filled tubes out of reach behind a Plexiglas barrier. The group also had to overcome technical issues, such as an insufficient power supply and overworked pumps.
The team tested alternative methods to create the pressure needed for the bubbles and even reached out to the creator of the original project in order to improve the exhibit.
"It's not just spelled out for us," Smith said. "It's just a huge learning process."
Smith said she showed a video of other bubble projects to her husband, Stephen, daughter Myla, 10, and son Tyler, 8, to gauge their interest. "My daughter wants one in her room," she noted.
Because children typically are drawn to colored lights, buttons and interactive displays, the group added a lit, 130-button display to allow children to create their own bubble designs.
"Modern and interactive exhibits are what it takes to really wow the kids of today," Porter said. "Most importantly it takes functioning exhibits."
"We have a great team working on IBEX, which we hope will be operational long after the students have graduated," Brooks noted.
Once the project is completed, the group will post the exhibit and tutorials online for other facilities to use.
"It's not just important for us to improve our Science & Discovery Center," Porter said. "If we can take this one step further and make it easier for anyone and everyone to replicate IBEX, then other science centers can benefit from the work Stephanie and her group put into the project."
Originally from Liberty, Mo., Smith moved to Panama City when her husband was stationed at Tyndall Air Force Base.
After earning her degree in industrial drafting and design at Gulf Coast State College, Smith said she wanted to continue her education.
"I just felt like I could do more," she said.
She enrolled in the electrical engineering program at FSU Panama City and expects to graduate this year.
Smith said she would attend Engineering Day in Tallahassee to weigh her career opportunities.
"I'm just trying to see what's out there in the local community," she said.
She said her experience as project manager for IBEX has helped develop her ability to manage and work with a team.
"I've managed programs and people before in the military, but this is a lot more of a creative process," she said.
Porter noted Smith's value as a leader.
"The group Stephanie leads has been attentive, inquisitive and determined," he said. "Usually the leader sets those tones."
IBEX should be installed by April 2014. The Science & Discovery Center is at 308 Airport Road in Panama City.