A Place to Call Home: Celebrating FSU PC's first on-campus housing
---
A Place to Call Home: Celebrating FSU PC's first on-campus housing
In August 2021, full-time students from Florida State University Panama City and neighboring Gulf Coast State College moved into Seminole Landing, FSU PC's first residential housing complex along North Bay.
"Being able to offer students a place to stay on campus makes getting a higher education even more accessible for many in our surrounding communities," said Randy Hanna, dean of FSU Panama City.
Seminole Landing is home to Bay County area students, as well as students who moved to Panama City from South Florida, out of state and even out of the country.
"I got my A.A. at Gulf Coast then transferred to FSU because they have more bachelor's programs and it's the perfect fit, right next door," said elementary education student Tatiana Brown, '23. "I wanted to experience what it was like to not live in my house anymore."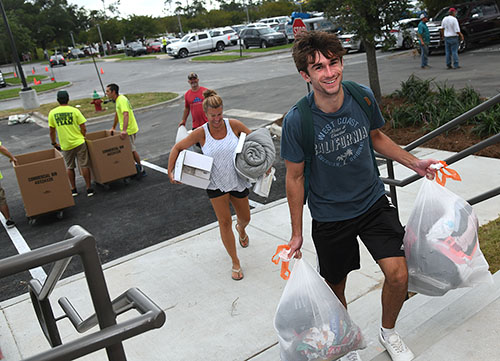 Maxwell Henneman, a first-year finance major at FSU PC, moves into Seminole Landing on Aug. 21, 2021, with help from his parents, Kelly Henneman and Kevin Henneman, of Kingsville, Maryland.
Professional communication major Sha-keefa Lyn, '23, is an international student from Jamaica who transferred from Virginia State University.
"I moved from Jamaica for different experiences," said Lyn, who lived with family in Virginia before relocating to Panama City. "I always wanted to have the experience of living on campus. And when I saw the reasonable prices at Seminole Landing, I thought now is my chance to do this."
The nearly 140 record number of first-time-in-college students for the 2021-2022 academic year has been attributed to the on-campus housing, which attracted a more diverse group of students looking for a residential college experience.
Seminole Landing is owned by Zimmer Development Co. through a partnership with FSU, and Asset Living manages the property.
To be a resident at Seminole Landing, undergraduate or graduate students must be enrolled in at least six credit hours at FSU PC or GCSC. The four-story housing complex has one-, two-, and four-bedroom units that cost between $600 and $750 a month with utilities, WiFi and all amenities included. Units range in size from 552 square feet for the one bedroom, one bath to 1277 square feet for the four bedroom, two bath.
The lease is rented by the bedroom, so if a roommate moves out, the student is still only responsible for their portion of the rent.
Seminole Landing was the deciding factor for political science major Jade Chambers of Broward County, who had only seen the apartments online before move-in weekend.
"It's so nice here," said Chambers, one of the many students in the Seminole Pathways Program who chose to start at FSU PC.
Her mom, Michelle Chambers, said, "She chose to come here for a year and then go to Tallahassee, and we immediately learned about the housing facility. She loves it. We've been here a week now, eating and beaching."
Chambers' parents also were sold on the fact that the apartments are fully furnished with a sofa, lounge chair, coffee table, and flat screen TV, in-unit washer and dryer and kitchen. The kitchen features an island, high-top chairs, stainless steel appliances and granite countertops. Each bedroom comes with a bed with storage, mattress, desk, and an office chair. All amenities are included, but it is an extra $15 a month for a room with a bay view.
Amenities include a 24-hour fitness facility, where students can walk on the treadmill while overlooking the bayside infinity edge pool.
"I'm so excited I get to live right on the bay," said Professional Communication student Lauren Beauchamp, '23, who transferred from Wallace Community College in her hometown of Dothan, Alabama. "When I first got accepted and I was looking at housing, it was really expensive. When I saw this and these prices and talked to my dad, I said I'm definitely doing this."
Beauchamp has been starting her day at the fitness center, taking advantage of the elliptical and free weights.
"They've recently added more equipment to the gym, so I can't have my yoga mat in the middle of the floor anymore," said Beauchamp, who lives on the fourth floor does all exercising in the gym to be considerate of neighbors. "I have a big personality and it tends to come through my feet."
But Seminole Landing has plenty of quiet study spaces — 10 study rooms in all, including private study rooms, conference rooms and open study areas.
"The academics at FSU Panama City remind me of how rigorous the education system is in Jamaica," Lyn said. "In Jamaica, there is a lot of work, and you have to study and be focused all the time. And it's the same here with my professional communication program. My professors make sure I'm always busy."
When students do get a chance to lounge, there are plenty of spaces to gather at Seminole Landing with TVs. A community room features a coffee bar and an arcade game overlooking the bay.
"I love it at Seminole Landing," said first-year biomedical science student Kennia' Swinton. "I like that it's close to everything on campus. I have three other roommates, and we've made a lot of mutual friends. I've been really welcomed since my first day."
For more information about Seminole Landing, visit seminolelandingfsu.com. For naming opportunities at Seminole Landing, please contact 850-770-2151 or outreach@pc.fsu.edu.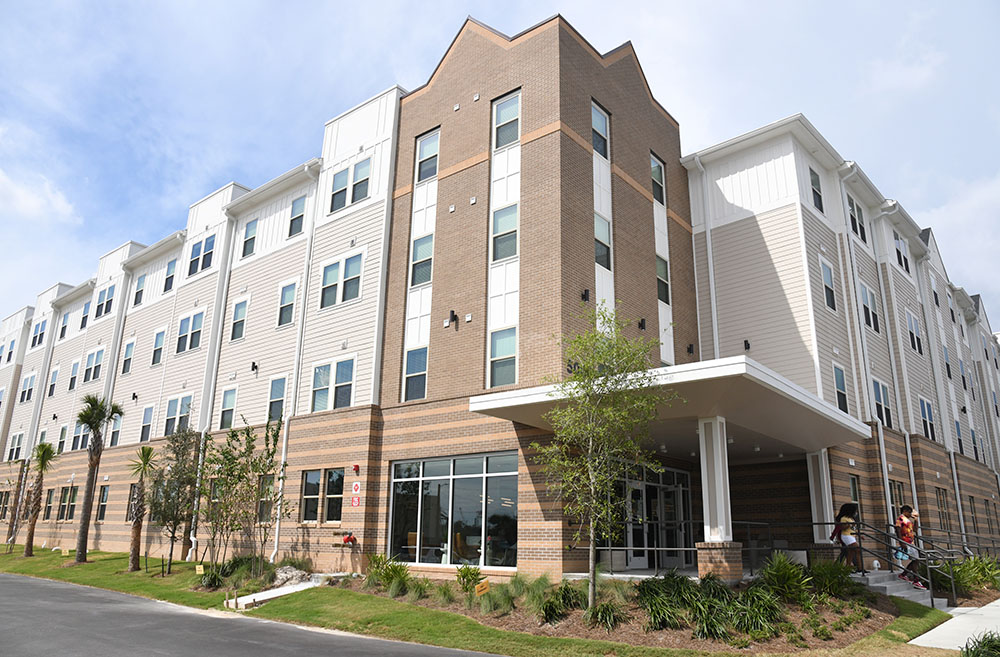 Students move into Seminole Landing on Aug. 21, 2021.