Sarah Grace Bennett: Resort intern brings big fun to families
---
Sarah Grace Bennett: Resort intern brings big fun to families
Sarah Grace Bennett likes to give families the opportunity to let loose and have fun.
As a summer intern at Seahaven Beach Resorts, the Panama City native manages Lil' Shark's Club for guests ages 4 to 15 at Origin, Seahaven Beach Hotel and the Reef Hotel in Panama City Beach. The internship is the final graduation requirement for Bennett to earn her bachelor's degree in Recreation, Tourism and Events from FSU Panama City.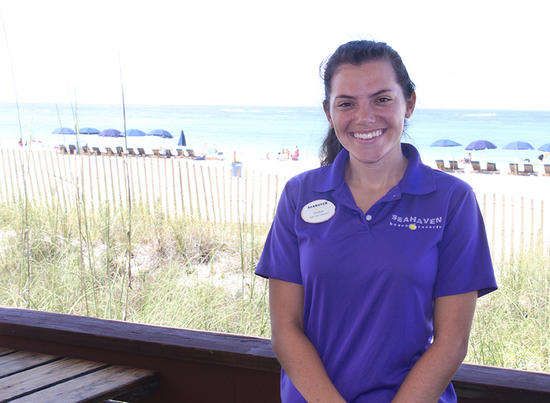 Lil' Sharks Club offers fun and educational crafts, story time, music and movies to help children and their families get the most out of their vacation. The weekly schedule of free activities kicks off with a welcome party each Monday and ends with sandcastle building and movie night on Saturdays. There are also two "Parents' Night Out" movie nights each week to allow adult guests to enjoy the Panama City Beach nightlife without kids in tow.
"It's all family-oriented," Bennett said of Seahaven's philosophy. "Panama City sometimes has a bad reputation, so we try to bring the family aspect to life."
Bennett's day typically starts with morning setup for the scheduled activities. She organizes and sets out art supplies for the day's craft project and prepares for the guests' arrival. After each event and cleanup, Bennett walks through the properties with Seahaven mascot Sharky to market the program with fliers for parents and wristbands for children.
She is also organizing Summer Beach Bash on July 3 for the resorts. The family-friendly event will include a bounce house, snow cones, crafts and music.
"I remember when I was little and we would go to Disney, and they would make the vacation perfect," Bennett said. "I just want to give them that opportunity without spending so much money."
Many Recreation, Tourism and Events students become interested in the field because of their own childhood experiences, instructor Donna Trafford noted.
"That is the part of our job that we enjoy the most: interacting with our participants and watching as they laugh together or cheer together," she said. "It is fun creating fun. … When [students] find out that they can make a living by creating meaningful leisure experiences, they realize play can become work."
Recreation, Tourism and Events is a "people Industry," which is a main focus of the program at FSU Panama City, instructor John Crossley, Ed.d., said. To balance the skills needed in the workplace, required courses focus on event planning, leadership, budgets and quantitative evaluation. Advisors also encourage students to take accounting, marketing and other business courses as electives for a well-rounded education.
Because of the coursework, Bennett said she was fully prepared to take on Lil' Sharks Club this summer. She had used her fieldwork experience last summer at Seahaven to create a business plan in Commercial Recreation and Tourism (LEI 3841). Her business plan for Events By Grace, a company that would operate a resort's recreation programs and events, allowed her to go into the internship with project ideas, marketing strategies and a budget.
"Internships are the place where the books and the classrooms come to life," Trafford said. "It is when students usually have that 'aha moment' and see that the things they have been learning are practical and real."
After graduating from Mosley High School in 2012, Bennett studied hospitality at the University of Central Florida. The next semester, she decided that the Recreation, Tourism and Events program at FSU Panama City would be a better fit for her "people person" personality.
"RTE is more about connecting with people, where hospitality is more about numbers, so I felt like this is more the path I wanted to pursue," Bennett said.
Bennett also credited the smaller classes and the ability to know the instructors as motivators to transfer to FSU Panama City.
After earning her degree, Bennett will take her skills from the sand to the snow. She hopes to work at a ski resort after she and her fiancé marry in August and move to North Dakota.
"When our program graduates students like Sarah, we know we have helped the future communities where she lives and works," Crossley said. "That's what we aim for with each student in our program."
Bennett said she hopes to continue working with children and families in her future career.
"I love helping people get the best experience they can whether it's on vacation, at a kids camp or in a recreational program," she said. "I always hope to help people let loose, relieve stress and over all have big fun."