Rob Griffith: Non-traditional student managing mine defense project
---
Rob Griffith: Non-traditional student managing mine defense project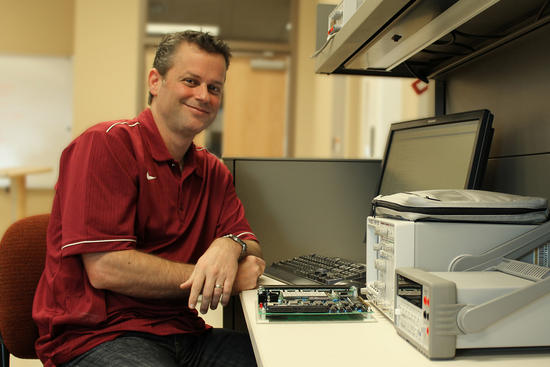 Since Rob Griffith saw his first computer in elementary school, he has had an affinity for technology. Now, at 40, he is completing his degree in computer engineering at Florida State University Panama City.
"I decided I had to do something a little more challenging," said Griffith, who had previously worked in the restaurant industry and construction in Bay County. "I needed to work with my head and not with my back."
With graduation nearing, Griffith is serving as project manager on the Wireless Portable Influence Measuring System (Wireless PIMS) for defense manufacturer Exelis Mine Defense Systems.
PIMS patrol the seafloor, gathering magnetic and acoustic signals to detect underwater explosives. Currently, the PIMS must be pulled from the water after a sweep and dismantled in order for defense experts to learn about possible marine threats.
With team members Test Engineer Bill Robertson, Hardware Engineer Ryan Griffin and System Engineer Ryan Tate, Griffith is creating a more efficient way for the existing device to send data through a wireless signal. Wayne Richardson and Robin Padden of Exelis have served as mentors on the Wireless PIMS project.
Improving the functionality of an existing product is no easy task, said electrical and computer engineering instructor Dr. Clay Hughes.
"Rob's team had to develop a firm understanding of the original design, formulate a solution that would not change the hardware interface and integrate that solution with the existing software," he noted.
Using a Flash Air memory card, the group has had to create software to ensure all data is recorded and transmitted correctly to a laptop aboard a ship.
"The way the PIMS write data is not what the card expects," Griffith said. "The system writes data very quickly and in a very unique manner, and the card isn't used to that."
He said the group also has had to create codes for an automatic wireless shut-off to preserve battery life and buffer files to prevent the device from recording over unseen data while underwater.
"It's a lot of very good hands-on experience and real-world experience," Griffith said. "When you get out there and work on a real project for a real company you encounter real problems."
One such problem, he noted, is adhering to Exelis' security protocols. The group has had to conduct software tests almost exclusively at the facility near the Bay County-Beaches International Airport, but some data analysis has be done on campus.
Through it all, Griffith has thrived as a project manager, his instructors said.
Electrical engineering instructor Dr. Geoffrey Brooks said Griffith, who also has a bachelor's degree in psychology, manages difficult situations well.
"Being an engineer and having an understanding of basic human nature is a rare but powerful combination," Brooks said.
Hughes highlighted Griffith's agreeable demeanor.
"I think that what makes him a good manager is his relaxed personality, which serves to temper his tenacity," he said. Griffith said the support of his wife, Roxanne, has been instrumental in his success. He said he often comes up with solutions to problems while trying to explain them to her and their son, Robbie, 6, at home.
"It's good to explain it; it means you understand it," he said.
Senior design projects, which are a graduation requirement for all engineering students, are mentored and sponsored by local industry. Through the projects, students demonstrate their ability to apply their knowledge to develop a product in a team setting.
"This is vital to their future employment because it helps them develop communication, interpersonal, organizational and time-management skills that employers look for in addition to fundamental knowledge of their discipline," Hughes said.
Brooks agreed with the value of the hand-on project.
"In addition to the direct contact with a potential employer, the industry-sponsored senior design projects give our students specific experiences with real engineering challenges," he said. "This gives them some experience to highlight in their resumes and interviews; they enter their career field with more than just the required academics."
The Wireless PIMS project should be complete in April. Griffith plans to graduate in May.