Natasha Allen: BSU president promotes diversity, earns degree
---
Natasha Allen: BSU president promotes diversity, earns degree
Natasha Allen refuses to settle for less. Competitive by nature, she always strives to be her best.
This year, she became the first in her family to earn a college education. After serving as president of the Black Student Union and promoting diversity at FSU Panama City, she graduated May 3 with a bachelor's degree in Business Administration.
Allen is the oldest of her father's children and the youngest of her mother's. In all, she has five siblings she hopes to lead by example.
"I know what I want them to do, so I need to do the same for myself and be a positive role model," she said. "No matter how difficult or trying my situations have been, I have always continued to push through and finish strong."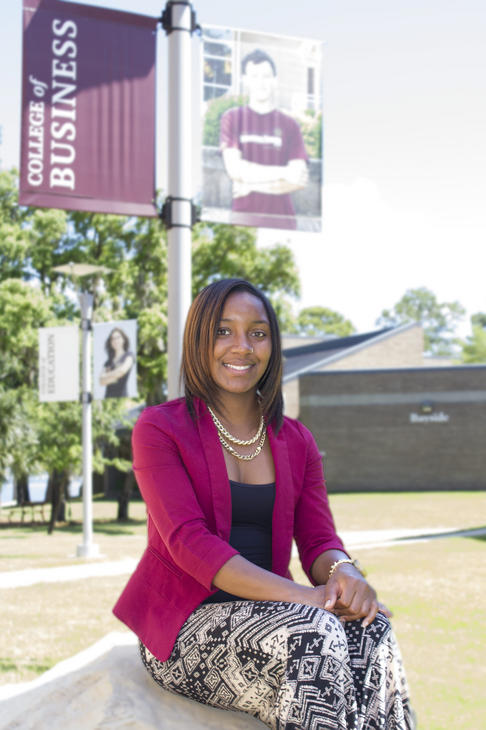 To pay for rent, bills and tuition, Allen sometimes worked two or three jobs. Still, she thrived academically and socially, helping administrators and students to promote diversity on campus.
"It's really important to have an understanding of someone's background to know how to treat them," she said. "You can value what they've gone through."
As president of the Black Student Union, Allen has worked to enhance campus life and student involvement. The group has hosted a Breast Cancer Awareness Month fundraiser, an academic colloquium and performances from the Global Arts Society. In February, the BSU took on weekly movie nights, guest speakers, health screenings and game days in honor of Black History Month.
BSU's mission is to promote political activism, academic excellence, cultural awareness and economic development. Despite its name, the organization is open to students of any race, Allen noted.
"It's a very diverse organization within itself," Allen said. "You can go in single-minded, but you can come out more open to others."
Students and organizations should do more to celebrate and understand different cultures, she said.
As the "momma" of her group, Allen said she motivates friends to do their best. She encourages students to use diversity to discover their identities and paths to success.
"Natasha is very passionate with anything she is involved in," said BSU Vice President Mercedes Ardley-Madrid. "She is a great role model."
Being active on campus and taking on leadership roles helps mold a person and enhances the college experience, Allen noted.
"It's the responsibility of the students to know that this is the FSU that fits you," she advised fellow students. "This shouldn't be a campus where you just come to class, get a degree and leave. This should be a campus where you make memories."
Student involvement enhances the college experience by balancing academics and recreation, noted Sarah Schreck, the program associate for Student Government Council and Registered Student Organizations.
"Students can be easily burnt out and less productive if college is all work and no play," she said. "College is a time to expand horizons and step out of comfort zones to grow as a person."
Student organizations also offer affiliations to national organizations and leadership opportunities, which can help students in their professional endeavors after graduation, Schreck added.
Allen first became involved in student organizations as a student a Gulf Coast State College. Because of the encouragement of her friends and school mentors, she joined the college's African-American Student Union, which motivated her to do more on campus than merely go to class. Seeing the bigger picture of the organization, she became president of the club and began attending retreats and state conferences.
"At first I wasn't really engaged," she said. "But [getting involved] added fuel to the fire in me."
After graduating from Gulf Coast State College, she knew she wanted to continue her involvement on her next college campus.
To be near her family, she briefly attended Valdosta State University. Despite the diverse campus's active student life, she decided after one semester it was time to come back to Panama City, where she took the reins of the BSU.
Allen also is a member of NAACP and the Phi Sigma Theta National Honors Society. She served as a regional coordinator for the Florida African American Student Association, Inc. (FAASA).
"For me to be where I am today is a big accomplishment," she said. "I just didn't want to settle for less."
Allen, who has been juggling school and work since graduating high school in 2009, plans to pursue her master's degree after a year break. She works as a supervisor at Charlotte Rouse.