Mother, son share alma mater
---
Mother, son share alma mater
Debra Spradley (elementary education, '90; education leadership, '94) and her son already shared a love of math; now they will share an alma mater. Matthew Spradley (computer science, '19) started taking classes this fall as a freshman at FSU Panama City.
"I'm very, very proud and honored that he followed in my footsteps," Debra said. "It is so special that he is a Seminole."
Because of the quality of FSU Panama City's computer science program paired with the ability to save "a big chunk of money" on living expenses, Matthew decided the campus close to home was right for him. He also had considered the University of Central Florida and Gulf Coast State College.
Just a few months into his college experience, Matthew has become president of the Association of Computing Machinery and a member of the Veterans of America Club, Project Runway and Girls Who Code. He also is working with the food pantry at Living Word Church for required liberal arts Research, Genre and Context: A Service Approach (ENC 2135).
"I wanted to branch out and learn new faces and names," he said about his active campus life. "I look forward to the opportunities that are going to open up and adding to my skill set."
Matthew was one of only two Bay High School graduates to transfer to FSU Panama City.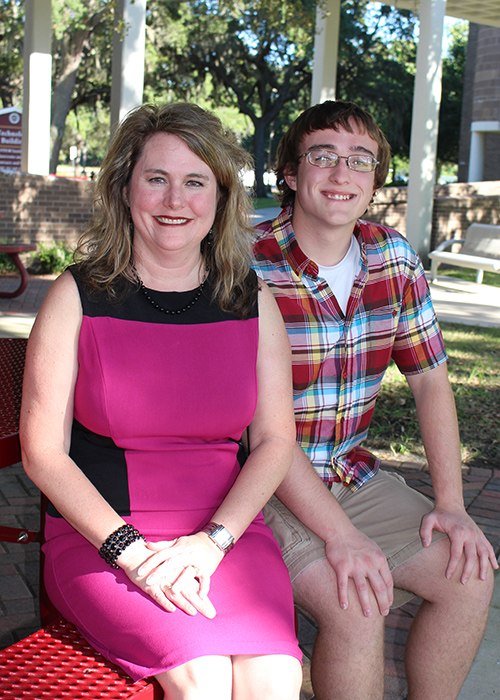 Student organizations, service projects and campus life are an important part of the college experience that is just blossoming at FSU Panama City, Debra said.
"There's so much more to offer now," she said comparing her son's college experience with her own. "He's stepped out and stepped up in his first year of college. He is a part of all these extracurricular activities while learning college life, and that's huge."
Debra, who wanted to become a math teacher, chose the elementary education program at FSU Panama City after graduating from then-Gulf Coast Community College.
"I went the elementary ed path, and that was the right choice," she said.
She continued her education, earning her master's degree in education leadership while teaching third grade at Lucille Moore Elementary School. She then went on to become an administrator at Lynn Haven Elementary School, where she now serves as principal.
After graduation, Matthew said he hopes to work for a government contractor or pursue a career "wherever the typing takes me."