FSU Panama City hosts Summer Send Off for Kinsey African American Art & History Collection
---
FSU Panama City hosts Summer Send Off for Kinsey African American Art & History Collection
Florida State University Panama City invites the community to a Summer Send Off for the Kinsey African American Art & History Collection on July 28 with Shirley and Bernard Kinsey.
"It has been our honor to host this world-renowned exhibit, and we have been overwhelmed by the tremendous response from our community," said Dean Randy Hanna. "We look forward to welcoming the Kinseys back to FSU Panama City and hope you will join us."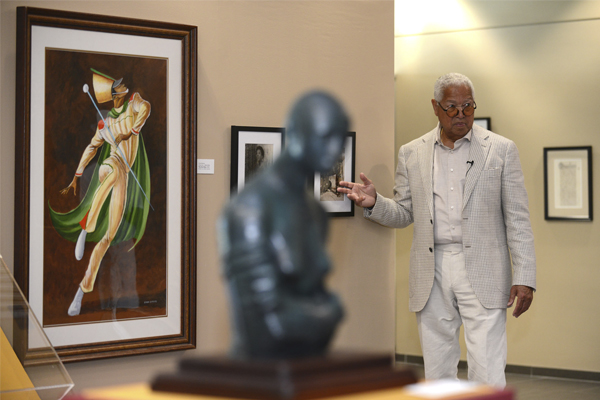 The Kinsey Collection will open at 8 a.m. Thursday, July 28, at the Holley Academic Center, and works by local artist Christon Anderson will be on display. At 3 p.m., local artist Willie Spears will share "5 Untold Stories" in the St. Joe Community Foundation Lecture Hall. The day-long celebration culminates with a 4 p.m. reception with Shirley and Bernard at the Holley Academic Center, followed by a "Conversation with the Kinseys" from 4:30 to 6 p.m. in the lecture hall. The couple also will sign copies of their book, "The Kinsey Collection: Shared treasures of Bernard and Shirley Kinsey."
Organized by The Bernard & Shirley Kinsey Foundation for the Arts & Education and KBK Enterprises Inc., the Kinsey Collection shares stories of African Americans' achievement spanning more than 400 years. The rare and comprehensive collection features primary source historical objects and artifacts dating from 1595 to the present day, and art created by African American artists that dates to 1865.
During the past 15 years, the exhibit has been seen by more than 15 million people in 40 cities around the world. Most recently, the Kinsey Collection has covered more than 100,000 square feet at SoFi Stadium in Los Angeles. But the FSU Panama City show has been more personal for Florida natives Bernard and Shirley Kinsey, who met at Florida A&M in Tallahassee in 1963.
"What we wanted to try to do with this show is personalize it, because a lot of what we do is personal," said Bernard Kinsey, who has cultivated the collection with his wife during their 55 years of marriage. 
The FSU Panama City exhibit includes personal photos of the young couple paired with photos of a civil rights demonstration.
"This all was going on at the time (in the '60s). We show Black people in everyday life, having fun and having this pride of being who they are," Bernard Kinsey said. "We want you to uncover all these truths. You can't do this by owning the collection; you have to bring it to a point for others to see."
During exhibit tours, the Kinseys share personal connections to the artwork, sculptures and books in the collection. The bronze bust of Frederick Douglass once sat on the Kinseys' dining room table, and Rosa Parks' 1998 book, "Quiet Strength" was signed to her friend Shirley Kinsey.
The Kinsey Collection began with the Kinseys' desire to instill an appreciation for the arts from cultures throughout the world in their son, Khalil, and led to "rediscovering" the African American story. The collection is now curated by Khalil Kinsey and historian Larry Earl.
Groups may schedule personal tours with the Kinseys on July 28 by calling FSU PC Alumni and Development Coordinator Tammetrius Farmer in advance at 850-770-2168. RSVP for closing-day events at events@pc.fsu.edu. 
FSU PC adjunct professor Janice Lucas, executive director of the LEAD Coalition, will be leading tours from 1-4 p.m. Sunday, July 10. The Kinsey Collection's regular exhibit hours at FSU Panama City are noon to 7 p.m. Monday through Thursday, 10 a.m. to 2 p.m. Friday, and noon to 5 p.m. Saturday, and by appointment. Admission to the exhibit is free.
The Kinsey Collection is sponsored by Panama City Toyota, the St. Joe Community Foundation, Walborsky Bradley & Fleming, Florida Power & Light, Visit Panama City Beach and the Charles A. Whitehead Foundation, in addition to anonymous donors and individual sponsors.
For more information, visit pc.fsu.edu/kinsey. 
SUMMER SEND OFF SCHEDULE
Thursday, July 28
8 a.m.: Kinsey Collection opens for exhibit tours; see works by local artist Christon Anderson on display
3-4 p.m.: Motivational speaker and local author Willie Spears shares "5 Untold Stories" 
4-4:30 p.m.: Visit with Shirley and Bernard Kinsey during an opening reception
4:30-6 p.m.: "A Conversation with the Kinseys"; book signing