Justice Wobser: Home-schooler excels as motivated 'Nole
---
Justice Wobser: Home-schooler excels as motivated 'Nole
Justice Wobser knows what it is like to be the odd man out.
As a home schooled student, he began regularly attending classes at Gulf Coast State College when he was 16. Always the youngest in his class, he focused on academics while many friends his age were taking it slow in the Dolphin Café.
"My friends were living the high school life, while [I was] going through college classes," he said. "I felt as if I was rushing into adulthood too quickly."
Catapulted into adulthood, Wobser found the key to academic success through hard work, self-discipline and responsibility.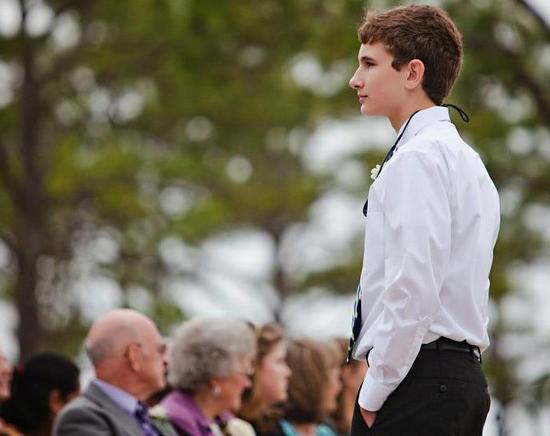 "One of the most critical goals I have to for myself would be to get the best grades I can possibly get in each one of my classes: A-plus," he said. "I constantly desire to use school and my grades as a tool I can use to strive to be the best I can be."
Wobser graduated high school with an Associate of Arts degree, earning a spot on the Dean's List for Gulf Coast in spring 2014. He began studying Electrical Engineering at FSU Panama City in fall 2014. That semester, he also was included in Florida State's President's List.
Wobser said he chose FSU Panama City because of its academic programs and the ability to save money by forgoing university housing. He also cited his brothers, who are FSU Panama City alumni, as a major source of inspiration for his academic path and career goals.
"[My brother] informed me on the benefits of studying engineering with opportunities at the Naval Research base right down the road," he noted.
As one of 11 children, Wobser is family-oriented. He has seven brothers and three sisters.
"The benefits of having a large family far outweighed the discomforts; I had 10 best friends," he said. "I had a lot of people to look up to and learn from their own mistakes, both educational and career-wise."
After graduation, Wobser said he hopes to design weapons for the U.S military.
"My desire to work for the United States military comes from the utmost respect I have for the men and women who serve this country," he said. "I wish to, in a way, repay them for the sacrifices they've made for this country, and repayment could involve designing weapons and technology that could save their lives in combat."
Wobser should graduate in spring 2017.