FSU PC graduate student puts education into action with Intramural Sports
---
FSU PC graduate student puts education into action with Intramural Sports
---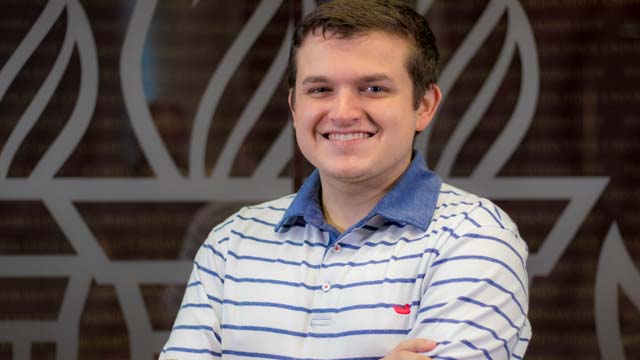 "With my hospitality background, a lot comes in from the management side and managing time, as well as the event ideas and creativity side. Graduate school is more of the research aspect and logistics." — Mason Taylor, Intramural Sports coordinator
Undergraduate Degree: '21, B.S. in hospitality and tourism management
Graduate Degree: '24, M.S. in Corporate and Public Communication
---
As the new Florida State University Panama City Intramural Sports coordinator, Mason Taylor, '21, is putting his B.S. in hospitality and tourism management into action and bringing what he's learning in his graduate program into play.
Taylor is pursuing his M.S. in corporate and public communication. He said the graduate program complements his undergraduate degree by refining soft skills and taking them to the next level.
"With my hospitality background, a lot comes in from the management side and managing time, as well as the event ideas and creativity side," said Taylor, who served as chair of special events on Student Government Council. "Graduate school is more of the research aspect and logistics, so I'm building on those skills by doing questionnaires and surveys, such as finding out which sports students want. I also have learned the importance of flexibility."
The hospitality program, housed under FSU's Dedman College of Hospitality, prepares students for the challenges of the ever-changing hospitality industry. Communication is essential in every industry, and the corporate and public communication graduate program teaches students how to reach diverse audiences effectively through theory and application.
"I like having the smaller class sizes here and still being able to get the university experience," Taylor said. "The staff and faculty are amazing. They want to see you succeed, and they help you succeed."
Taylor had approached Dr. Irvin Clark, Associate Dean of Student & Strategic Initiatives, about combining the skills he's learned from his undergraduate and graduate programs, and Clark was on board.
Clark said, "Mason is a smart guy, and the Intramural Sports program is going to grow under his leadership."
Taylor commutes from his family's home in Cottondale, but he is still experiencing the benefits of FSU PC's on-campus residential housing, especially in his new role as intramural sports coordinator. Having students from FSU PC and Gulf Coast State College living on campus created a greater a need for the Intramural Sports program.
"I think on-campus housing has been a brilliant thing for this campus. I like seeing more people. I think it's opened a world of opportunities," Taylor said. "We are quite literally at the beach, and I think housing will continue to bring more students here."
His dad, Scotty Taylor, '06, was in the first graduating class of the civil engineering program. But Taylor's passion is traveling, which is what inspired his undergraduate degree.
"I liked traveling a lot and attending events. I chose hospitality, because you can go anywhere with it," Taylor said.
For questions about FSU PC Intramural Sports, email Mason Taylor at Mt19u@my.fsu.edu and follow FSU PC Intramurals on Instagram at @fsupcimsports.