FSU PC grad applies her degree to family businesses
---
FSU PC grad applies her degree to family businesses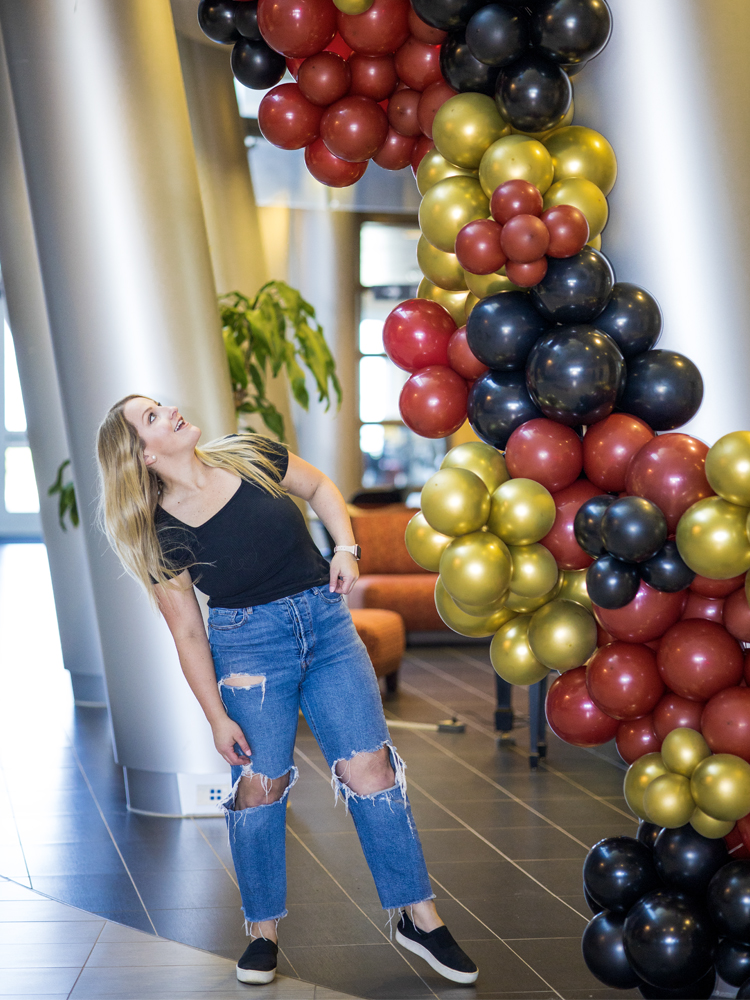 Brittany Infinger, '10, B.S. business
Wellspent Events owner Brittany Infinger set up custom balloon garland featuring garnet and gold in the Holley Academic Center to welcome students to campus for Fall, as her experience at FSU Panama City came full circle.
"I loved going here," said Brittany, who earned her Bachelor of Science in business administration in 2010. "I was a lifelong Florida State fan. My parents said I could have student loans and go to Tallahassee or stay here and get a part-time job and not have debt. I decided to go for no student debt and still get the beach. I'm very much a water person."
Brittany lived at her parents' Lynn Haven home and pursued her degree, while working retail and restaurant jobs on the side.
"And I helped my parents with their business marketing," said Brittany, whose parents own Coastal Emergency Restoration Team. "I met a lot of people here at FSU Panama City, and it's neat to see how everyone I went to school with has grown their businesses and are doing different things now. With a business degree, you can literally do anything. We opened a restaurant."
BUSINESS DEGREE LAYS FOUNDATION
Brittany and her husband, Chris — a classically trained chef, opened Beau's Meat & Two plus BBQ in Panama City Beach in October 2018, the same month Hurricane Michael hit. Since then, they've continued to adjust their business model throughout the COVID-19 pandemic.
"Chris always knew he wanted to be a chef and open a restaurant, but he didn't know about the business side of things," Brittany said. "I'm used to being behind the scenes."
But Brittany's design touches are front and center throughout the Southern beach restaurant, from her artwork to handmade coastal pillows with palm fronds and the chalkboard-painted surfboards outside.
"When my friends started getting married and having babies, I was always the one who said, 'I'll do decorations,'" recalled Brittany, who began freelancing her creative designs. "Primarily, it started as tablescapes."
After years of decorating for parties, including hosting them at Beau's, Brittany incorporated Wellspent Events into an "official business" this year. 
"Chris would cook, and I would set the table. People are always so happy; it's a way to bring people together for food and a good time," Brittany said. "I just set tables at first, but I was doing balloons for my daughter's birthday and others wanted that, too. It was a very natural process." 
Their daughter, Vivi, turned 5 this year.
"I began working for myself so I could see my child grow up," said Brittany, who enjoys the flexibility that comes from owning her own business. "My business degree set the foundation for everything. You don't know how much you need a degree till you're sitting there with a business plan. Having a business background went hand in hand; I did my planning along the way. I knew how to set things up and what to avoid."
 
Just as restaurant hours have been adjusted based on the staffing and customer demand, Brittany's personal business plan has been flipped.
"Since the day I was born, I was always making stuff, creating," she said, adding Memaw was her No. 1 fan. "She'd buy me paints and had stuff for crafting; it was a wonderland over there."
After Beau's opened, Brittany initially sought to create a lifestyle brand.
"I had all this art, because I paint all the time," said Brittany, who was just doing events on the side. "The business class taught me that you should do what you enjoy but also what is going to be successful. Whenever you have a business take off, you listen to that. This balloon business used to be my side gig, but I flipped them, and now art is my side gig."
FROM BIG BIRTHDAYS TO BALLOON ARCHES
"Growing up with entrepreneurs, birthdays were always huge deals," said Brittany, adding celebrations were their chance to take a break from the family business. "They would rent bouncy houses; my dad would cut a piece of carpet for a tumbling mat, and everybody would take turns on it; and we'd have face painting. The birthday parties weren't expensive, but they were always over the top."
Now, setting up for a birthday party is typically a solo endeavor, making it safer during the pandemic. And when the celebration is over, Brittany is back to clean up from the party.
"The balloons took it off, but I do entire birthday parties," Brittany said. "I call it a pop-up party. I decorate at the house or even our restaurant. When I'm done, I take stuff and I come in and clean it up. I just really love what I do."
Balloon arches are done outside and inside, and they can last several days in the right temperature-controlled conditions. And Brittany always prepares for the unexpected, having plenty of bagged balloons for back up.
"I blow these up in my living room and my office, and I spread them out on the dining room table to put in bags. Most arches are 100 balloons; this is probably double, 200 to 250, because I want it to be full and cascade down," said Brittany, who ties them together as she blows them up — a process that takes nearly an hour.
When it comes to setting up the balloon garland or archways, it can take two hours, though she admits she could make tweaks to them all day.
"With my art-and-design brain, I want it to be aesthetically pleasing. This business is something I'm so passionate about that I get lost in it," Brittany said. "And seeing the reaction of gratitude makes it all worth it." 
The business gradually grew this year, from one event per month to every other week, and now she chooses which events to take on while balancing family life.
"Now I have my own daughter who gets to see my work ethic owning my own business," Brittany said. "She's so smart, and I want her to see she can do what she loves."
For more about Wellspent Events, visit https://www.facebook.com/wellspentevents.