Emily Crews: Student prefers small campus, small home
---
Emily Crews: Student prefers small campus, small home
Coming from the two-light town of Samson, Ala., Emily Crews is used to small. Now a sophomore electrical engineering major at FSU Panama City, she feels right at home in less than 400 square feet of living space.
Crews lives in a one-bedroom, 40-foot fifth-wheel at an RV park nestled between condos in Panama City Beach.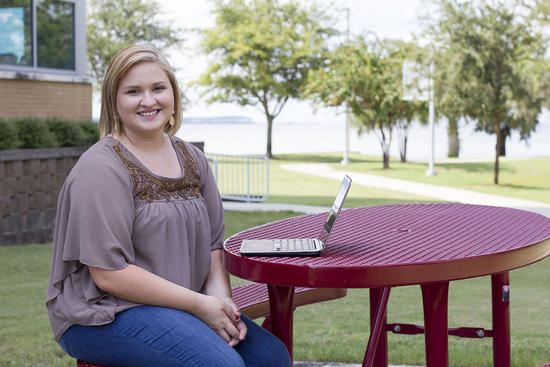 Taking advantage of every square inch, her RV has all the amenities of the traditional home: a living room, bedroom, kitchen and bathroom. "It's more like a house than anything," Crews said. "But it's a camper; it has wheels."
A pull-out daybed, sofa and queen-sized bed allows sleeping room for six — assuming guests don't mind close quarters, she noted.
Living in such a small space has forced Crews to have some creative storage solutions. A built-in bookshelf in the living room houses a flat-screen TV, a chest of drawers and a curtained cubby to hide cleaning supplies and home goods. Books line the back of a deep-shelved, glassed-in cabinet with pictures and mementos displayed in front. The home also has a stackable washer and dryer hidden behind a chalkboard adorned with a shopping list, exam schedule and other reminders.
To make the space look bigger, Crews covered the RV's original 1990s-style wood paneling and wallpaper with white paint. She also has refurbished hand-me-downs and thrift store finds, adding her own eclectic flair to each item with paint and new hardware. "Spray paint did a lot in here," she noted. A large deck outside her front door further expands the living space, offering more seating and fresh air when the weather is nice.
Friend Sonia Pham, a sophomore social work major, said she has considered RV living since visiting Crews' home.
"I don't have a lot of things, and living in [an RV] would allow me to have my independence while learning to live with only the things that I need," said Pham, who currently lives in her parents' home.
Pham said an RV is ideal for college living, offering more privacy than a typical dorm.
Within walking distance to the beach and Pier Park, Crews' home allows her to enjoy the perks of living where others come to vacation. Because her home is tucked in the back of the RV park, she is free of the noise and chaos of Front Beach Road tourist traffic.
"It's so convenient, and it's cheaper than an apartment," she noted. Because her parents purchased the 1990s-model fifth-wheel, she only pays a monthly fee that covers renting the lot and utilities.
RV living seems to be a family tradition for the Crews family.
Crews' brother, Chris, had lived in the same RV park while he was a student at FSU Panama City. After graduating, he sold his RV to fund a deposit on his current home.
Crews said she likely will do the same.
Before moving to her unconventional, retirement village-like neighborhood, Crews lived with her brother and his wife. The living arrangement helped her save money and spend time with her brother, but living with newlyweds wasn't ideal for the long term, she said.
Crews said her brother's experience at FSU Panama City was the biggest influence to studying electrical engineering at the regional campus.
"He had such a great experience with the engineering program," she said. "I met some people from down here when he was here, and I loved the people."
Because of her high school experience in Samson, Crews said a smaller campus appealed to her more than the traditional university setting. She graduated with a senior class of about 50 people.
"I am used to very small class sizes, a very small school and knowing your professors and teachers, and I get that here," she said. "I get the small class sizes, the one on one, the help, knowing your professors and them knowing you."
Although Crews said she would like to see more school spirit and Seminole pride at FSU Panama City, she said she is happy to be surrounded by people who love learning. "It seems like at this campus it more of people who care about education than it is partying or the 'college experience'," she said.
Crews said she plans to continue her education after earning her bachelor's degree. "If I could stay in college for the rest of my life, I would," she noted.