Education student follows father, aunt as Seminole
---
Education student follows father, aunt as Seminole
When Frank Hall (business management, '89) decided to follow his sister's footsteps to attend FSU Panama City, he had no idea he was starting a family legacy. Now his daughter, Alexandria Hall (elementary education, '16) also is enjoying the benefits of smaller classes with the comforts of home.
Alexandria said she always hoped to attend FSU Panama City, and the prestige of the education program and the energy at orientation reinforced her decision. "I wanted to come here and carry on the tradition," she told the audience at New Student Convocation.
During her first year as a student, Alexandria immersed herself in campus life, joining Student Government Council and chairing its scholarship & awards committee. This year, she is chairing the council's programming committee, which plans and supports student activities throughout the year.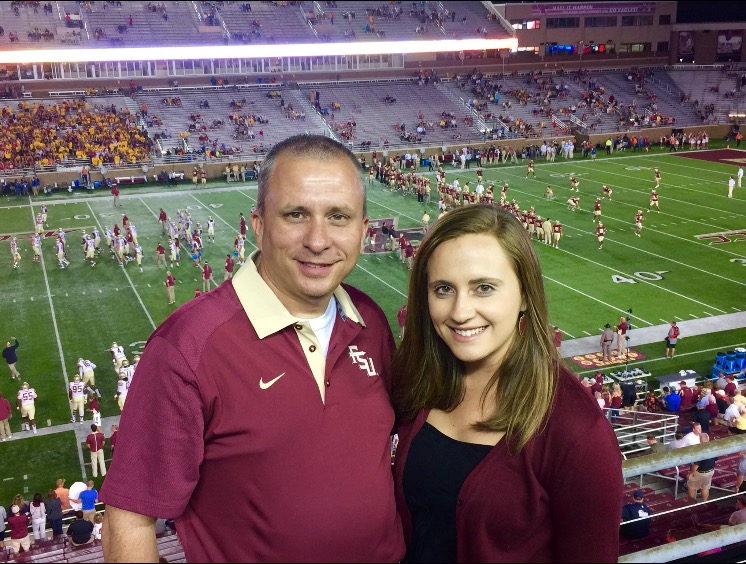 "Being on student government has helped me grow as a person and as a leader," she noted.
Her father, who also served on student government as a student, said campus involvement and the teacher-student ratio helped fuel his success. "It was a great opportunity for me. Looking back, the friends I made and the bonds I formed with the people I went to school with is priceless," he said.
Frank decided to attend FSU Panama City after seeing his sister Lesley Hall Miller's (accounting, '86) success on campus. After graduating from then-Gulf Coast Community College, he was able to work part-time at a bank while taking classes at Florida State. He saved money by living at home and defraying tuition costs with a scholarship.
Alexandria is enjoying the same benefits.
"[FSU Panama City] affords her the opportunity to not have any student debt whatsoever and get a class-A education," Frank said.
Because of their commitment to higher education and FSU Panama City, the Halls continue to give back to the campus.
Frank, the executive vice president and chief operating officer at Summit Bank, served on FSU Panama City's development board from 2002 to 2013. In 2012, the Hall family created the Walter B. Hall Sr. Memorial Endowed Scholarship in honor of Frank's father. Military dependents and spouses who are full-time students pursuing a business degree are eligible for the yearly scholarship.
Frank also is a long-time member of the Seminole Boosters, and the family attends every home football game.
"I'm honored to be a Panama City 'Nole," Frank said. "It's great to live in a community such as Panama City with a tier-one university in our backyard."
After earning her bachelor's degree, Alexandria said she hopes to continue the tradition of giving back. She said she hopes to continue to a master's degree and become an elementary school teacher.