Questions about FSU Panama City admissions, programs, campus, COVID-19 response or current hours of operation?
Call the FSU PC Promise Information Number (24/7): (850) 770-2411.
Digital Design Studio fosters creative messaging
---
Digital Design Studio fosters creative messaging
FSU Panama City students have a space dedicated to cultivating creative ideas and conveying messages in innovative ways. Thanks to a grant funded by Florida State's student technology fees, the Digital Design Studio provides students the tools and skills to share information through posters, websites, videos and more.
"It is beneficial for students to have a creative space to allow for new designs as well as the sharing of ideas among student, to help with learning as well as make new strives in developing the creative space," said student manager Matthew Spradley, a computer science major. "This also allows students to have a place to relax, and have fun as well."
In 2016, FSU Panama City was awarded a $32,705.27 grant to purchase Apple and PC computers, design software and large-format printers needed to start the studio. A second grant was awarded in 2017 to add workstations, interactive drawing tables, a large-format laminator and more.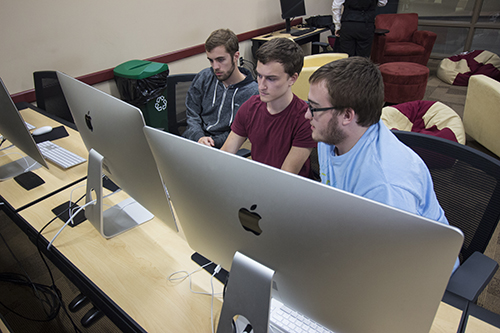 "As a computer science major interested in technology, I was very excited to bring some of that cutting-edge tech to Florida State PC," student manager Josh Bittel said. "Many students have creative ideas that previous to the creation of the DDS were unachievable. Now with the right tools available to those students, those ideas are well within the realm of completion."
Because class time is limited, students need guidance and instruction outside of the classroom on how best to utilize the resources available, she noted.
"As technology evolves, there is a growing demand for graduates trained and capable of working with a variety of software platforms," said English professor Milinda Stephenson, Ph.D., who manages the studio. "The goal of this project is to provide instruction and access to modern communication and information technology, enhance curriculum through critical thinking and make graduates more marketable in the workforce."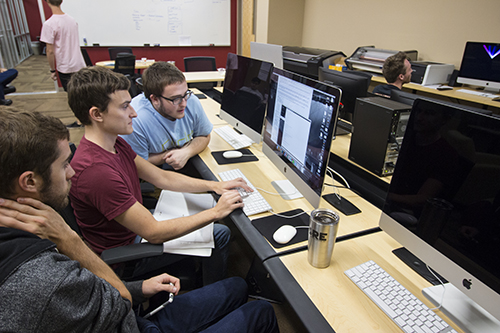 Student managers are available to assist students during open hours Monday through Thursday in the Center for Academic Success and Innovation in the Holley Academic Center. Workshops are offered throughout the year to highlight best practices and uses for the most requested software.
The Digital Design Studio is modeled after two labs housed within Florida State's English department. The original Digital Studio opened in the Williams building in 2008 as courses began to rely more on technology to convey messages. Because of its success, a second studio opened in 2011 in the Williams Johnston building. 
Since then, required English courses have begun to include multimodal projects on the syllabus, prompting more students to utilize the spaces to learn new software. During the 2015-2016 academic year, the Tallahassee studios tallied more than 4,000 student visits.
"Students are learning both about adapting their messages for specific situations and about how to use digital tools to do so in the process," said Stephen J. McElroy, Ph.D., the director of the Reading-Writing Center and Digital Studio at Florida State's Tallahassee campus. "The Digital Studio is a place where a lot of that multimodal composing work gets done, where students learn by doing, by asking questions and by witnessing the work that others are doing as well."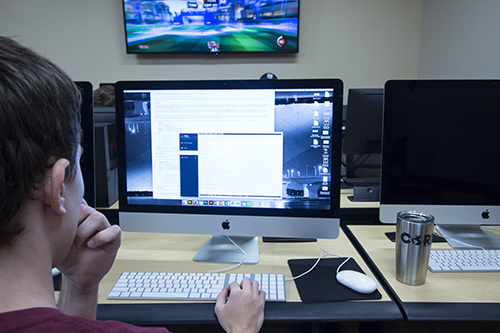 Instructors in other disciplines are taking notice, hoping to use the studio's resources to better educate students. The 3D printer, for instance, can help bring mathematic word problems come to life, instructor Parmjeet Cobb, Ph.D., noted.
"Students would greatly benefit by seeing the solids and surfaces we generate when revolving functions about fixed axes," she said. "This provides a detailed way for the students to see the shape for which they are finding the volume, area or cross section, rather than relying on their professor's drawing skills or a computer-generated image."
Professors also said learning to produce posters and other visual aids for projects and presentations would help students in their future careers.
"Engineers are not only involved in design, analysis, construction of projects and proposals. They also need to present their ideas and sell the products," said Hafiz Ahmad, Ph.D., P.E., who teaches civil and environmental engineering. "They need software to produce designs and drawings, charts, flow diagrams and project schedules."
"Information must be clear, concise and professional, along with engaging," public safety and security instructor Banyon Pelham said. "Learning how to leverage graphics, media and design concepts will go a long way in helping students meet these goals."