Campus strengthens bond between parents, daughter
---
Campus strengthens bond between parents, daughter
When Carson Flowers (psychology, '18) chose FSU Panama City, it created a new bond between the college junior and her parents. Thomas (social science, '97) and Sherry (elementary education, '91) Flowers also had chosen the branch campus because of the home-like feel and waterfront view.
Carson, who transferred to FSU Panama City after earning her Associate of Arts degree from Chipola College, said she is happy to share the college experience with her family. A lifelong Florida State football fan, she said the smaller campus near her Blounstown, Fla., home made her dream of becoming a Seminole more obtainable.
"The fact that I am going to the same school my parents went is really special," she said. "I have always wanted to go to FSU."
Her parents said they would have supported any college decision Carson made, but they are proud for her to carry on the tradition.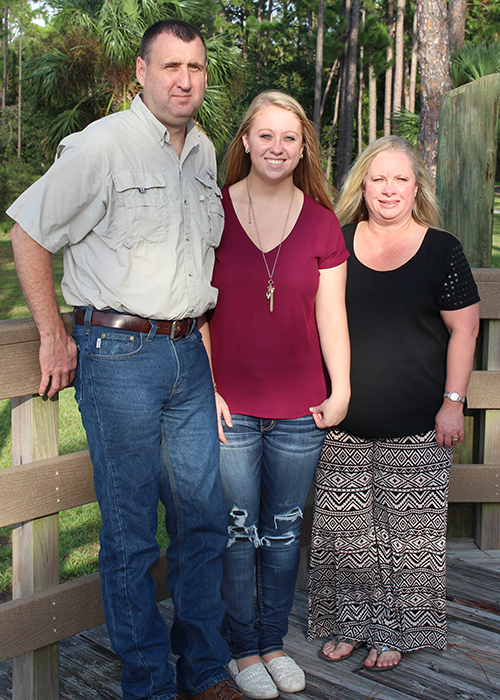 "I did hope that my daughter would attend the same campus so that she would experience the spirit and wonderful education that FSU has to offer," said Thomas, CEO of the Calhoun Liberty Employees Credit Union. "It gives me pride that my daughter followed in my footsteps."
Although the campus has grown since her parents' days as students, Carson still is able to enjoy studying with the same waterfront view her mother remembers so fondly.
Sherry, who teaches third grade at W.R. Tolar School in Liberty County, said one of her favorite college memories was having occasional classes on the dock overlooking North Bay.
"It was certainly a one-of-a-kind experience," she said.
After graduation, Carson hopes to continue her education through a doctoral degree. She said she is considering a career working with children with autism, helping trauma victims struggling with post-traumatic stress disorder, working in forensic psychology or teaching psychology classes at Florida State.