Black History event: 'Rise above the ordinary'
---
Black History event: 'Rise above the ordinary'
Students from Bay District Schools joined FSU Panama City on Tuesday for a Black History Month presentation that showcased African dance performances by Global Arts Society's and stressed the value of education.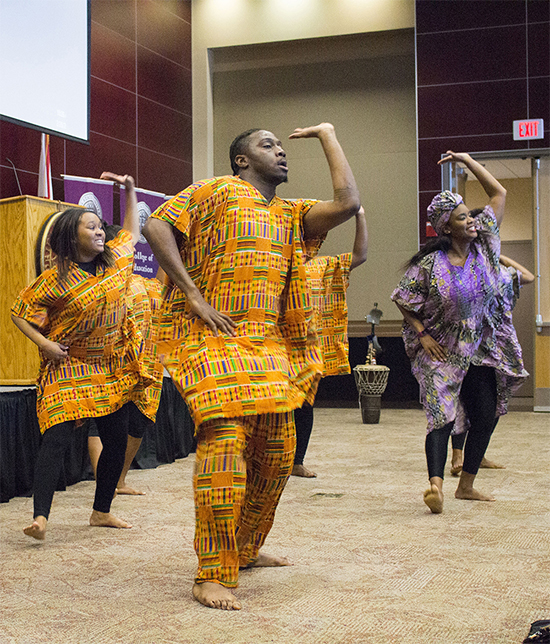 "Education is something that no one can take from you," keynote speaker Mel Stith, Ph.D., said to the crowd of about 175. The phrase ingrained into his memory by his parents paved the way for a successful career in business and academia.
Stith, the former dean of Florida State's College of Business and dean emeritus of the Whitman School of Management at Syracuse (N.Y.) University, said students must never give up when they encounter obstacles.
"You must have a heart willing to serve and a mouth to speak up for what you believe in," he said. "You must rise up again, again and again, and in your darkest hours, remember the best is yet to come."
Black Alumni Achievement Award recipient Shaun Lindsey encouraged students to strive for success to change racial stereotypes.
"Dare to be different," he said. "We can make a difference and change what people deem our culture to be."
Lindsey, who owns Linbot Solutions, LLC computer software engineering and consulting firm, said education and hard work were the keys to his success.
Despite graduating from Moseley High School with a 3.9 GPA in 2004, he had no scholarship money to pay for college. He worked a full-time job paying $11 an hour while struggling to focus in classes.
Struggling to make ends meet, he buckled down in school and earned his bachelor's degree in computer science in 2015. Within a month of graduating, he began making more than $100,000 a year.
"Rise above the ordinary through education," he said. "No matter what obstacles you may come across, you can be successful."