Alumni celebrate 20 years of Notable 'Noles
---
Alumni celebrate 20 years of Notable 'Noles
About 60 people gathered Wednesday, May 24, to celebrate 20 years of recognizing outstanding FSU Panama City alumni as Notable 'Noles.
"This is a really wonderful group to be a part of," said Associate Dean of Academic Affairs Amy Polick, who was named a Notable 'Nole in 2015. "So many of us work hard to give back to where we live. This is a special program that is all about giving paying it forward, giving back to our communities while we are in school and after graduation."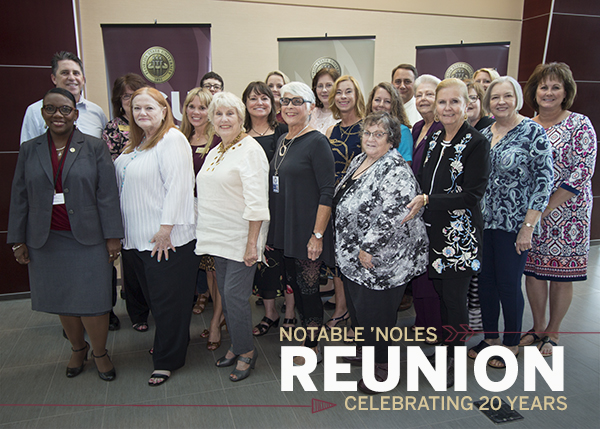 Since the award was established in 1996 in conjunction with the Annual Homecoming Celebration, 66 alumni have been named Notable 'Noles.
"It was an exciting time. We were part of the Homecoming festivities, and we got to light the torch. We had small children, and they were loving it," said Kelly Chisholm, who along with her husband, Ken, was one of the inaugural recipients.
"It was an honor," Ken Chisholm said. "It kind of was a springboard for us to maintain involvement with the university."
After being named Notable 'Noles, the Chisholms have continued to support FSU Panama City, sitting on the campus alumni board, volunteering at events and attending annual Notable 'Noles receptions.
"This is a very distinctive group," FSU Panama City Dean Randy Hanna said. "Out of our about 8,000 alumni, only 1 percent have earned this honor."
The Notable 'Nole award recognizes FSU Panama City alumni who have made outstanding contributions both to our community and within their careers. Winners have demonstrated excellence and dedication as students and have continued to exhibit these qualities in every aspect of their lives.
A panel comprised of FSU Panama City alumni and staff select annual winners based on the following criteria:
Demonstration of excellence and dedication while attending FSU Panama City.
Contributions/involvement in their community.
Professional/career accomplishment after graduation.
To nominate an FSU Panama City alumnus as a Notable 'Nole, email a completed nomination form to alumni@pc.fsu.edu.
For more information, call the Office of Alumni Affairs at (850) 770-2168.