Adam Wendt: UCSI diver learns from 'the best,' aids search for missing swimmer
---
Adam Wendt: UCSI diver learns from 'the best,' aids search for missing swimmer
Adam Wendt and his family moved to Panama City because he wanted to learn from the best.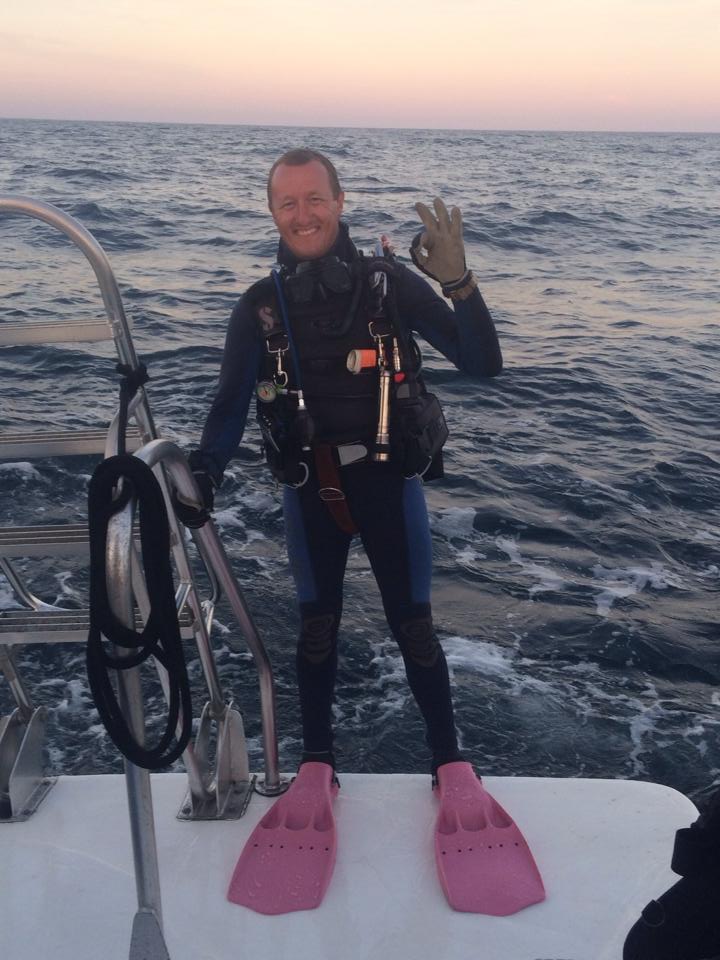 Already a professional diver and scuba instructor, Wendt enrolled in FSU Panama City's Underwater Crime Scene Investigation certificate program. Just a few months later, he and fellow divers from FSU Panama City were called on as the best to recover the body of a missing swimmer in Austin, Texas.
Thanks to a crowd-funding campaign, a team from the UCSI program was hired July 27 to search Lake Travis for the body of missing UC Berkeley student Song Sok. The divers spent more than a week exploring the lake before calling off the search for Sok, who went missing after jumping off a boat July 13. The Travis County Sheriff's Office previously had called off its own search efforts because of low visibility in the lake.
Although Sok's body was not recovered, Wendt called the mission a success.
"We performed our search and can say that the areas searched are clear of any evidence or remains," he said.
"We were unable to bring closure to the family as we would have liked to, but we did everything we could do with our skills and equipment with regards to the environment we dove and the information we were given," FSU Panama City dive instructor Jerome Fleeman said.
The team extensively searched areas identified by boaters and marina witnesses as the place Sok went into distress while swimming. The divers also used information from a police dog and sonar readings to search other points of interest in the lake.
"We executed our plan very effectively but were hindered by the conditions we were presented with," Fleeman said. "The Lake Travis divers have one of the most difficult environments to dive that I have ever encountered."
The lake's terrain, with a silted bottom and high underwater tree density, was the biggest obstacle to the mission, Wendt said.
Wendt, who previously was a dive trainer, had logged hundreds of dives in Lake Travis before coming to FSU Panama City. Because of his experience in the lake's conditions, he was a valuable asset to the team, Fleeman said. Wendt could offer advice to the team on the lake's expected environment and visibility.
"His awareness of public safety diving as a whole and his familiarity with Lake Travis was key to a safe working environment," FSU Panama City diving instructor Darren DeDario said. "He was an integral part of that dive team."
As the safety diver, Wendt was tasked with ensuring that the proper equipment was on site with the correct breathing mixtures. He also was responsible for responding to an emergency if one of the divers required assistance.
FSU Panama City's involvement in the missing swimmer case shows the significance the UCSI program has nationwide, Fleeman said. The local divers brought equipment and technical expertise to the case that is not available anywhere else in the U.S.
"While our job is never one that is necessarily pleasant, it is why we train as we do," he said. "To be looked to for our efforts is an honor, and I can truly say we left there with the respect of the family and the agencies we worked with."
Fleeman said the UCSI program is top-notch and on the cutting edge of training and technology. With unique projects and opportunities, dive students gain exposure and hands-on experience they can apply in many aspects of their academic and professional futures.
"The four of us who went on that call to Texas learned from each other," DeDario said. "We can never stop learning.  Once you think you know it all, it is time to hang up your fins."
Wendt noted the program's reputation as the reason he moved to Panama City.
"I have wanted to learn from the best, and this is where all of the best equipment and training come from," he said.
After graduation, Wendt said he hopes to work for the Florida Fish and Wildlife Commission.