FSU PC electrical engineering professor keeps students actively engaged
---
FSU PC electrical engineering professor keeps students actively engaged
Walid Hadi, Ph.D., demonstrates the importance of hands-on experience in concert with theory in his electrical engineering courses at FSU Panama City.
"I mesh labs and lectures to maximize the benefit to the student. We simulate many theoretical problems the students learn in class with hands-on experiments in the lab," Hadi said. "Sometimes the story in science is nonlinear. It's like watching an interesting movie and looking back to different scenes to have a complete picture and understand what's going on."
Course labs run parallel to lectures, allowing students to directly apply lessons learned along the way. Most upper-level engineering classes average around 12 students, allowing professors insight into student strengths and weaknesses. 
"The class size is small, so lessons are more interactive. I'm extremely involved with the students. Their success is my success," Hadi said. "A lot of my teaching strategies come from my own experience as a student and what worked for me and what didn't. I spend a lot of time reflecting on best practices for student success."
Hadi is in his fifth year of teaching in the electrical and computer engineering program at FSU PC, where he received the Faculty of the Year Award for the 2018-2019 academic year. The program is managed by the FAMU-FSU College of Engineering and accredited by the Engineering Accreditation Commission of ABET.
"One thing I like about my job is I'm constantly learning; there's always a new angle," Hadi said. "Electrical engineering itself is very dynamic with phones, computers, electric cars and solar cells – it's all electrical engineering."
"One thing I like about my job is I'm constantly learning; there's always a new angle," Hadi said. "Electrical engineering itself is very dynamic with phones, computers, electric cars and solar cells – it's all electrical engineering."
Hadi has nearly 20 years of teaching experience in North America and overseas. He has taught courses and labs in circuits, electronics, power systems, electric machines, electromagnetics and advanced mathematics. 
Originally from Lebanon, Hadi said he's been drawn to electrical engineering since he was 18 years old, because of its "thought-provoking environment." After he received his B.E. in electrical engineering from the American University of Beirut, Lebanon, he earned his M.S. in electrical engineering from Oklahoma State University.
Hadi was a planning engineer with American Electric Power Inc. (AEP) in Tulsa, Oklahoma, performing short-term and long-term strategic planning and voltage stability studies for West Texas Utilities and Central Power & Light corporations. He also supervised several power generation projects including large wind generation in west Texas. Hadi was the representative of AEP on the Electric Reliability Council of Texas dynamic task force and system protection task force.
"Three years into working I wanted to go back to get my Ph.D. I feel most like myself in the classroom; it's where I feel alive," he said.
Hadi received his Ph.D. in electrical engineering from the University of Windsor in Ontario, Canada, where he also pursued music as a singer-songwriter. He plays the guitar and the piano, which he occasionally can be seen playing in the Holley Academic Center.
"I have a couple of songs that still play on the radio in Ontario," Hadi said. "You can be an engineer and have other interests. Music is my second passion. My first passion is teaching. My musical creativity as a songwriter and storyteller influences me as a professor, since you must know how to tell a story and make it fun and interesting."
Before joining FSU PC, Hadi was a post-doctoral fellow with the University of British Columbia, investigating the steady state and transient electron transport properties in novel III-V and II-VI semiconductor materials and their application in high electron mobility transistors and THz devices. He is the author of several articles and conference papers in the Journal of Applied Physics, Journal of Materials Science, Solid State Communications and Materials Research Society Advances.
"When I was in Canada, I used to say, when I move back to America, I'm going to have to be on the water. I'm very grateful to be at FSU Panama City. I was born and raised on the beach in Lebanon, so for me, this was the first I felt like home," Hadi said. "This campus is small but we're doing beautiful things."
Many of Hadi's former students are now employed by the Naval Support Activity Panama City, Tyndall Air Force Base (TAFB) and Oceaneering. Current student electrical engineering student Ryan Daniels was inspired to enter FSU PC's engineering program after working with Lockheed & Boeing engineers as an avionics systems specialist for the U.S. Air Force at TAFB.
"To me, attending FSU Panama City is a straightforward decision," Hadi said. "We're so involved in students' success and there are so many opportunities. All my students have been hired in Florida. There is so much demand in this industry, and the industry is moving in the Panama City area in terms of engineering and science. I see a lot of growth potential."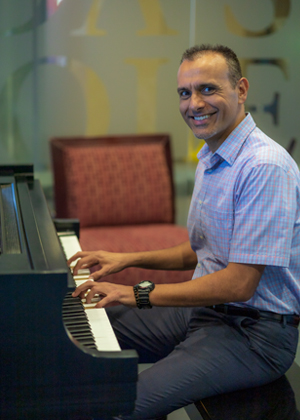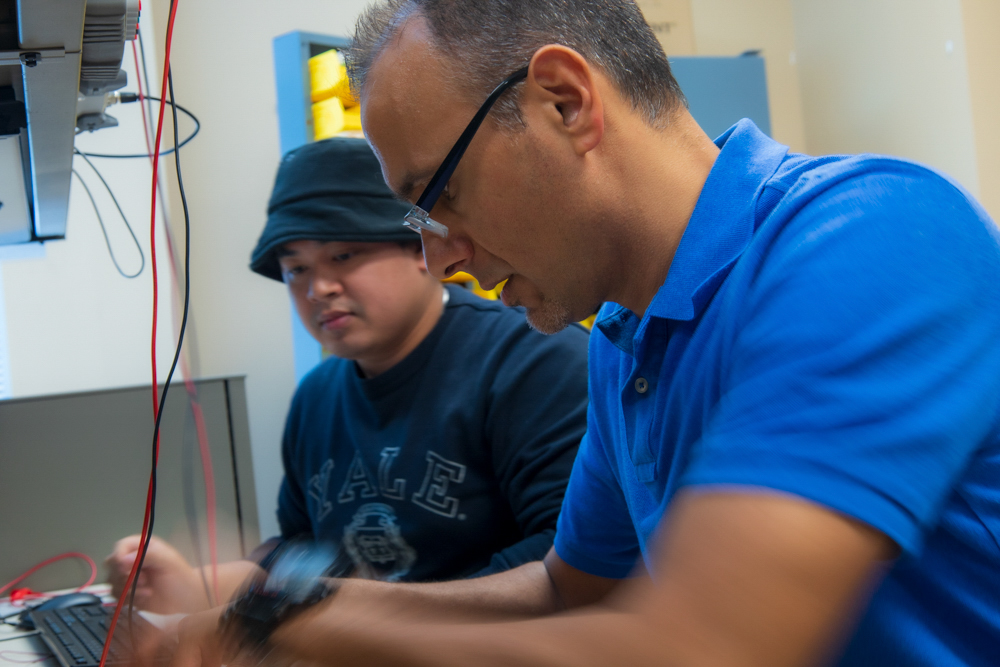 Dr. Walid Hadi works with a student testing a common emitter amplifier at the Analog Electronics Lab FSU PC.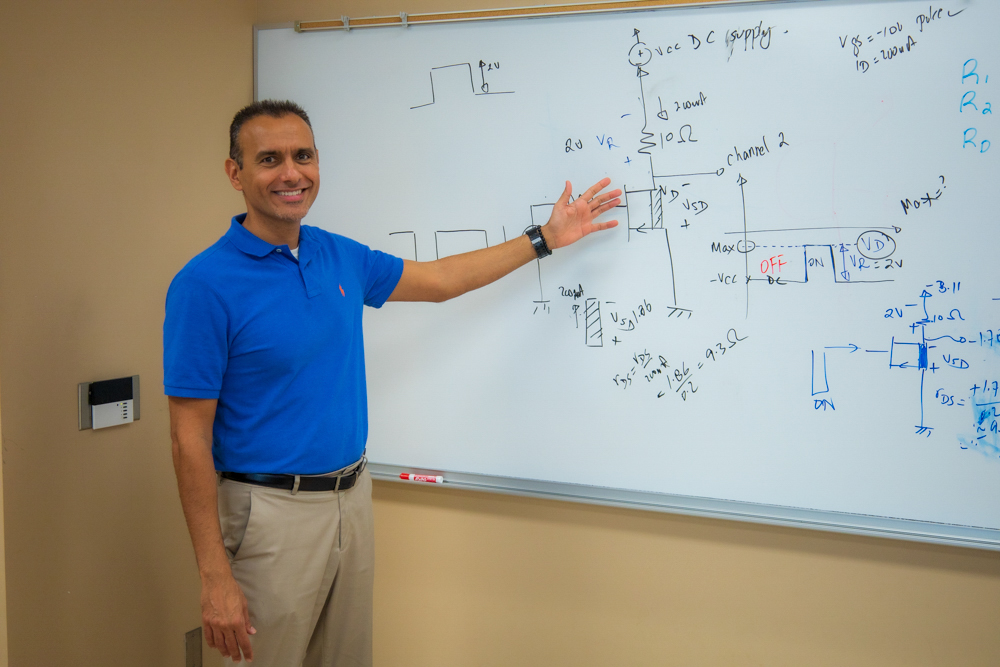 Electrical Engineering Professor Walid Hadi, Ph.D., shows pulse measurements in a MOSFET at FSU PC's Analog Electronics Lab.
Students can tailor the curriculum to their interests and career goals for their B.S. in electrical engineering or computer engineering. Coursework emphasizes all aspects of the profession's practice with a senior design project that takes skills out of the classroom and into practice solving real-world problems. In 2018, a team of six senior engineering students at FSU PC, Team Renegade, competed in the NASA University Student Launch Initiative as a part of their Electrical and Computer Engineering Senior Design project. They were tasked with constructing a rocket that could carry a real-time target detection payload and reach an altitude of 5,280 feet.
FSU PC's engineering program also prepares students for graduate-level training.
Marshall Sowell, '20, graduated summa cum laude with his B.S. in electrical engineering from FSU PC and is now attending Oklahoma State University. The Bay County native will graduate in spring 2022 with his M.S. in electrical engineering focused on the research of applied electromagnetics.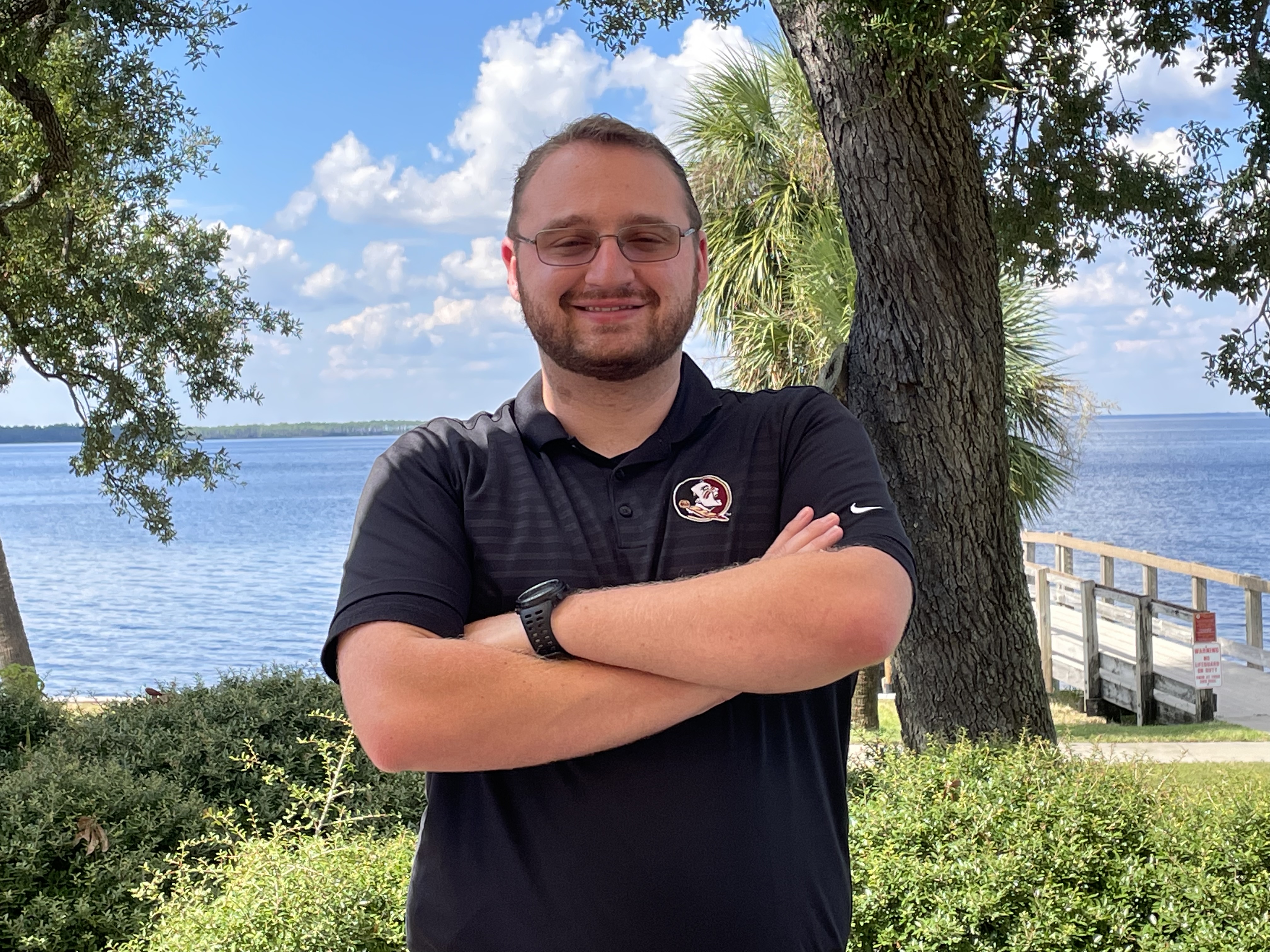 Marshall Sowell, '20, visited FSU PC in October 2021. Sowell, a SMART scholar, graduated summa cum laude with his B.S. in electrical engineering from FSU PC and is pursuing his master's in electrical engineering at Oklahoma State University.
"The people at FSU PC always made it seem I could accomplish anything I put my heart into," Sowell said. "I always had support.  The electrical engineering program encompassed that. Was it hard at times? Yes, but was it impossible? No, because I knew I had support as long as I put in the work. For my master's, I felt like I had a strong foundation to build on. Now, I have two goals: I want to have real world work experience and eventually become a professor."
Sowell received a Science, Mathematics, and Research for Transformation (SMART) scholarship funded through the Department of Defense (DoD), and he completed his SMART Scholar Summer Internship in July 2021 in Dahlgren, Virginia, with Naval Surface Warfare Center Dahlgren Division. He plans to come back to the area and work at Naval Support Activity Panama City. For every year of funding, a SMART scholar commits to working for a year with the DoD as a civilian employee.
While at FSU PC, Sowell was part of a team of nine students, Team Seminole Coast, that created an autonomous robotic boat for the 2019 International RoboBoat Competition in South Daytona. The students impressed the judges and received a new Nvidia Jetson TX2 (A1 computing device), award for Best Documentation Rookie Team and $1,250 in prizes.