FSU Panama City Torch Run helps students, community residents, visitors reach goals
---
FSU Panama City Torch Run helps students, community residents, visitors reach goals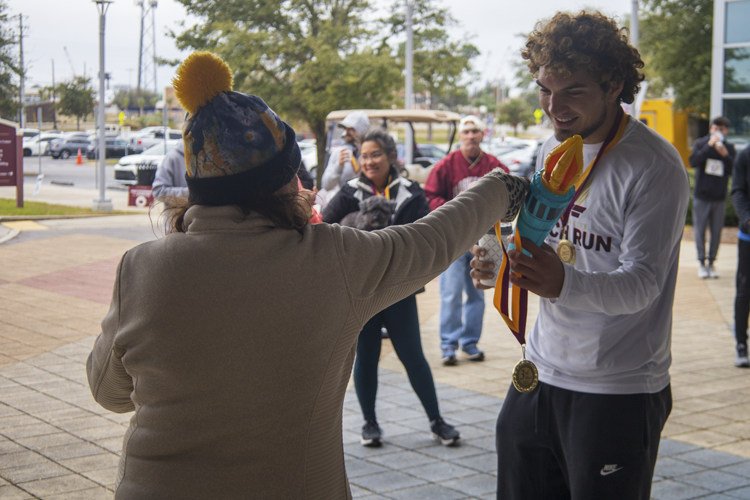 Nearly 100 students, community residents, visitors and volunteers reignited a longtime tradition Saturday at the Florida State University Panama City 5K Torch Run.
"They're putting it on for the community and the students. Whether it's health or just coming out for fun; everyone's got their own reason," said FSU PC Intramural Sports Coordinator Zachary Murzyn, '25, a business student at the university.
An FSU PC tradition since 1989, the Torch Run evolved into a timed 5K run for the Jan. 22 event. Murzyn, who formed the FSU PC track team in September, was excited for the turnout and friendly competition. 
"This is the first time we've done this race like this. The first time we did this race was in 1989 and ran all the way to Tallahassee. We're going to change the format and do that again this year," joked FSU PC Dean Randy Hanna, as about 70 participants gathered in front of the Holley Academic Center before the 10 a.m. race.
When the Torch Run first began at FSU PC, racers were staggered from FSU PC to FSU Tallahassee, running different legs of the race. 
This year's FSU PC 5K Torch Run route wound through the campuses of FSU PC and neighboring GCSC, as 70 participants were cheered on with garnet and gold pom poms — undeterred by 40-degree temperatures.
Awards were given to first-, second- and third-place winners. First overall was Matthew Matson, 17, with a time of 17:57, followed by Nathan Holmes, 16, both students at North Bay Haven Charter Academy; and Murzyn was third overall. Nathan's brother, Charlie Holmes, 14, was awarded first place in the youth category. Krystin Guirey was first overall for females with a 25:03 time followed by Yasmin Wade and Jessica Johnson.
Registration was free for students at FSU PC and Gulf Coast State College (GCSC). The public also was invited to sign up with proceeds to benefit all Registered Student Organizations (RSO) at FSU PC, which is an important part of student engagement, added Associate Dean Irvin Clark.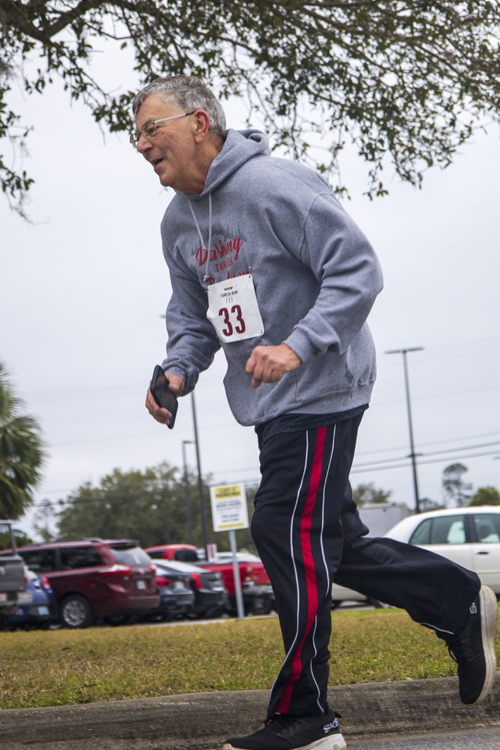 For some race participants, it was more about reaching personal goals than winning. 
After meeting Florida Panhandle residents Jim Griffin and Tim McConnell at the 2022 Extra Yard 5K in his hometown of Indianapolis, Larry Gioscio made his first trek to Panama City for the Torch Run. 
"I did 54 5Ks last year," said Gioscio, 72. "It keeps me active."
This was Gioscio's second 5K in 2022, and the fifth of the new year for his friend Brian Nichols, 51, of Kentucky. Nichols, who has been running 5Ks since 2015, saw this as a chance to train. 
"My biggest goal is to run Boston," said Nichols, who has his eyes on the 2022 Boston Athletic Association 5K in April.
Gioscio's goal for the FSU PC 5K Torch Run was to complete it in 38 minutes, but the view of North Bay stopped him in his tracks. "I missed my goal by two or three minutes, because I stopped to take pictures of the water," he admitted.
For FSU PC Crime Scene Investigation (CSI) major Sydney Pellerin, '23, who was born with cerebral palsy, her goal was to walk across the finish line. As she neared the end with the assistance of her crutches, Panama City Rescue Mission President & CEO Stephen Fett asked, "Do you mind if I walk beside you?"
Sydney crossed the finish line to cheers and applause. Minutes later, her twin sister, Hallie Pellerin, '23, who also is a CSI major, and fellow FSU PC students brought the race to a close.
"I hadn't walked in a while and wanted to get back into doing that. I just wanted to continue improving; I really wanted to start the new year right," Sydney said. "I liked seeing everyone. It's a great way to get involved in the community."
Hallie added, "Everyone showed up for themselves and for others."