Florida State University Panama City receives $100,000 donation
---
Florida State University Panama City receives $100,000 donation
On Aug. 9, the City of Panama City donated $100,000 to Florida State University Panama City and $100,000 to Haney Technical College. 
"We are two different types of institutions, but we both have the same goal to have a more educated Northwest Florida," said Irvin Clark, Associate Dean of Student and Strategic Initiatives at FSU Panama City.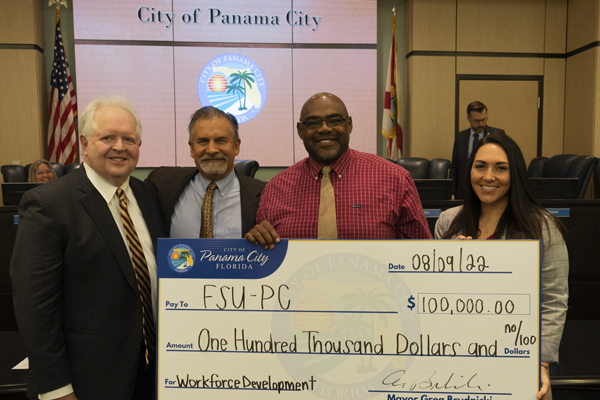 The City of Panama City had received American Rescue Plan funds because of the COVID-19 pandemic, and the donations are intended to help the area's economic development by bettering the workforce. 
"Building bench strength within the community is the most important thing in our minds that we could do for our citizens and for education to make sure people are trained to do what they need to make our community better," said City of Panama City Mayor Greg Brudnicki.
FSU Panama City offers life-changing educational opportunities. Partnering with area military installations, industry leaders, and other FSU departments and colleges, FSU Panama City tailors the educational experience to make higher education more accessible to Northwest Florida residents. FSU Panama City is home to FSU's 16th college, the College of Applied Studies, which was established to create programs that support and anticipate the needs of businesses and industry in Northwest Florida, preparing work-force ready students to meet the region's economic demand.
"Partnerships like this with the City of Panama City make our FSU PC Promise attainable," said Randy Hanna, dean of FSU Panama City.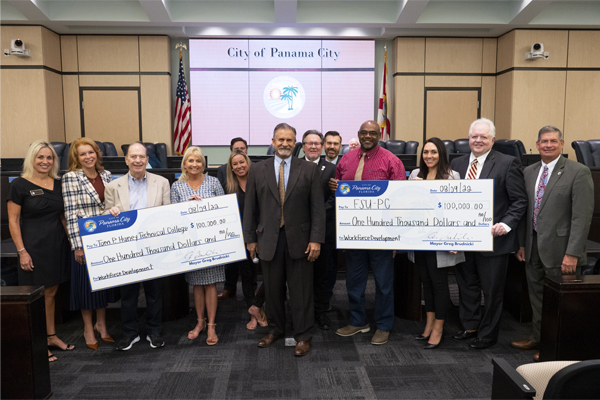 The City of Panama City's donation is in support of the FSU PC Promise Scholarship and will be directed to students in Bay County. The FSU PC Promise scholarship was established to remove financial barriers and offer free tuition and fees for full-time undergraduate students in Northwest Florida who have a combined personal and family adjusted gross income of $60,000 or less. Eligible students must be residents of Bay, Gulf, Liberty, Gadsden, Jackson, Calhoun, Franklin, Washington, Holmes, Walton, Okaloosa, Santa Rosa and Escambia counties who are pursuing a degree at FSU Panama City. 
For more information, visit pc.fsu.edu/promise-scholarship