Each Florida State University license plate sold in Bay County funds the License to Learn Scholarship for FSU Panama City students. Hundreds of deserving local students has benefited from the Seminole Pride our alums and supporters are proud to display.
Contact the Bay County Tax Collector's Office for the total cost and instructions on how to receive your FSU license plate by mail or in person.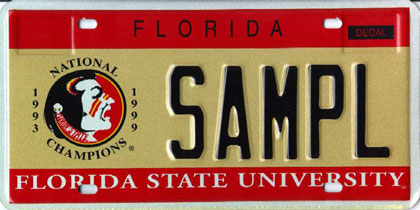 Gift Certificates
Give the gift of a Florida State University license plate. The Florida Department of Highway Safety and Motor Vehicles now issues specialty license plate gift certificates.