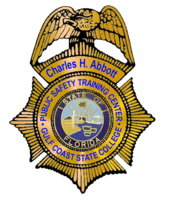 FSU Panama City students who want to take the Florida Law Enforcement Academy Basic Recruit Training Program may do so now through a joint agreement with Gulf Coast State College (GCSC) who administers the program.
The program is held once a year beginning in August and runs about ten months (Monday through Thursday, 8 a.m. to 2 p.m.). Course schedules coincide with the GCSC calendar and associated holidays.
All applicants must attend New Academy Orientation, there are no exceptions. Orientation and classes are held at GCSC's North Bay campus within the Emergency Operations Center, 700 Country Road 2300.
---
Florida LEA Academy Application
For more information please contact:
John Ammons, IX
GCSC Program Director
(850) 769-1551 Ext. 5613
(800) 311-3685 Ext. 5613
jammons@gulfcoast.edu
GCSC Law Enforcement Academy
title-inside title-centered
2