Kristal Greaves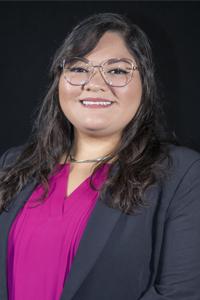 Kristal
Greaves
Student Affairs
Student Activities Coordinator
Barron 209
Key Responsibilities:
Assists with development and implementation of department initiatives focused on advancing student engagement and success.
Assists with development and implementation of department leadership and service programming.
Serves as an advisor to student marketing teams, student programming boards and student committees.
Serves as point of contact in planning and partnering for university sponsored events focused on student engagement.
Planning and implementing student and student organization recognition programs that promote engagement, school pride, leadership, and service.
Education:
Bachelor of Arts in Political Science, Minor: International Affairs & Asian Studies, Georgia Southern University, July 2018
Master of Science in Applied Languages and Intercultural Studies, Georgia Institute of Technology, August 2022
About Me:
Born in Monterrey, Mexico; raised in Kennesaw, Georgia.
Why I love FSU-PC: The small environment! Coming from a larger city, sometimes it's easy to feel disconnected. I have always loved working with students and connecting with them and their leadership to foster a community of diversity and sense of belonging to our campus. This small community has welcomed me with open arms, and I look forward to growing with our campus!
Favorite spot on campus: The Pier/Anywhere you can see the Bay; I love looking out at the water.
Hobbies: Spending time with my family and friends, traveling, reading, and watching scary movies/Dr. Who.
Areas of Interest: Education for Undocumented Immigrants, Immigrant Rights, LGBTQ+ Inclusion, Multicultural Education, Social Justice, and Racial Justice.