John T. Andrews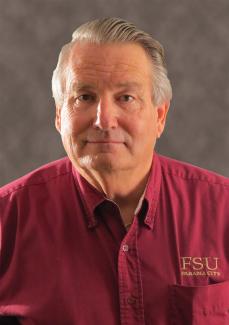 John T.
Andrews
Public Safety Security
Office Hours
Tuesday: 9:30 - 10:30 a.m.
Former Senior Resident Special Agent - Federal Bureau of Investigation
Adjunct Professor Public Safety and Security - Police Instructor - Florida State University
Education
Foreign Counter Intelligence for Non-Establishment Offices, Washington D.C.
Near-East Studies United States State Department, Rosalyn, Virginia
Doctor of Jurisprudence : Cleveland State John Marshall College of Law, Cleveland, Ohio
Bachelor of Science: Miami University Oxford, Ohio
Honors and Awards
United States Secret Service - International Terrorism Investigation
Bureau of Alcohol Tobacco and Firearms - Domestic Terrorism Investigation
Drug Enforcement Agency - International Terrorism Investigation
Department of Transportation - Public Safety Investigation Hazmat
Canadian Intelligence Service - International Terrorism Investigation
Federal Bureau of Investigation - 4 QSI awards for Public Corruption and International Terrorism
Roswell Police Department - Officer of the Year
Admitted to the Ohio Bar
Work Experience
Navy Finance Center-Cleveland, Ohio
Prepared and monitored a multi-million dollar budget for the Center's Data Processing Department. Performed management analyst functions to streamline and improve the operations of the Department.
Special Agent Federal Bureau of Investigation
Three years general criminal investigations. Nine years International Terrorism Investigations operating numerous top echelon sources including several who traveled overseas at the request of the Central Intelligence Agency.  Coordinated with other Federal agencies as well as foreign counterparts in the intelligence community in the investigation of Shiite sponsored terrorist organizations; specifically Hizballah. Utilized all investigative techniques including those approved by the Foreign Intelligence Surveillance Act.  Ten Years Domestic Terrorism and Public Corruption Investigations involving a number of high profile cases to include church burnings and militias.  1994 appointed Senior Resident Agent in charge of Southeast New Mexico.  Represented the FBI to local, state and Federal agencies as well as the private sector while still conducting major investigations.  Traveled throughout the United States interviewing and recommending new agent hires as part of a three-person panel.
National Center for Missing and Exploited Children
Project Alert representative assisting local police departments and conducting outreach programs involving missing and exploited children.
Department of Justice, Special Investigator
Conducting background investigations for the FBI on a contract basis.
Subject Matter Expert for SAVA Corporation
Assigned to the Counter Terrorism Human Validation Unit at FBIHQ assessing CT Assets for reliability and suitability. Conducted training for analysts within the unit on asset development and operation.
Teaching Experience
Training officer for new special agents assigned to my squad/resident agency.  Provided guidance on Bureau procedures and protocols.  Evaluated new agents on their work performance.
Instructor for Benchmark Professional Seminars conducting police schools throughout the United States on Homeland Security, International/Domestic Terrorism and Islamic Fundamentalism.
Adjunct professor at Florida State University conducting 400 level classes on Islamic Fundamentalism, Law Enforcement Intelligence and Structured Analytical Techniques.  Also developing an Intelligence/Security Masters program for the Panama City Campus.
All lesson plans utilized in the classroom for both the universities and police schools were developed by me and modified to meet the particular needs of the students whether law enforcement, first responders or university.  These courses include rarely seen videos of suicide bombers last will and testament and training conducted by Hamas and other terrorist organizations.
Publications:
I have published six articles for Counter Terrorism Journals on International and Domestic Terrorism.
Sociology of Jihad
Leaderless Jihad
Criminal Activity and Terrorism
Middle-East Asset Development
The Lone Wolf
The Enemy of my Enemy is my Friend
Rev 12/19/14