Questions about FSU Panama City admissions, programs, campus, COVID-19 response or current hours of operation?
Call the FSU PC Promise Information Number (24/7): (850) 832-5649.
David Gross, PhD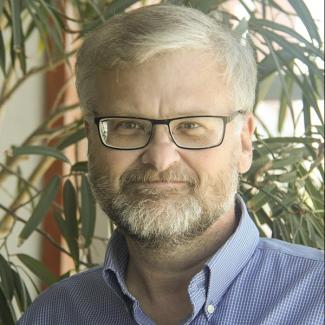 David
Gross, PhD
Systems Engineering
Teaching Faculty
Holley A-211-B
Office Hours:
Monday: 1:00 - 3:00 p.m.
Tuesday: 1:00 - 3:00 p.m.
Wednesday: 1:00 - 3:00 p.m.
David C. Gross delivers deep expertise and experience in system architecture, modeling & simulation (M&S), and human computer interfaces to aerospace and other complex systems, thereby having creating technical innovation valued at more than $1 billion and business opportunities valued at more than $3 billion. He has more than fifty technical publications as well as two related patents. He holds a BSCS from Auburn University, a MSOR from the University of Alabama at Huntsville, and a PhD from the University of Central Florida.  His honors include selection for the Charter Class of Certified M&S Professionals, Technical Fellow of the two largest Aerospace Companies in the world (Boeing where he last served as Chief Technologist for M&S, and Lockheed Martin Aeronautics, where he last served as Deputy Chief Engineer for all simulation and systems integration labs), and finally as a NASA Faculty Fellow. His research has been funded by his employers, the Navy's Air Warfare Center Training Systems Division, the Air Force's Training Systems Product Group, the Army's Missile and Space Intelligence Center, the Department of Defense Joint Forces Command, the Department of Defense M&S Coordination Office, and the Defense Advanced Research Projects Agency.  His service to the technical community includes chairing conferences, tracks, & sessions, conducting peer reviews, creating continuing education programs in M&S and Model-based (Systems) Engineering, mentoring more than 70 professionals; graduating on average three+ Master's & one+ PhD student per year, and serving on the M& Professional Certification Commission's executive board. A long-time adjunct professor at several universities, he served four years as a full-time assistant professor at the University of Arizona and recently joined the faculty at Florida State University.