St. Joe Community Foundation to present $75,000 Grant to FSU Panama City's Early Childhood Autism Program
---
St. Joe Community Foundation to present $75,000 Grant to FSU Panama City's Early Childhood Autism Program
A check presentation will be held on Wednesday, April 26, at 8:30 a.m., in the Holley Academic Center, Dean's Conference Room to announce the St. Joe Community Foundation's grant of $75,000 to support the Early Childhood Autism Program (ECAP) at Florida State University Panama City.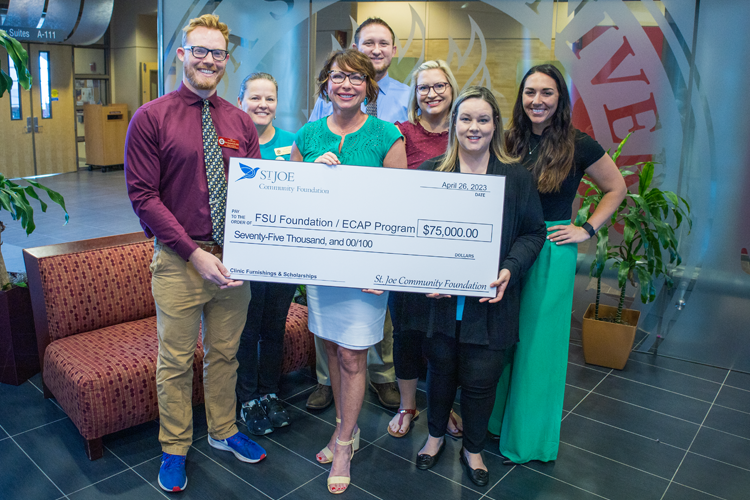 The grant establishes the "St Joe Community Foundation ABA Therapy Scholarship" which will increase the amount of therapy for families currently receiving services and expand the reach of the program to waitlisted families from Walton and Bay Counties. Additionally, $25,000 of the grant will be used to revitalize the on-campus, ECAP clinic space at FSU Panama City. 
"We are very grateful to St. Joe for this grant and their commitment to our program and community," said Nikki Dickens, ECAP Director.
ECAP provides intensive behavioral therapy services to children diagnosed with a variety of challenges including developmental, learning, and neurological disabilities. ECAP is unique in that it is the only non-profit service of its kind in this region and its low-cost scholarship program has benefited hundreds of children in Bay County and their families since its establishment in 2001.
Under the supervision of Board-Certified Behavior Analysts, individualized, research-based programs are developed for each client incorporating FSUPC graduate students in the Applied Behavior Analysis program who receive specialized training through coursework and clinical practice.
"ABA therapy is an all-encompassing therapy that is comprehensive across language, learning, communication, and daily living skills," said Dickens. "Research also shows that behavioral symptoms associated with autism spectrum disorder can be alleviated with ABA therapy, making ABA the treatment of choice." 
ECAP operates as a non-profit under the FSU Foundation and is a self-sustaining program designed to benefit the local community by providing high-quality, medically necessary treatment to individuals affected by autism.
For additional information about ECAP, contact Nikki Dickens, ECAP Director, at (850) 770-2241.