Kinsey Collection shares African American story
---
Kinsey Collection shares African American story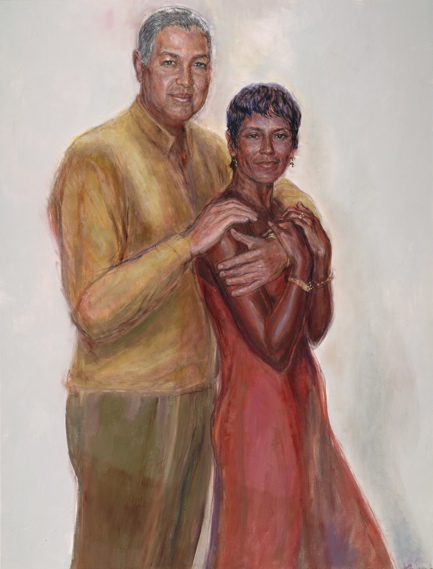 The nationally recognized Kinsey Collection of African American Art & History shares stories of resilience, creativity and achievement spanning more than 400 years.
The traveling exhibit will be set up in the Holley Academic Center at FSU Panama City from Friday, April 22, through Sunday, July 17. In advance of the opening, the Kinseys plan to visit FSU PC on Feb. 1 to speak for Black History Month. 
"The story is not a Black story; it's an American story," said Bernard Kinsey, who has cultivated the collection with his wife, Shirley, over more than 40 years. "We are really proud of our work and believe it's the kind of work America needs right now."
The Kinseys see themselves as "caretakers" of the art and artifacts that convey a significant part of the American story through African American paintings, sculptures, manuscripts, rare books, and documents — from a bronze bust of Frederick Douglass to letters by Malcolm X and the Rev. Dr. Martin Luther King Jr. Primary source historical objects and artifacts date from 1595 to the present day, and artwork dates to 1865, painting a clearer picture of African American's triumphs despite overwhelming obstacles.
The 1595 baptismal document is from the archives of the diocese of St. Augustine, Florida, "the oldest known existence of African Americans in the U.S. before Jamestown," Bernard Kinsey said.
Rosa Parks' 1998 book, "Quiet Strength," was signed to Shirley Kinsey. Parks was awarded the Congressional Medal of Honor in 1999 for refusing to move to the back of a city bus Dec. 1, 1955, in Montgomery, Alabama. 
"People know about Rosa Parks, but 100 years before that there was Elizabeth Jennings Graham," said Bernard Kinsey, referring to the teacher who insisted on her right to board a New York City horsecar. 
Bernard Kinsey refers to the "myth of absence," explaining that contributions by African Americans, whether in science, industry, politics or art, were omitted from history books and the collection aims to provide the narrative.  
"What we've been trying to do all these years is give these names a voice," Shirley Kinsey said.
The Florida Department of Education has adopted the Kinsey Collection as the basis for instruction of 3.6 million students on African American History. The family published "The Kinsey Collection: Shared treasures of Bernard and Shirley Kinsey" that features items on display in the exhibit as well as other items of interest in their collection.
"We are always thrilled to work with educational institutions; it's so great for fostering dialogue," said son Khalil Kinsey, chief operating officer and curator of the collection.
As rich as the collection they have gathered is the personal story of the Kinsey family.
Shirley Kinsey was raised by her paternal grandmother, Susie Plummer Pooler, in St. Augustine, where she had a happy childhood grounded by extended family and basking in the Florida sun. She is drawn to artwork that reminds her of those Southern roots, such as Hughie Lee-Smith's Untitled 1951 oil painting that depicts a Black girl with pigtails jumping rope by a dirt road. 
Bernard Kinsey and his five siblings grew up in segregated public housing in West Palm Beach. His parents, Ulysses B. Kinsey and Christine Stiles Kinsey, taught him the importance of education and financial responsibility. His father, an elementary school principal, helped integrate schools in Palm Beach County and fought for equal pay and education for black teachers and students.
Shirley and Bernard Kinsey, who will celebrate their 55th wedding anniversary Feb. 11, met at Florida Agricultural & Mechanical (A&M) University in 1963 after a civil rights demonstration, where Shirley was arrested. Her activism was inspired by King, who had led protests in her hometown that summer.
"We received training from campus groups on how to respond during a demonstration, who to trust and how to dress. I had to dress up to go to jail," said Shirley Kinsey, who said her grandmother did not want her to get involved in protests out of fear of what could happen to her. "Bernard was more diplomatic and helped me negotiate the channels on campus."
She described Florida A&M as "an oasis," a "bubble" in the middle of a segregated city, where they had to fight for rights, such as going to the movies. 
"Students on black college campuses led the civil rights movement," Bernard Kinsey said. "Civil rights activist John Lewis catalyzed young people for marches, bus rides and voter registration."
After the Kinseys married in 1967, they set a goal of traveling to 100 different countries during their lifetime. Bernard Kinsey's job as the first African American sales rep for an oil company brought them to Los Angeles, where Shirley Kinsey was hired as an elementary teacher. They only lived on one paycheck, buying their first house in 1971 and saving money for their travels. They started close to home with National Parks, such as Yosemite.
"Once you start traveling and getting involved with other cultures, you see similarities and influences," Shirley Kinsey said. "There were similarities with Native American sculptures that were connected to us. We were leaving our mark on other cultures and didn't even know about our own."
They traveled for 10 years before their son was born.
"We wanted to travel, see things, go places, learn languages, cultures and food," Bernard Kinsey said. "It's hard to carry prejudice when you deal with other cultures."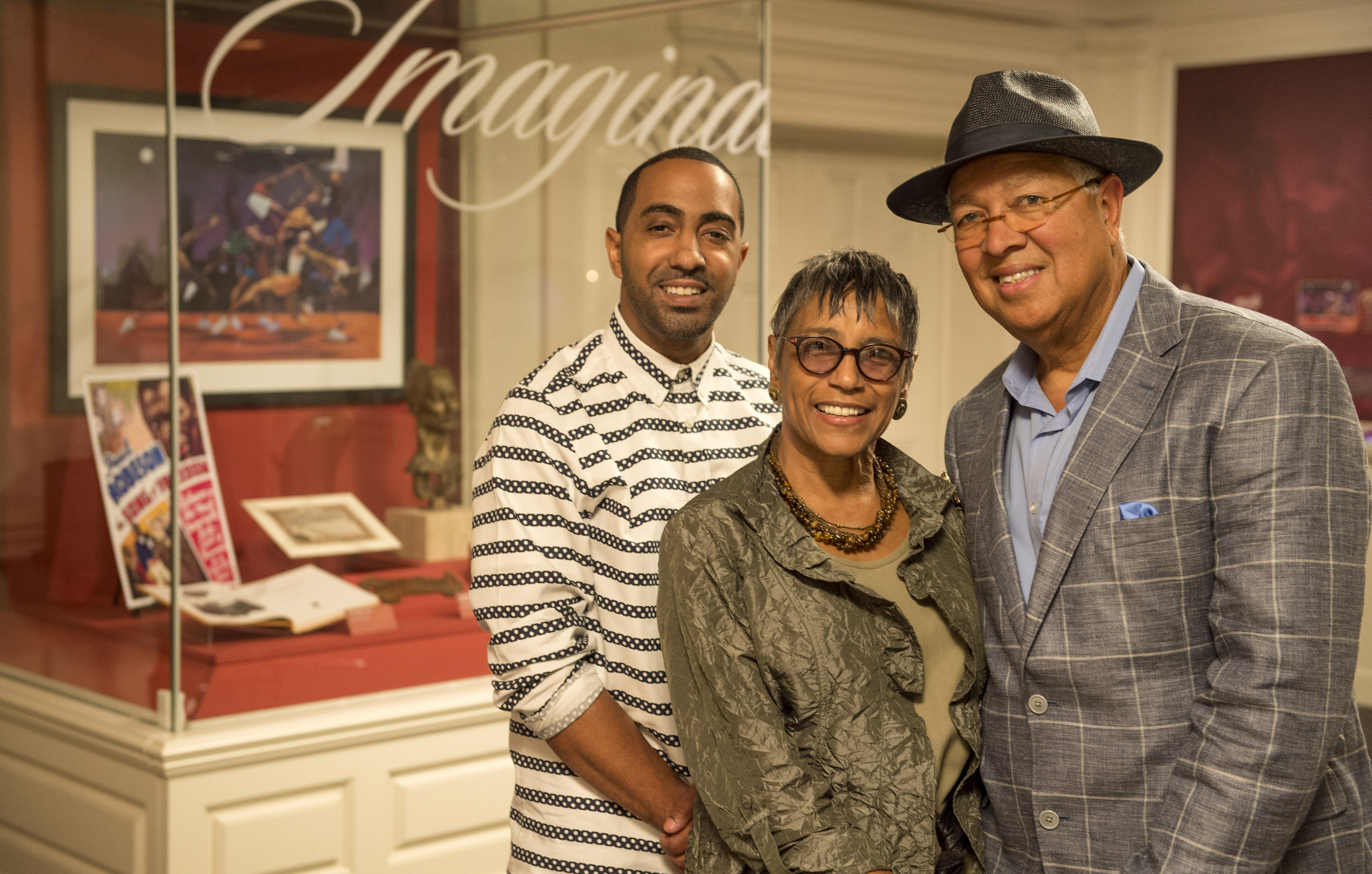 Khalil Kinsey joined his parents on their journeys and grew up surrounded by vivid paintings and sculptures from around the world. In the Kinsey Collection book, he wrote, "It was through my parents' passion that I discovered my own, but it was also through their passion that I discovered my heritage." 
During his fourth-grade history assignment for school, he and his parents realized they could only trace their family tree back four generations. This led to their "rediscovering" of the African American story.
"Really, we feel this is a human story on the human experience and connection, illuminating the story not known," Khalil Kinsey said. "In 2005, the LA Times wrote an article, 'The Walls Do Talk,' that garnered attention from the California African American Museum in Los Angeles, because of the balance of art and historic narrative. Other museums took notice. We share information in a unifying way." 
During the past 15 years, the Kinsey Collection has been seen by more than 15 million people at places such as the Smithsonian, Disney's EPCOT, the National Underground Railroad Freedom Center in Cincinnati, the DuSable Museum of African American History in Chicago, and in Hong Kong.
"We have a saying: 'God, grant me a gift to give to someone else who needs it more than me.' The Kinsey Collection embodies it — how people who had so little did so much," said Bernard Kinsey, who retired as a Xerox executive in 1991. "At the end of the day, it's about a partnership and a dream."
The Kinseys have built community partnerships along the way. The FSU PC exhibition is being sponsored in part by Panama City Toyota, Walborsky Bradley and Fleming, PLLC, and the St. Joe Community Foundation, which each provided a $25,000 gift to help bring the exhibit to the community. Individual sponsors include Dr. Carrie Baker.
Greg Finley, dealer principal of Panama City Toyota, said he sees this as an opportunity to stand against ambivalence in the tense racial climate of recent years. "I thought, 'What can I do in the vast universe of problems?' This collection served to answer that partially, if not fully."
Brent Bradley, partner at Walborsky Bradley and Fleming, PLLC, expressed the firm's desire to be involved. "Walborsky, Bradley and Fleming is proud to be a sponsor of the Kinsey Collection, a worldwide treasure of African American history and art. We believe that art has the power to transform hearts and minds and build unity."
For sponsorship opportunities, contact Becky Kelly at rebecca.kelly@pc.fsu.edu or (850) 770-2151. To get involved, organizations and schools can contact Dr. Irvin Clark at (850) 770-2101 or iclark2@pc.fsu.edu.