FSU PC grad passes entrepreneurial spirit on to her students
---
FSU PC grad passes entrepreneurial spirit on to her students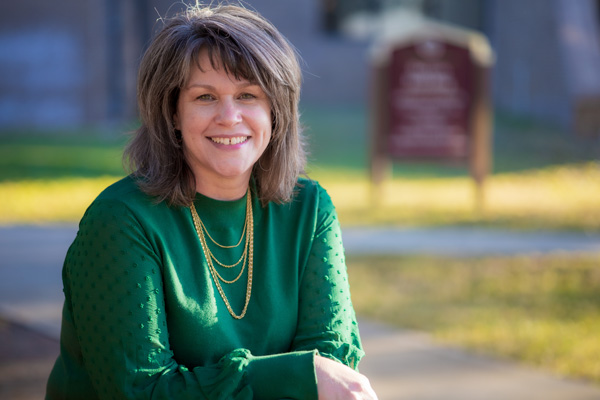 Entrepreneurship teacher Jennifer Hall, '95, uses her education and experience to create opportunities for her students at Mosley High School.
Hall, who received her B.S. in Professional Communication from Florida State University Panama City, started the Mosley entrepreneurship program five years ago to meet the demand for this aspect of business. 
"The teaching position was advertised as a business teacher that would teach coding; however, it turned into an entrepreneurship teaching position," Hall said. "I spent the first four years developing the program."
The Career and Technical Education (CTE) pathway is now one of Mosley's three-year career pathway programs available for students to take along with their general course requirements. Other career pathways at Mosley include Applied Cybersecurity/IT, Computer Science, Culinary, Digital Design, Engineering Design & Robotics, and Game Design and Simulation.
Students in Mosley's entrepreneurship program learn the fundamentals along with the practical application of business principles and accounting including instruction in QuickBooks.
"Entrepreneurship brings so many aspects of business together," Hall said. "The program covers principles of entrepreneurship, business management and law, and year three is business ownership."
In spring 2021, Mosley students were given a chance to showcase their entrepreneurship acumen by pitching original business ideas to a panel of FSU PC Commercial Entrepreneurship students during "Dolphin Tank," modeled after the hit TV show "Shark Tank." Hall helped pave the way for entrepreneurship teacher David Petry and FSU PC entrepreneurship teaching faculty Brian Baber to create the event that featured student teams competing for scholarship money.
Hall had accepted a position as STEAM teacher at Bay Haven Charter Academy Middle School for the 2020-2021 school year, but she realized she missed her high school students and the entrepreneurship program. Hall returned as Mosley's entrepreneurship teacher for the 2021-2022 school year. 
She recently asked her students what they liked about the entrepreneurship program during the previous school year. One student explained how his team won "Dolphin Tank" and now he had money for college. 
"He said, 'I never thought about going to college before, but now I'm going to go,'" Hall said. "It was so good to see they stepped up what I had done in the classroom and took it further. As the first person in my family to go to college, I understand the opportunities that come with it."
Hall and Baber already have talked this year about their plans to grow "Dolphin Tank" and provide more opportunities for students to compete for scholarship opportunities at the 2022 event. Hall has been working with an FSU PC student to design a Dolphin Tank logo in the Digital Design Studio for use on digital displays and possibly T-shirts.
"How can we show more high schoolers that career success and a college education are attainable?" Hall asked. "It's about continuing to find ways to build on our educational partnerships to strengthen the career track program by bringing FSU PC students to Mosley and Mosley students to FSU PC."
The Commercial Entrepreneurship program at FSU PC offers students case-study learning while providing opportunities for innovative, hands-on application to start their own businesses. Students benefit from the international reputation of The Jim Moran College of Entrepreneurship, the nation's first stand-alone entrepreneurship school at a public university. 
The Jim Moran College of Entrepreneurship recently ranked No. 19 in the nation for top undergraduate entrepreneurship programs, published by The Princeton Review and Entrepreneur magazine. The College placed No. 1 in Florida in the publication's 16th annual ranking of undergraduate schools for entrepreneurship programs, No. 2 in the Southeast and No. 11 among public universities.
Students who want to pursue the Commercial Entrepreneurship major at FSU PC are advised to take general education and prerequisite coursework requirements the first two years before diving into the two-year entrepreneurship curriculum. During the program, FSU PC students learn how to start and grow a micro-business, learn the advantages and costs of the various sources of venture capital, market research, and feasibility. Technology commercialization, financial analysis, legal issues, and human resource management also are covered. 
Though Hall received her B.S. in Professional Communication, she took education courses as electives to expand her career opportunities. After 15 years of working in marketing and public relations, she put her education courses to use.
Hall worked at Haney Technical Center for nine years, first as a career specialist, and then she transitioned to a business education teacher. She then briefly pursed an event planning and public relations opportunity before returning to teaching. But she has always had an interest in entrepreneurship and the possibilities it holds for her students.
"Being a teacher gave me the opportunity to have more time with my children," said Hall, who has taught classes with former FSU classmates. "I still use marketing and communications skills every day as a teacher."
"I ask my students, 'Do you have a problem that comes up regularly that needs a creative solution?' Almost every invention and everything we buy, starts with a problem," Hall said. "My students have the opportunity to show me and themselves that their ideas can be successful."
Her students also participate in the annual Invention Convention Entrepreneurship Fair sponsored by Bay District Schools with regional, state, national and global competitions. Hall is so confident in her students' abilities that she has them practice penning their signature for a future patent. 
"It's about being resourceful, doing research, and trying out ideas in multiple ways to come up with the most efficient and cost-effective way to problem solve," Hall said.
Hall's parents didn't pursue college educations after high school because it wasn't an option, but they had a different plan for her. She added that her father had the opportunity later in life to graduate from Chipola Jr. College when the papermill closed in Port St. Joe, where he worked for more than 30 years.
"In my house, it was not if, but when you go to college," Hall said.
After graduation from Blountstown High School, Hall obtained her A.A. at Chipola Jr. College. She then transferred to FSU PC, where she received a W.T. Neal Scholarship that paid for her books and tuition.
"I had moved away from home in Kinard and lived in an apartment in Panama City," Hall said. "There was no way that I could have attended college without this scholarship."
Hall worked full-time — from 7 a.m. to 4 p.m. — at Aluminum Builders in Panama City during the day while taking 12 credit hours at night each semester at FSU PC. 
"I had an hour to eat dinner and change clothes before class," said Hall, who added it didn't feel like extra work at the time, because she enjoyed her courses. 
Hall became an ambassador for Seminole spirit at FSU PC, connecting with classmates and seizing opportunities in the community, including an internship with the March of Dimes. Her commitment to FSU PC continued after graduation. Hall helped start FSU PC's first Alumni Club in 2001 and served as the inaugural president for the first two terms. In 2003, she ran the first leg of the Torch Run in 2003 at the Homecoming Celebration on the FSU PC campus.
"It was a free family event with food, bouncy castles, pony rides," said Hall, as she shared photos and her FSU PC memories. "My Dad even made boiled peanuts."