GROWING GAINS: FSU PC campus grows with student enrollment
---
GROWING GAINS: FSU PC campus grows with student enrollment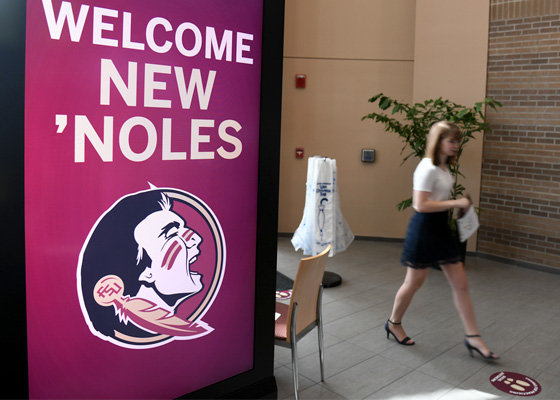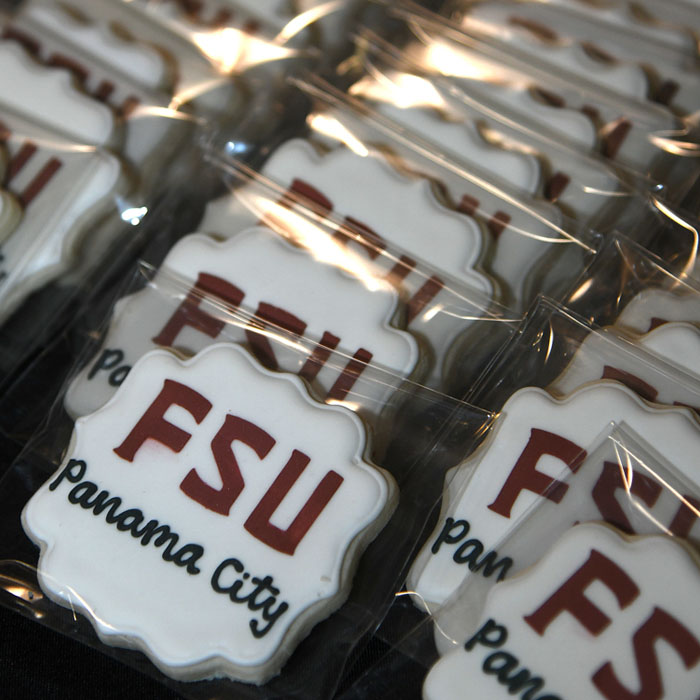 ---
137 first-time students, the largest cohort of first-year students at FSU Panama City to date.
---
 FSU Panama City welcomed more first-time-in-college students in August than ever before, wrapping up a monumental month that also featured the opening of Seminole Landing.
"This is a big year for FSU Panama City," Dean Randy Hanna said. "We just opened our first on-campus residential housing and welcomed the largest first-year student class to the Florida State family and the university experience."
A total of 1200 undergraduate and graduate students are enrolled for fall 2021, including 137 first-time students, the largest cohort of first-year students at FSU Panama City to date.  
Overall enrollment has been on an upward trend the past five years, with this year's number of graduate students nearly doubling since 2017.  A total of 35 international students are registered for fall, with the most students from the Philippines and the Ukraine, followed by Brazil, Columbia, Jamaica and Canada.
This year's first-time-in-college students hail from 29 Florida counties, 18 states and the Bahamas, adding to the campus diversity. Nearly all the new students attended the formal First-Year Student Convocation, which marks the entrance into the life and traditions of Florida State University.
Originally from Jacksonville, first-year biomedical science student Kennia' Swinton chose FSU Panama City for its great reputation and smaller campus size.
"I feel a lot more connected," she said. "If I have questions, I don't feel scared to speak up. And that's been good for my grades, which have been skyrocketing."
For many students, this is not only the entrance into higher education, but also their first time to live away from home. 
"They're learning how to cook, get along with roommates and deal with homesickness. It's the challenges any young adult faces," said Psychology Professor Tyler Towne, PhD., who also is teaching the Florida State Experience at FSU PC.
The freshman course further extends the support of the university community to its newest members by helping cultivate students' practical "life management skills." 
"It's really a first crash course into college," said psychology major Isabella Barbour, '22, one of four student mentors in the class. "It's learning how to handle yourself as an adult."
The Florida State Experience course address changes the students are experiencing with "how-to" exercises in managing time, stress and money, as well as teaching study habits and how to practice self-care with eating right and exercising.
"We go over research opportunities and engagement opportunities. Joining a registered student organization (RSO) is a big one for getting involved on campus," Towne said. "A lot of prepping goes on here. Some students are going to Tallahassee, and we want them to be prepared."
Towne has taught this course for three years but admits this year's class size has more than tripled.
"We have a lot of freshmen from South Florida, a lot of Hispanic students and students from the Caribbean, just a wide variety of personalities, not just demographics. It's a great energy to have on campus," Towne said.
---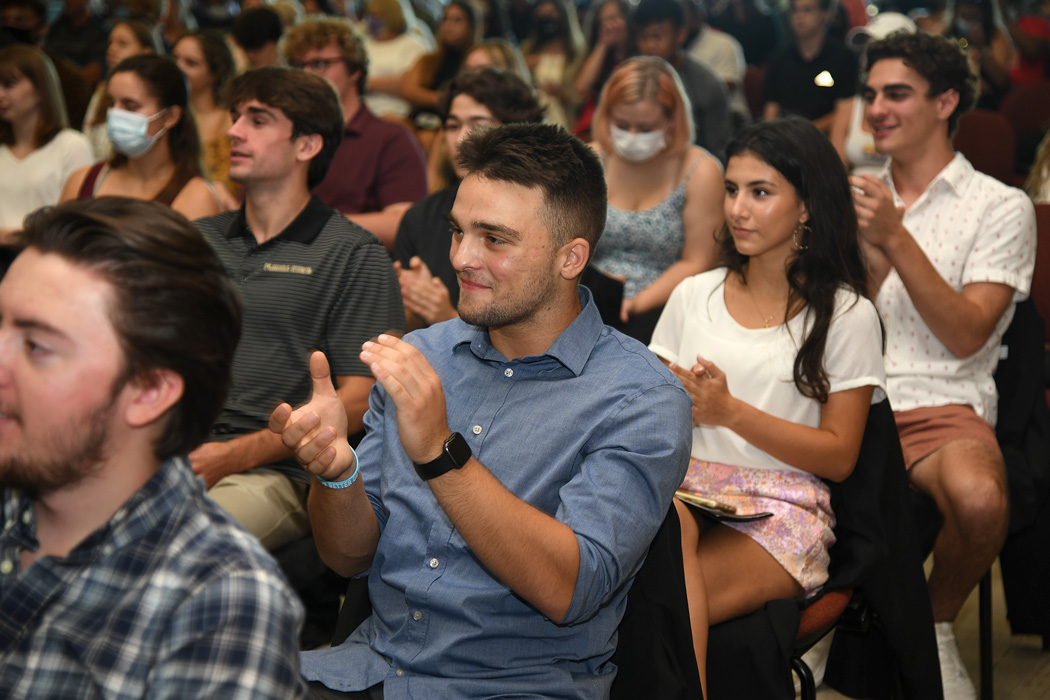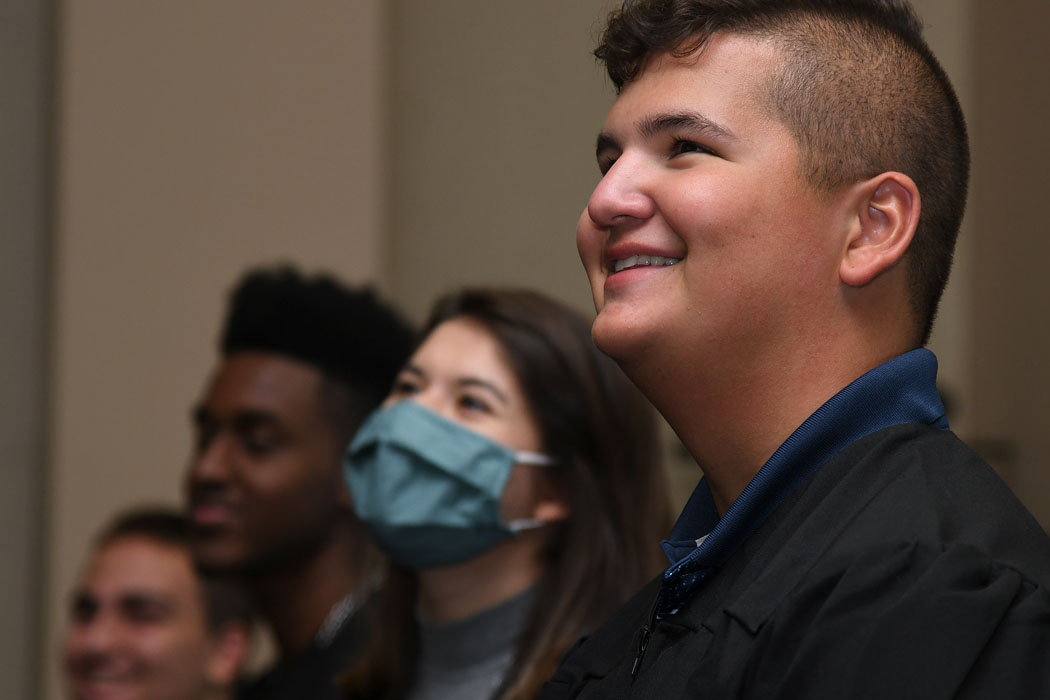 ---
STUDENT SERVICES
A growing campus brings greater need for student services, particularly with regards to transportation, health services and on-campus dining. Through community partnerships with Bay Town Trolley, Florida Department of Health Bay County and Shane's Rib Shack, FSU PC is able to meet those needs.
"We have partnered with Bay Town Trolley to provide students with free transportation all semester, said Irvin Clark, Associate Dean of Student & Strategic Initiatives. "It's convenient. Just show your FSU PC student ID to board and then go anywhere in Bay County that the trolleys go."
The Bay Town Trolley has two bus stops on campus and nine routes in Bay County. Even if students have a car, transit allows them to ride to campus without worrying about finding parking for class or explore town without burning gas money. 
Their student ID also allows them access to free health services on campus from the Florida Department of Health Bay County.
"The Florida Department of Health in Bay County is extremely grateful to FSU Panama City leadership for their collaboration in initiating and implementing this Student Health Services Clinic," said Sandon S. Speedling, MHS, CPM, CPH, Administrator and Health Officer, Florida Department of Health in Bay County. "Over the past year and a half, FSU PC and the Florida Department of Health in Bay County have worked diligently together to make this project a reality."
Students can make appointments for general medical services, diagnostic testing, answers to general health education questions and receive free vaccinations. 
"Both transportation and health services are critical services for our students," Clark said. "Having the new on-campus housing, Seminole Landing, has been a game-changer, and we want to meet as many student needs as we can right here on campus."
The Sandy Spear Bayside Dining, which opened in the Bland Conference Center in August, has been providing on-campus dining services and hosting special events. The Sandy Spear was filled with students and parents watching football, enjoying burgers and playing Jenga during Family Weekend.
Operated by Chris and Dana Gerkin, who also own Shane's Rib Shack in Panama City Beach, the dining hall is open daily and serves a breakfast, lunch and dinner menu, along with daily specials including Taco Tuesday, and plenty of grab-and-go options. Meal plans are currently being offered in the form of gift cards, and more options are being added with growing student demand. Students can enjoy meals or snacks, such as ice cream, while studying or watching TV at a table inside or outside along North Bay.
Positive changes continue on campus with the recent renovation of the Barron Commons into a beautiful collegiate gathering spot called Seminole Hall. The athletic themed area is filled with a large screen TV, gaming console, new lounging furniture, high-top tables, foosball and a pool table. The space has become another great space for student clubs and organizations to meet, hold events and make connections.