FAMU-FSU College of Engineering, Technical Systems Integration researchers win DARPA grant
---
FAMU-FSU College of Engineering, Technical Systems Integration researchers win DARPA grant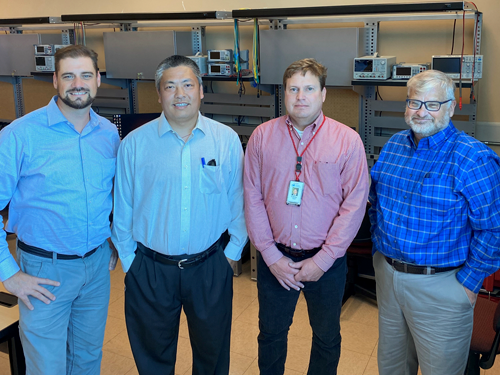 FAMU-FSU College of Engineering and Technical Systems Integration Inc. researchers won a Defense Advanced Research Project Agency (DARPA) grant for undersea wireless power transfer.
The Small Business Innovation Research (SBIR) Phase I project, titled Wireless Acoustic Viable Electricity (WAVE), was funded $225,000 for a period of six months. Systems Engineering (SE) faculty in the Industrial & Manufacturing Engineering (IME) Department at Florida State University Panama City teamed with Technical Systems Integration Inc. (TSI) of Panama City. TSI is a Service-Disabled Veteran-Owned Small Business (SDVOSB) with over 27 years of experience successfully supporting various high-profile initiatives within the Navy. 
The team (Dr. Daniel Georgiadis and Dr. David Gross of IME and Dr. Gong Zhou and Casey Durr of TSI) will research and prototype transferring electrical energy over acoustic waves underwater and in air. Radiant energy transfer such as wireless power transfer technology could eliminate the need for bulky power cables and reduce battery use, thus increasing mobility, convenience, and safety for various defense applications. TSI is the prime contractor for this project and the SE faculty will provide analysis efforts, Model Based Systems Engineering (MBSE) and electrical engineering. A successful Phase I will position the research team for a follow-on Phase II contract of $1 million over 24 months to further mature and test the WAVE capability with DARPA.