Engineering alum leads next generation toward STEM careers
---
Engineering alum leads next generation toward STEM careers
As a pair of ninth-graders looked on intently, Joshua Everett demonstrated how to wire a small circuit board to LEDs. It was part of a lesson in computer coding that he was helping to teach during the FSU PC STEMx camp in July.
"These high schools are struggling with implementing STEM curriculum into their program because they need to meet the basic needs of the students first," said Everett, who received a master's of science degree in Systems Engineering from FSU PC in May. "Some of the testing gets pushed to the forefront. Since STEM is taking a backseat, we see the opportunity to help where the high schools lack."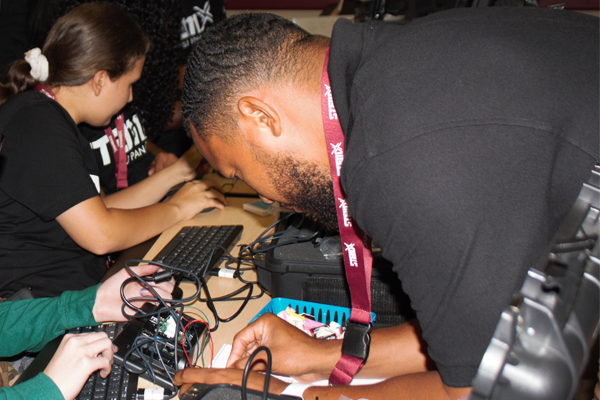 Joshua Everett helps students wire a "breadboard" circuit during the STEMx summer camp at FSU PC in July. Everett, a graduate of the master's program in Systems Engineering, is employed in a civilian capacity at Naval Support Activity Panama City
Everett, an engineer working in a civilian capacity at Naval Support Activity Panama City, came to the master's degree program in Systems Engineering at FSU PC when he met an MSSE graduate during an installation job on a naval vessel in Bahrain.
"I discovered the Navy base was sponsoring a cohort and decided to check it out," he said. "And I learned the FSU program is the fastest growing Systems Engineering program in the United States."
He found professors David Gross, Ph.D., and Daniel Georgiadis, Ph.D., each brought something unique to the worktable. Gross was "detail-oriented, in the weeds," Everett said, while Georgiadis was "more the big picture kind of guy, 'I've been where you are and here's how you do it.'"
Smaller classes, personal attention and having easy access to professors by phone or email all appealed to Everett. But what impressed him most were "the professors … they both were very invested in us finding real-world applications, not just 'this is what the book says,' but also 'here is my experience to back it up.'"
Everett grew up in inner-city Miami. His father was a carpenter, and he expected to follow in his father's trade. But he discovered engineering and pursued a bachelor's degree from Jackson State University in Mississippi before taking the NSA PC job.
When not going down a rabbit hole of researching some innovative technology or working on household renovations, Everett and his wife, Xaviayah, decompress on a local beach. "I want to feel the sun on my face, stick my feet in the sand or in the water," he said.
And he enjoys passing his love of research, exploration and real-world applications of engineering to a new generation of students. Besides helping to lead the STEMx camp, he assisted with the artificial intelligence session of the Dr. James T. and Jana L. Cook Future Physicists of Florida FSU Panama City Chapter daycamp, which served about 20 eighth- and ninth-graders from Bay County schools.
"The camp is wonderful," he said. "The idea is to inform the students about opportunities after college. I never knew I could actually work for the Navy as an engineer. I wish I had been able to be a part of this when I was a teenager. In inner-city Miami, we didn't have a STEM outreach program, and even when I moved to Mississippi."
The camp experience gave Everett a sense of accomplishment, of offering something to the community that he never had as a youngster.
"I see these kids come in and when they get it, they get interested. Some kids even worked through lunch trying to figure out how to get certain things working," he said. "That is exciting to me."