Questions about FSU Panama City admissions, programs, campus, COVID-19 response or current hours of operation?
Call the FSU PC Promise Information Number (24/7): (850) 770-2411.
All-Female team leads Student Government Council
---
All-Female team leads Student Government Council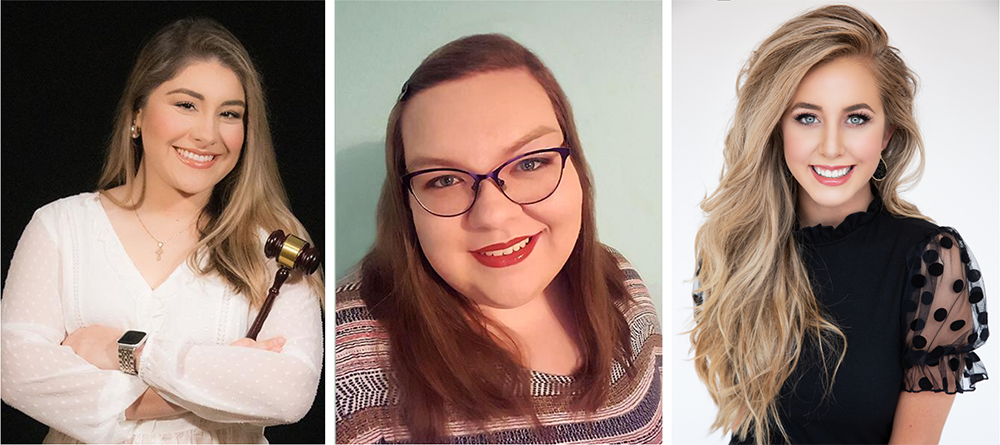 This fall, the FSU Panama City Student Government Council is proudly led by a new generation of female representatives. The 39th Student Government Council is headed by President Lucy Rodriguez (psychology '22), pro tempore Kristen Bane (psychology '20) and Senator Mia Bennett (recreation, tourism and events '20).
These leading women began their roles at a unique time for FSU PC and the country as a whole. With the COVID-19 pandemic dramatically altering the learning landscape and protests around the world sparking fresh debate around equality for minority groups, Rodriguez and her fellow officers see this as their moment to make a difference.
"Growing up, it was rare for me to see women in leadership positions, especially Hispanic women," Rodriguez said, "but my parents always encouraged me to use my voice to represent myself and other women."
Although in-person classes resumed in fall semester, most student activities and interactions remain virtual. These emerging leaders are finding their voice by moving forward new and innovative ways to keep students engaged and connected. 
"Being on SGC has been empowering for me because I have been able to develop skills and confidence that I might not have otherwise. I am encouraged to speak up and use my voice in a way that is diplomatic, to make a change," said Bane. "I am so proud to be one of three women officers on SGC. I think it's such an awesome thing for women on this campus to see women leading and know that they can be leaders too, even as a student." 
They are also working on campus-wide projects while advocating initiatives that will benefit all FSU PC students. Since spring, the three have worked closely with FSU PC administration to fulfill the FSU PC Promise including, student housing, the promise scholarship and new student spaces on campus along with advocating for underrepresented members of our community by championing diversity initiatives.
"I think far too often when growing up, young women are told they are too emotional, frail, or not strong enough to become a successful leader," Bennett said. "It's an empowering feeling knowing that every day when I step out and pursue my duties of being on Student Government Council I am proving that women are more than capable of being leaders, and we have the ability to make changes both on our campus, and around the world. I am very proud to surround myself with two other very strong women to be my fellow officers on our council."