Questions about FSU Panama City admissions, programs, campus, COVID-19 response or current hours of operation?
Call the FSU PC Promise Information Number (24/7): (850) 832-5649.
2015 Notable 'Noles continue to serve alma mater
---
2015 Notable 'Noles continue to serve alma mater
FSU Panama City's 2015 Notable 'Noles have different backgrounds, but they share a dedication to their alma mater and the Northwest Florida community.
FSU Foundation STEM Liaison Ginger Littleton, FSU Panama City faculty member Amy Polick, Ph.D., and Preble-Rish president Cliff Wilson were named Notable 'Noles during the campus' Seminole Celebration on Thursday, Nov. 12. The award is given to FSU Panama City alumni who demonstrated excellence as students and have made outstanding contributions to the community and within their careers.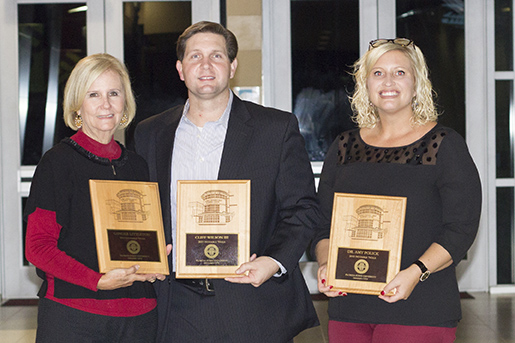 Littleton, who earned her master's degree in elementary education in 1992, is dedicated to the educational needs of the region. Through the FSU Panama City STEM Institute, her work has impacted more than 300 teachers and 2,000 students in Northwest Florida.
She also serves on the Bay County School Board and attempted to disarm a shooter during a School Board meeting in 2010.
"My mom has committed her adult life to service to our community," daughter Gayle Littleton wrote in the nomination letter. "She is a life-long educator who has worked tirelessly to make sure her students excelled and thrived."
Ginger Littleton is the past president on the Bay Arts Alliance, a former board member for the Visual Arts Center, a charter member of the Krewe of St. Andrews and a board member for the Bay Education Foundation. She also is a member of the Panama City POPS Orchestra and served as a guest conductor during the POPS Battle of the Batons. She has been named an influential woman of Panama City by Panama City Living and a Woman of Distinction for the Girl Scouts of America.
"The tradition of excellence that just being a 'Nole brings is noteworthy enough," Littleton said. "Being in the company of previous Notable 'Noles who have contributed so much to our community is such an honor. I am both thrilled and humbled to join their ranks."
Polick earned her master's degree in applied behavior analysis from FSU Panama City. After earning her Ph.D. at Auburn University, Polick returned to FSU Panama City in 2010 to teach psychology and applied behavior analysis. She earned the Undergraduate Teaching Award at FSU in 2012 and has appeared several times on the Provost's List for Teaching Excellence.
As director of FSU Panama City's Early Child Autism Program, Polick has served more than 30 families affected by autism annually. With her help, the clinic has expanded this year to include more therapy rooms for children and a parent resource center.
"Amy's tireless attention to detail and ability to think long term have been crucial to promoting the Early Childhood Autism Program (ECAP) and making it the growing resource it has become today," Polick's husband Rusty Weathers wrote in the nomination letter. "I have never seen Amy back down from challenge and she is an excellent example of what a Notable 'Nole truly is. She is someone that FSU PC should be proud to have as a graduate and an employee."
Polick has excelled in service to her profession, Weathers noted. She is president of the Florida Association for Behavior Analysis, which has more than 1,000 members, and has been asked to serve as executive director at the end of her presidency. She also has testified before the Florida Senate as part of the campaign for creation of a licensing board for Behavior Analysis working in Florida.
Polick is an active member of the Kiwanis Club of Panama City and the chairwoman for Bay Young Professionals. She has served as the chairwoman of the Junior League's Elderly Outreach committee and still serves on this committee by volunteering regularly at a local nursing home. She also has been on the Board of Directors of the Bay Arts Alliance for the past three years.
"It is an incredible honor to be recognized as a Notable 'Nole," Polick said. "My degree from FSU Panama City opened so many doors for me and was pivotal for my career development. Because FSU gave me so much when I was a student, I have always strived to give back to FSU and to others in the community. Being part of this elite group of FSU Panama City alumni is wonderful and inspirational."
Wilson, who was part of FSU Panama City's inaugural graduating class of civil engineering students in 2005, continues to give back to the campus as a mentor for senior design projects.
Formerly serving as deputy secretary and secretary for the Florida Department of Environmental Protection, Wilson helped implement programs to help streamline the department to offer a more customer service-based culture among its more than 4,000 employees. He was confirmed by Gov. Rick Scott and the Florida Board of Trustees, serving as staff to the governor, attorney general, chief financial officer and commissioner of agriculture.
Wilson has served as a member, past secretary, past vice president and past president of the Lynn Haven Rotary. He is a volunteer baseball coach for Bay High School, has been nominated to attend the Florida Engineering Society Leadership Institute and was named the 2010 Rotarian of the Year and the 2011 Rotary Paul Harris Fellow Recipient. He also tutors students in high school math and calculus.
"The world would be a much stronger place if there were more people like Cliff Wilson," Richard Dodd wrote in the nomination.
"I would say it is not a measure of an individual act or achievement, but more of a lifestyle," Wilson said. "Each day is an opportunity to add value to those around you. The focus should always be outward on helping others achieve their goals and success. It has been my experience, when you live and work each day in this manner, your success will generally take care of itself. Our future and quality of life is dependent on how we help each other."